Latest versions of phones and mobile operating incorporate more fun and features for users. This is also true for latest versions of iPhones like iPhone 5, 6 and iOS 8. But fun and features do not come for free but cost battery. Latest versions of games and heavyweight apps are hungry to eat battery of your iPhone and iPad. Apart from these some sophisticated features also run out your battery on these devices quickly.
Scanty carefulness and tweaks can save a large amount of valuable battery on your iDevices. Top 10 Tips to Save Battery on iPhone and iPad (iOS 8) which you could own in an easy way we are presenting here.
We are writing this article having focused to save battery life on the latest version of iPhones and iPads having iOS 8. If you are implementing these tips to other versions optimise your device according to device support and compatibility.
Recommended:
Find Missing Photos on iPhone after Upgrading to iOS 8
Guide to Download and install iOS 8 on iPhone, iPad
1. Uninstall the Apps eating more battery power on iPhone and iPad
On iPhone or iPad heavyweight apps suck more battery. Few apps are so battery eaters that they drain even in 3-4 hours. All you need to do is to recognize such apps and remove. How will you do that?
Tap on Settings iPhone Lock Screen.
Then go to General.
Hit on Usage.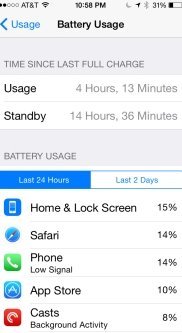 Scroll down to the screen. Under this section will view all apps and how much battery they are using. Here you are able to determine that which app is eating more battery power and which apps you need to remove.
Trace the specific apps and uninstall them from your device.
How to Uninstall Apps from iPhone or iPad (iOS 8)
Top on the app and stay tapped for few seconds. All apps on the screen start trembling and nutating.
Press on the Cross Mark at the corner of the app which you want to remove.
2. Enable Reduce Screen Motion
Reduce motion is a feature on iOS 8  which uses a parallax effect to produce depth sense of on Homescreen and other screens. Reduce Screen Motion checks few elements like motion transition on iPhone and iPad. It consumes a large amount of battery on your device. So enable reduce screen motion on your device.
How to Enable Reduce Screen Motion on iOS 8
Tap on Settings.
Go to General.
Tap on Accessibility.
If Reduce Motion is off then it is right, else Tap on Reduce Motion.
Move the slider from ON to OFF.
3. Plug in Your Device before downloading Apps, Games or Large Files
When you download apps on your device it starts draining the battery. You might have noticed Downloading apps and games or large files on an iPhone or iPad how much minimizes the battery level. During downloading things arouses and runs every component like the processor, hard drive, driver, software etc of the device. These components directly get power from battery. What is the result you could imagine? So plug-in your device power source when start downloading apps, games and large files.
Although downloading single and small volume app do not put much impact but if you are careful it would be a bonus for your iPhone battery life.
4. Turn Off Background App Refresh
If you are targeting over saving battery life you need to disable background app refresh. Why, apps in your iPhone get automatically updated when it is connected to WiFi or internet sharing tool. All the apps are getting roll out and updates time to time. When an app gets pushed your device, it starts downloading itself and this process takes up your phone resources as well as battery power. So we always recommend to turn off Background App Refresh.
How to turn off Background App Refresh
Hit on Settings
Go to General and select Background App Refresh Menu.
Move Slider from turn on to turn off which shows grey color.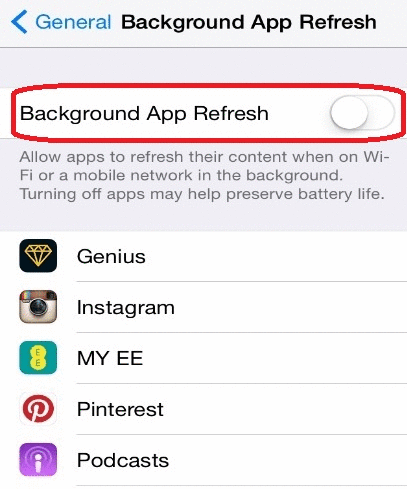 However, you could choose few apps which are more important to get Refresh.
5. Turn Off Auto App Updates
App update installs updates sent by apps automatically. As Result, it eats the significant amount of your iPhone battery. So disable it to save your precious battery.
How to Turn Off App updates on iOS 8
Hit on Settings icon.
Go to iTunes and App Store.
Turn Off Updates for the apps one by one present in the list by moving the slider button from green to grey color.
Also, Toggle off the Use Cellular Data option.
6. Disable Allow Notification
If you want to save your phone's valuable battery life disable Allow Notification as a priority. All apps and tools push notifications on your iDevice which hogs battery power. These notifications are not so exigent. So disable the settings to get app notifications.
How to Disable App Notifications
Press Settings.
Select Notifications.
Toggle Notification Off.
7. Disable Location Services
Location Services on a Smartphone trace the location in which your phone is lying. It uses internet data in doing that. Obviously when internet sharing is enabled on your phone and data is being consumed it sucks battery. So always disable location services on your iPhone and iPad.
How to disable Location services on iPhone and iPad having iOS 8
Open Settings.
Select Privacy.
Choose Location Services.
Switch the slider from ON to OFF.
8. Turn Off Bluetooth
When you are not using Bluetooth turn it off.
How to turn off Bluetooth on iPad and iPhone (iOS 8)
Slide the lock screen from the bottom to up.
Tap on Bluetooth icon on the top.
9. Turn Off WiFi if you are not using
Turn off WiFi on your device if you are not working with it. WiFi activates internet sharing on phone and eventually, at one side it splits data on the other side eats battery as well.
How to Turn Off WiFi on iOS 8
Scroll the lock screen from lowermost part to up.
Tap on WiFi icon.
10. Turn On Airplane Mode when driving a vehicle
If you are driving bike or Car any other motor vehicle there is no need for a phone. Even phone can distract you and what can happen you could easily imagine. So turn Airplane Mode on if you are on driving seat of a vehicle.
How to Turn On Airplane Mode on iOS 8
Slide your finger from the bottom part of the lock screen to upper direction.
A pop up opens.
Tap on Airplane Mode icon on menus.
Few more tips (Not less important)
Screen brightness sucks the vital amount of your iPhone battery. So Set screen brightness to Auto. Auto set screen brightness adjusts brightness of your display according to your need. In the darkness, the brightness goes down where in sunshine it becomes brighter so that you find yourself in comfort while reading messages or calling or doing anything else. In this way, the brightness varies in diverse situations.
Don't use Dynamic Background
Disable other Location Settings
Set Auto lock in least time
Don't Switch on App Suggestion.