MultCloud is a unique cloud store management tool offers to transfer data from one cloud store to other, sync the cloud drives you use, upload, download data. For instance, you have stored your data in more than one cloud store like Google Drive, OneDrive, Dropbox, Box or more, then MultCloud offers you transfer the data to any of these places you like. For example, you can transfer you data from Google Drive to OneDrive, Dropbox to Box and vice versa. And the most important all these are absolutely free.
MultCloud roles for multi-cloud store management and offers to sync various cloud services. You can move your data even you are offline means by copying and pasting, Schedule the data transfer. You can move your data when your computer is power off. Apart from these you can upload and download your data, delete, cut, paste in any of the drives using Multcloud. Here, we will focus on How to Transfer Various Cloud Store Data Using MultCloud like Google Drive to Dropbox and Features of freshly released MultCloud 3.0.0 are described.
You may like to read:
File sharing Options between Desktop and Mobile Phones
MultCloud Version 3.0.0 Features
Freshly MultCloud Version 3.0.0 is released with few added features. Some features are written below:
Add the functions of Transfer and Task Manager.
Support the settings of Scheduled Transfer and File Filter.
Support automatically notified by Email after the completion of transfer.
Support re-edit the accounts and view the properties of cloud drives.
Adjust and optimize some UI.
Enhance the stability and speed of transfer by optimizing the network environment.
Modify some bugs.
MultCloud supports following services:
Google Drive,
Box,
SugarSync,
HiDrive,
OneDrive,
CloudMe,
Cubby,
Dropbox,
MyDrive,
WEB.DE,
Yande,
Amazon S3,
FTP,
WebDav
As gist, MultCloud is the could manage management platform  which helps you avail all the free storage at a single place. But here we discuss the process following which you will Transfer Various Cloud Store Data Using MultCloud.
How to Transfer Various Cloud Store Data Using MultCloud
Here, We assume that you need to transfer your data from Google Drive to Dropbox.
From Google Drive to Dropbox on MultCloud
Sign up on Multcloud. You can follow the link MultCloud. You will automatically reach the dashboard where tile for each Cloud service is affixed.
Click the Google Drive tile to select. Click Next button at the bottom.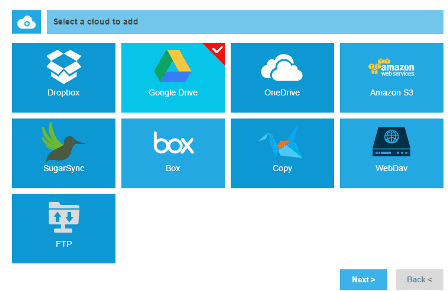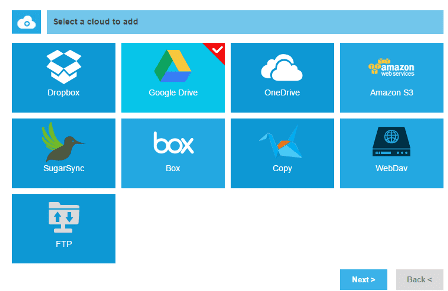 If you want to change the name of your Google Drive on Multcloud, write the name in the given space. Otherwise, click Add Google Drive Account.
You will be taken to permission page where you need to accept the terms and conditions. If you have signed in Google Account then click the Accept button. If you have not signed in then sign in first and then click Accept.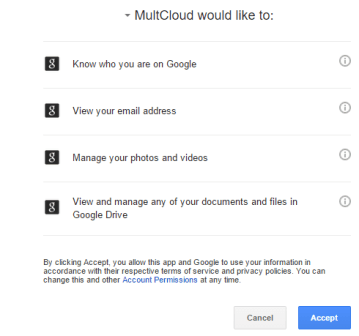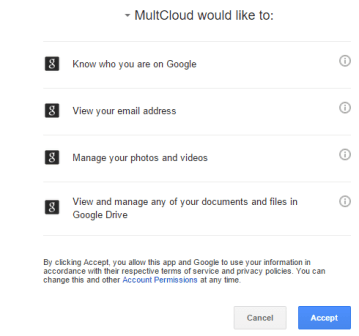 Google Drive is added to the MultCloud. You find a Google Drive tab in the left sidebar.
Right in this way you need to Add Dropbox to your MultCloud Account.
When you complete the addition of both of the Dropbox and Google Drive to MultCloud Click the Transfer button at the upper part of the dashboard page.
Transfer Service page is accessed. Click From: Select the Directory you will Transfer. A popup will open where select Google Drive. And again click To: Select the target directory you want to save the file to. Select Dropbox on the opened popup.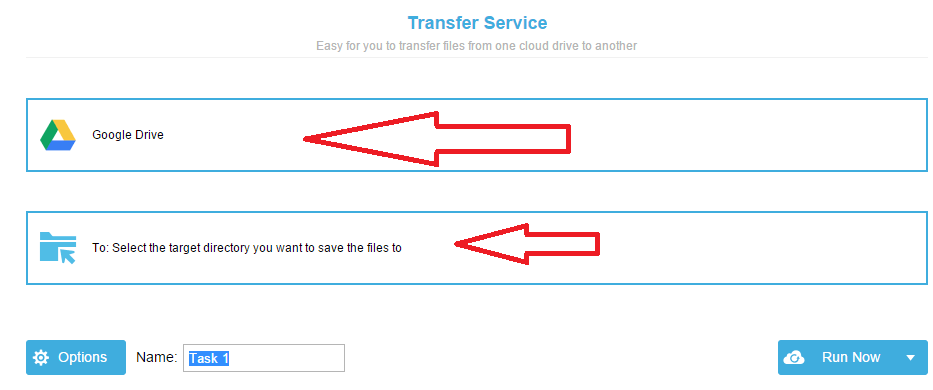 You can send email notification and filter your data transfer using the Option button. If you like to do so click Option. Else click Run Now.
For a small bit of time, you will see the buffering and when the buffering ends up you will find Google Drive Folder in the Dropbox data.


In these ways, you can Transfer Various Cloud Store Data Using MultCloud. Rather you can transfer a particular folder to the other drive.
My Opinion
MultCloud is an outstanding cloud management tool you can choose. You will definitely enjoy the speed of the site. The basic truth you get the sum of all free cloud storage services at Multcloud. Besides you don't need to open different cloud store time and again. MultCloud is ahead in providing all these facilities in neat and clean and simple as well.