Edge allows you to remember your passwords for the accounts you launch in this browser. The various web pages ask you to submit your credentials to log in. And when you do so you Edge put forward if you want it to memorize your id and password. A feature called Offer to save password in Edge manages your passwords. So, in this article, we will let you know how to turn on or off Offer to save passwords in Edge.
Related:
As told in the above section, when you open a web page for the first time and sign in by providing your details, Edge sends you a pop up message asking you whether you want to memorize your password or not. If you give affirmation, from next time whenever you open the same web page you will see your email id in full and password in dots already present. You just need to go ahead. This feature is useful if you create an account for you child for his school stuff and make his work easy without making him memorizing the long ids and passwords. Even it is very helpful for old people who can't keep hold of so many ids and passwords. So, let us walk through the steps and see how to turn on and off Offer to save passwords in Edge. 
How to Turn On and Off Offer to Save Passwords in Edge
Open the Microsoft Edge web browser.
Press Alt +F.
Click the Settings.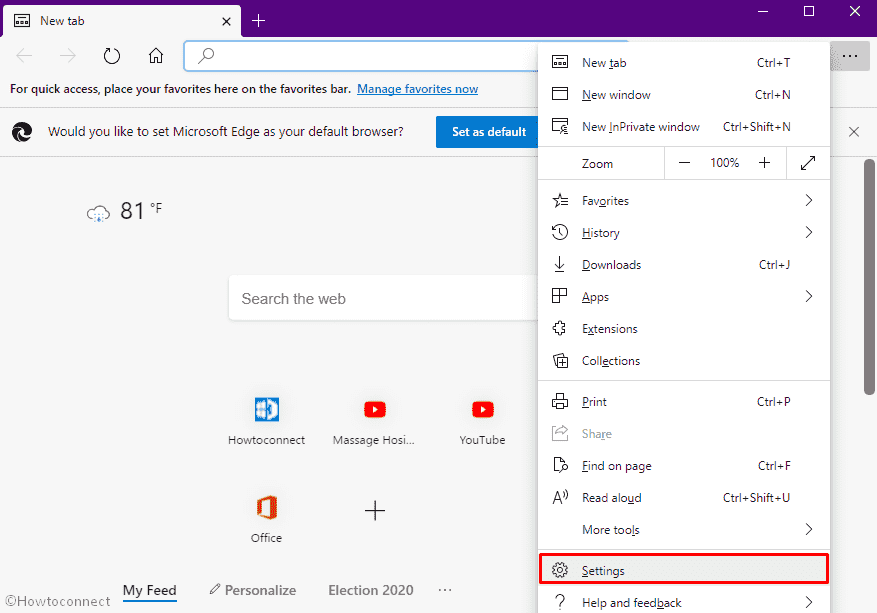 Select Profiles from left column.
Click on Passwords from the right pane.
Turn on the toggle button set beside Offer to save passwords.
To disable the feature, simply switch off the same toggle button.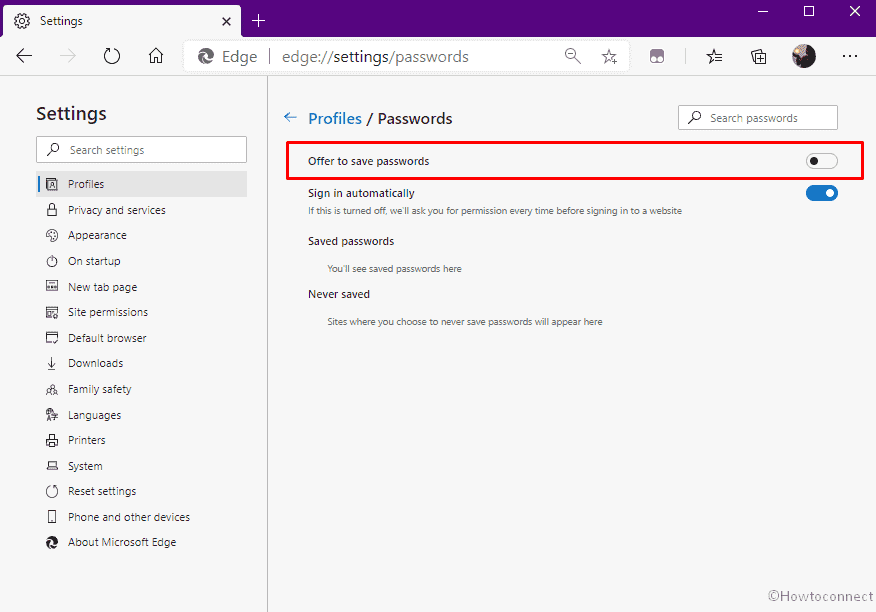 Well, turning it off does not remove the passwords saved earlier. To remove them completely you need to clear your browsing data.
How this feature works
Now, we will see how it works. Open any web page that requires your id and password to sign in and enter your credentials. For example, Yahoo mail.
After providing the id and password, proceed to login and you will get a pop up message at the below edge of the browser asking you to allow the browser to remember your password.
If you click Yes button, Edge will save the password.
To see which web pages passwords Edge has memorized, look out the section Saved passwords present exactly underneath the Offer to save passwords slider.
You can see the list of web pages whose passwords were remembered by Edge. If you prefer to remove any web page from the list, click X button beside the web address.
We hope this article will be of great help to you in making Turn On and Off Offer to Save Passwords in Edge for web pages. Help the elder people from your surrounding area to manage their accounts easily. Give it a shot and let us know your opinions.
Related: