You must be familiar with a stealing method, termed as Login spoofing, used to sneak the username and password that you put into use during the login period. So, an extra safeguard is needed for the computer to keep the credentials secure from stealing. Hence, Windows 10 bestows you an additional layer of security in the form of Secure Logon, by intercepting the attackers from sneaking your login data. Once you enable this service, your computer will be safeguarded with a few special key combinations and thus will be kept out of danger.
After turning this service on, in the next logon session, the Windows 10 lock screen will tell you to jointly punch Ctrl, Alt and Delete keys, and thereupon you can administer your username and password to log in. This sequence of keystrokes ensures that any application (virus and spyware) cannot intercept your username and password details.
How to Turn On / Off Ctrl+Alt+Delete Logon in Windows 10
1. TURN ON
Through User Accounts Wizard
Simultaneously punch Win and R keys and deliver the Run command on screen, thereupon type this code and hit Enter – netplwiz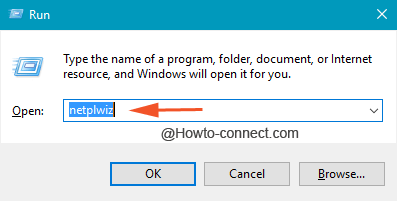 The above action will make User Accounts wizard apparently on screen, swap to the Advanced tab.
Glide down to the last portion and tick mark the square cell that says "Requires users to press Ctrl+Alt+Delete", thereupon hit the OK button.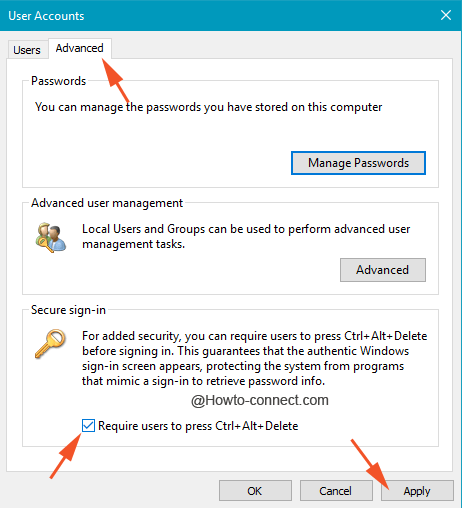 Through Registry Editor
Apply the keystroke sequence of Win & R and thereupon type this code of letters and tap Enter – regedit
Travel through this path – HKEY_LOCAL_MACHINE -> SOFTWARE -> Microsoft -> Windows NT -> CurrentVersion -> Winlogon
Pay attention to the other pane of Winlogon and trace out the DWORD entitled as DisableCAD.

Swiftly twice hit on it and let its Edit box materialize, thereupon appoint 0 as its Value and hit Ok.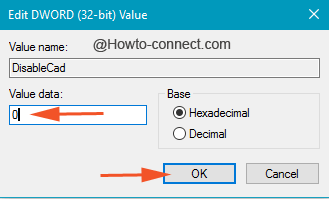 This way also you can turn on the Secure Logon.
2. TURN OFF
Allow the assemblage of Win and R and type the code secpol.msc and go ahead with a tap on the Enter key.
Travel this path on the left column of the emerged Local Security Policy – Security Settings -> Local Policies -> Security Options.
Once you head towards the above route, detect the setting that demonstrates itself as "Interactive logon: Do not require Ctrl+Alt+Delete".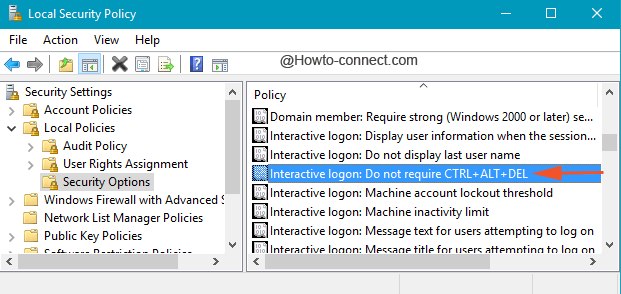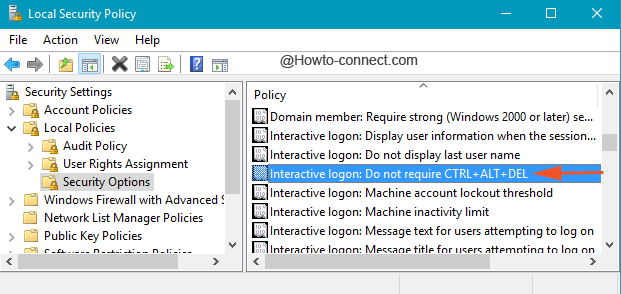 Quickly do a double click on the setting and in the emerged wizard choose the round cell of Enabled and since then the user is not required to use the keystroke sequence to logon.
In Windows 10, the Secure Logon is not turned on by default and thus becomes a necessity for the users to put another layer of security for the system with the help article written for how to Turn On / Off Ctrl+Alt+Delete Logon in Windows 10 and cast aside Sneaking login credentials.