In normal situations you are notified pertaining to the Router's inside information and the extremely vital IP Address by an ISP personnel. In order to configure the router, a web page is facilitated to you too. But Occasionally some users require recognizing the IP Address of the router to which your computer is connected.
IP Address of Router is not identical and is segregated for every other. But the satisfying element is this is no more a hard task and you can gather it easily from your machine without going nuts. Navigate to an interesting info in this concern – How to Get IP Address using PowerShell on Windows PC.
How to Detect IP Address of Router on Windows 10
Through Command Prompt
Commence your procedure by tapping Win and X to materialize a vertical bar on the left of the screen and head towards the Command Prompt entry.
Soon, the urged window of Command Prompt will be apparent on screen, now write this interpreter and hit Enter – ipconfig

The above code will swiftly list down numerous names with numbers associated to few.
Slowly scan the names until you find an entry labeled as Default Gateway and see its associated numerical code.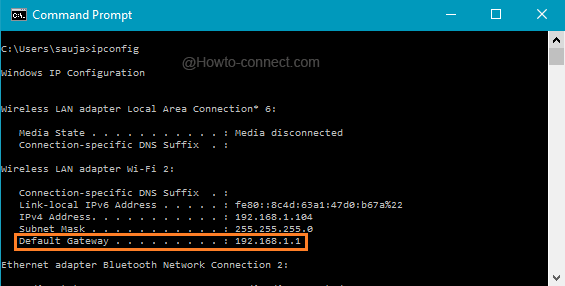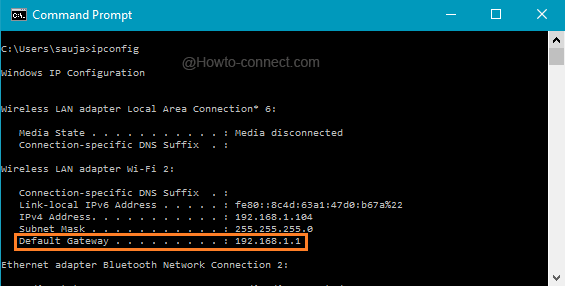 So, this numerical code is the address of your router.
Through Network and Sharing Center
If you don't comprehend the heretofore illustrated procedure, don't worry because the address of the router can also be traced out via the path of Network and Sharing Center. Before heading towards the steps, make a point that the machine is well linked to the network, either through ethernet or via wireless.
Depending on the connection, look for the network image on the system tray and right hit on it to opt the option that is apprehended as Open Network and Sharing Center.
The demanded window will come into sight where an entry entitled as Connections is apprehendable with a blue colored link located with it.

Determining the connection, the name of the link varies, click on that blue colored link.
Another separate tiny sized window will come into sight exhibiting the duration and speed on the connection along with few more particulars.
Click Details button located at the middle part of the wizard.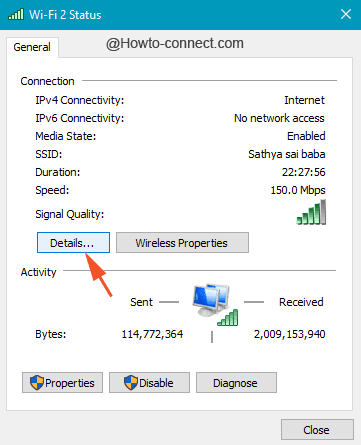 This act will lead to the emergence of another same medium size window entitled as Network Connection Details.
Gradually go through the particulars under Property column and you will find one titled as "IPv4 Default Gateway" and numeric codes under the Value column will be located just next to it is the router address.
To unearth or  Detect IP Address of Router on Windows 10 without accessing a third party website swiftly, you don't have to train your brain much because it is very much present in the system only.