Patching is an amazing resource for Windows to ensure security as well as fight bugs, vulnerabilities threats, and errors. But sometimes the updates themselves become issues and in spite of providing improvements and protection, damage the Operating system. We are talking about KB5017308 that arrived on Patch Tuesday, September 13 to Windows 10 21 H2, and21H1. This patch has caused a number of glitches for the users such as Broken Desktop Shortcuts (GPO), Start menu not working, etc. So some people want to uninstall KB5017308 from Windows 10.
You can remove KB5017308 using 4 methods, for example, from the Installed updates window of Control panel, Command prompt, and System Restore. Once the patch is uninstalled it will be automatically reverted back or downgraded to the previous build Windows 10 19043.2006 or other respective version. This will be helpful to deal with any fatal error in Windows 10. However, we don't support uninstalling a patch or update because this activity may push a system to be a victim of threats or severe damage. But if it is essential you can follow the methods in the following part. See How to Uninstall KB5015807 from Windows 10 21H2, 21H1, 20H2.
Uninstall KB5017308 from Windows 10 21H2, 21H1, and 20H2
Here is how to uninstall KB5017308 from Windows 10 –
Way-1: Via Installed updates window
We have already discussed the problem Broken Desktop Shortcuts (GPO) from which a mass number of users are suffering. Apart from this, the patch doesn't allow to copy or create a file using GPO. In case, you are also getting the issues, go to the link to solve the error or follow the guidelines and uninstall the patch –
Press Windows and R.
Type appwiz.cpl.
Once you are on the Program and Features window, select Installed updates.
In the list, locate "KB5017308" and click on it.
Select Uninstall.
You will come across a dialog box; click Yes on that.
Allow the patch to uninstall. The process may restart your computer a couple of times.
Note: After uninstalling if you want to discontinue the installation then follow – How to Choose a Date to Pause Updates in Windows 10. Furthermore, use either of the utilities from – Top 10 Best Windows update blocker Software for Windows 11 .
Way-2: Through cmd command
In case, the above method doesn't work to remove the September patch, Command prompt may carry you to the end. Follow the steps –
Click on Start.
Type – cmd.
Select Run as administrator.
Choose Yes from the UAC pop up.
Type – wusa /uninstall /kb:5017308.
Hit Enter to run the command.
You can see a pop-up saying, "Windows Update Standalone Installer Do you want to uninstall the following Windows software update – Security Update for Microsoft Windows (KB5017308)". Select Yes on that.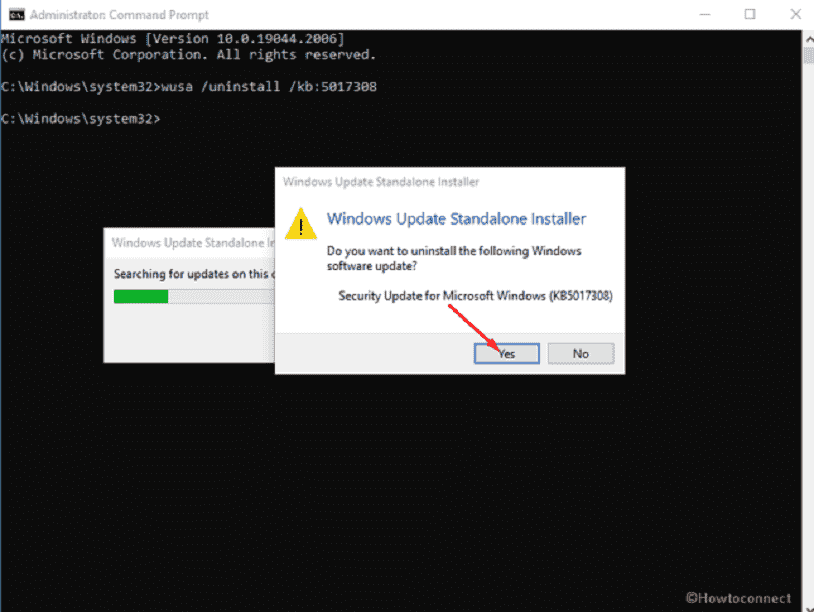 There is a built-in and hidden app you might not know – Windows 10 Update Disable Tool [Download]
Way-3: Using System Restore
Occasionally, a Windows update gets stuck when uninstalling and if the same occurs with KB5017308 then this will certainly help you out.
Click on Search from the taskbar.
Type System protection.
Hit Enter.
From the wizard that appears, click on System Restore.
Check the option – Choose a different restore point.
Click on Next.
Highlight the time and date when the patch was not installed.
Select – 'Next'.
Now, click on Finish.
On the verification prompt, select Yes to start the restore.
This will take a substantial amount of time (in hours) depending upon the volume of files in Windows so wait patiently.
This post may be useful – How to Stop Windows 10 Update in Progress
Way-4: By restarting into Safe mode
Suppose the Cumulative update is obstinate and it fails to uninstall with any of the mentioned methods then this will be a rescuer. After going to safe mode you can remove the September security patch easily by going with the steps –
Right-click on 'Start'.
Select Run.
Type MSConfig.
Press Enter to launch the System Configuration window.
Go to the Boot tab.
From the 'Boot options' section, check Safe boot followed by Minimal.
In the end, click Apply and OK and select Restart from the pop-up.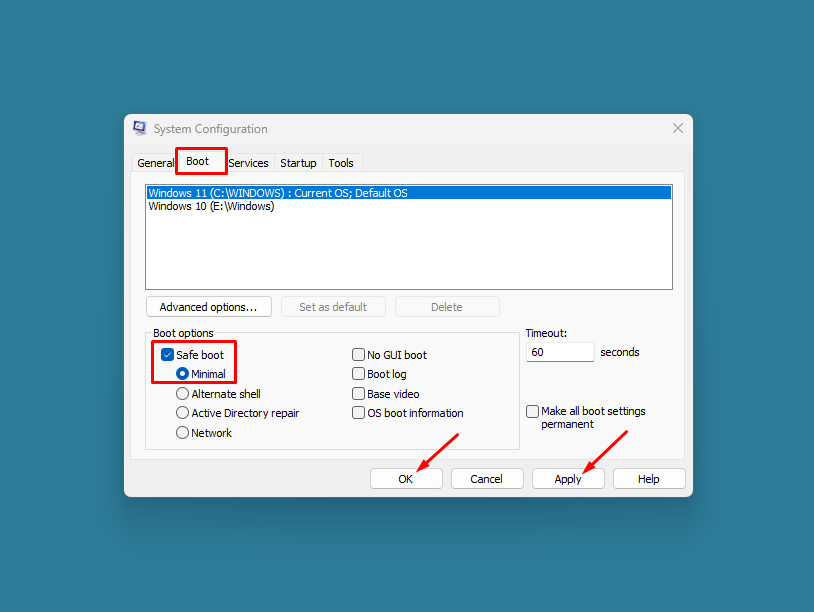 Now follow any of the Way-1 and Way-2 to Uninstall KB5017308 from Windows 10.
Methods:
Way-1: Via Installed updates window
Way-2: Through cmd command
Way-3: Using System Restore
Way-4: By restarting into Safe mode
That's all!!