Encountering errors during Windows updates can disrupt the seamless functioning of your system. One such error is the "0x8007371c" error, which can hinder the installation when trying to install a patch or build. Windows updates are like cool upgrades that keep your computer humming with new features, security boosts, and overall awesomeness. This guide aims to provide you with effective methods to resolve the 0x8007371c error and ensure a smooth update process on your Windows system.
0x8007371c error code might appear because of malfunctioning system files, broken Windows Update cache, incorrect system configurations, and third-party antivirus. Furthermore, conflicts between third party programs or drivers and Windows components might also trigger the issue. Fluctuating Internet access is also a reason for this error so prefer to run ethernet over WiFi when trying to install the update. See: Fix Windows Update Error 0x800B0108 (Solved!). Now let's walk through the solutions:
Windows Update Error 0x8007371c
Here is how to fix Windows Update Error 0x8007371c:
Check Internet Connection
A stable and reliable connection is necessary for successful updates there before you start updating your Windows, make sure internet is working perfectly.
When facing error code 0x8007371c then, first of all, go to Google search, type "internet speed test" and press Enter. From the result, click on the button RUN SPEED TEST. Ensure the internet is not interrupted and then start installing the update.
Run Windows Update Troubleshooter
Windows 11 following predecessors provides a built-in and dedicated troubleshooter that automatically detects and resolves common update-related issues after running. The best part is, you don't need to be a computer expert to use it. It's made for regular folks like us. To fix the error run the tool:
Click on Start and type troubleshoot.
Hit Enter to launch the Troubleshoot Settings.
Click on Other troubleshooters (In Windows 10, click "Additional troubleshooters".)
On the Next page, find Windows Update and select Run.
The tool will diagnose Services, Registry, files, and cache and sometimes show suggestions. So wait for the completion and at last restart the system.
Reference: Use Common Windows Update Troubleshooter on Windows 11, 10, 8.1, 7
Clear Windows Update Cache
If the error 0x8007371c still persists, manually resetting Windows Update components might help. This involves stopping related services and renaming certain folders and then starting the same. However, please note that this method requires careful execution and technical knowledge. It is recommended to carefully follow this comprehensive guide or seek professional assistance for this process.
Press the "Windows + R" keys to open the Run dialog system box.
Type in "services.msc" without quotes.
Press Enter to open the Services window.
Scroll down and you will find the "Windows Update" written on the screen.
Right-click on it and select "Stop."
In the same way, stop Background intelligent transfer service and Cryptographic Service.
Navigate to the following folder: C:\Windows\SoftwareDistribution
Delete all the contents you can see in this folder.
Restart the "Windows Update" service by right-clicking on it and selecting "Start."
Similarly, Start Background intelligent transfer service and Cryptographic Service.
Use SFC and DISM
0x8007371c error code often appears because of malfunctioning system files and damaged Windows installation files. Thankfully, there are built-in tools that can rescue this situation cleaning the way to install updates and these are SFC and DISM.
On one side, System File Checker can verify and replace them with the same copy in Cache folder if they are found corrupted and on other DISM can scan, check, and rectify faults in Windows image. Therefore, run both command line tools using the below-given instructions:
Click on Search and type cmd.exe.
Select – Run as administrator.
When UAC dialog prompts, click on Yes.
Type cmd command SFC /SCANNOW and press Enter.
After the verification, scanning, and repair are completed, restart your computer and check for updates.
In case, the attempt fails again, open Command Prompt as administrator once more.
Then enter the following command lines successively:
DISM /Online /Cleanup-Image /CheckHealth
DISM /Online /Cleanup-Image /ScanHealth
DISM /Online /Cleanup-Image /RestoreHealth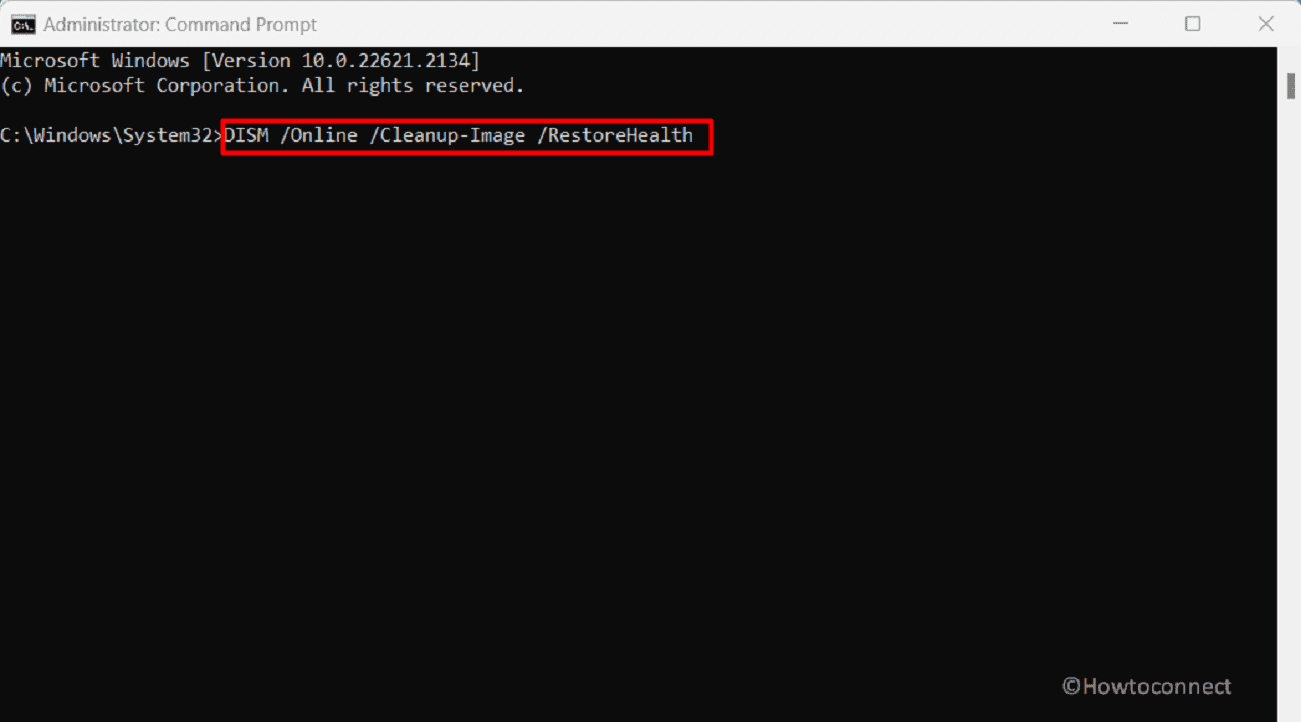 At last, reboot your device, and try to install the update.
Uninstall third-party antivirus or other programs
Third-party programs are often supposed to create conflicts with the system elements and interfere with the prototype functions of Windows. Consequently, the occurrence affects the components that can have impact on components associated with Windows update process. So, if you have third party software on your system, uninstall it and then try to receive the patch or build.
Press Winkey and R then type appwiz.cpl.
Hit Enter.
When the Programs and Features window comes on the screen find the third-party tool that can affect the Windows update process.
Right-click on the antivirus software and select Uninstall.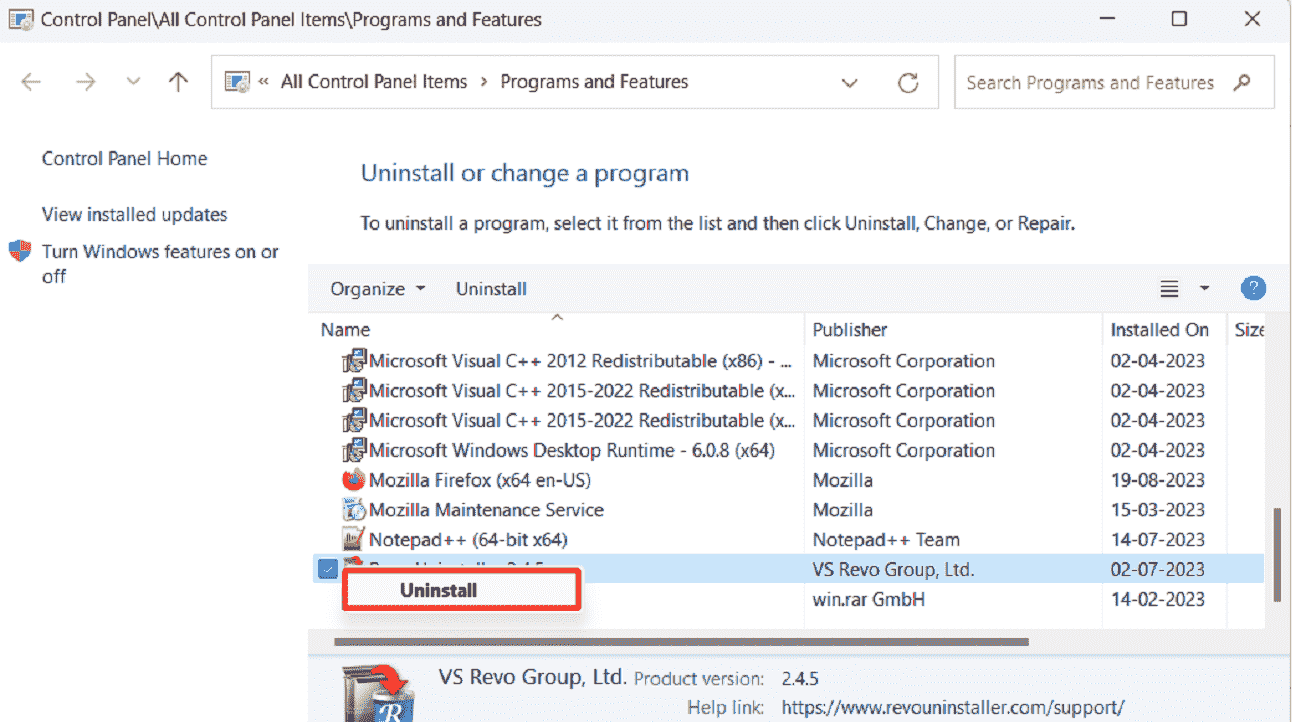 Click on Yes if a verification popup appears.
If any instructions are shown follow them.
Restart the PC and check for updates.
Execute Clean boot
A clean boot, also known as a clean startup, is a troubleshooting technique used in Windows to diagnose and isolate problems that might be caused by third-party software or obsolete drivers. This method starts up the system with a minimal set of drivers and startup programs, typically disabling unnecessary software and services that could potentially interfere with normal operation.
As a result, you get a chance to install the Windows update with minimum interference that might disrupt the process.
Close all the ongoing programs first.
Then click on Windows search from the taskbar and type msconfig.
When you press the Enter key System configuration window opens up.
Check the option Selective startup and uncheck Load startup items.
Go to the Boot tab and uncheck Hide all Microsoft services.
Then click on Disable all.
Now go to Startup tab and click on Open Task Manager.
From the Task Manager, right-click on the programs one by one and select Disable each time.
After completion, come back to System Configuration and click on Apply then OK.
A popup will appear; select Restart.
After the computer is rebooted, navigate to Settings (Win+I) > Windows Update and click on "Check for updates".
Perform In-place upgrade
Still, if you are facing update error 0x8007371c then In-Place upgrade might be your destination. This process refers to upgrading or updating an existing version to the most recent one without performing a clean installation.
Proceed to the link Microsoft website to access the official download page of Windows and click on Select Download.
Select "Download Windows 11 Disk Image (ISO)".
A dropdown might be appearing; select Choose one.
Click on "Download Now".
The page will reload and show Choose one dropdown, click on it.
Select a suitable product language.
After that, click on the button that reads Confirm.
Then click on "64-bit Download".
Launch the File Explorer (Winkey+E) and navigate to the Downloads folder.
Right-click on the downloaded ISO file and select "Mount".
Select "Open" on the Open file security warning dialog.
Then, right-click on "Setup.exe" and select Yes on the verification prompt.
You will come across  "Windows 11 Setup" wizard; click on Next.
Subsequently, on Applicable notices and license term window, select Accept.
Hopefully, the Windows Update Error 0x8007371c would be fixed using these 7 ways.
Methods:
Check Internet Connection
Run Windows Update Troubleshooter
Clear Windows Update Cache
Use SFC and DISM
Uninstall third-party antivirus or other programs
Execute Clean boot
Perform In-place upgrade
That's all!!
Repair any Windows problems such as Blue/Black Screen, DLL, Exe, application, Regisrty error and quickly recover system from issues using
Reimage
.