Windows 11 Insider running Beta Channel obtained a new update with a massive number of improvements and bug fixes on 18/08/2023. These include built-in support for reading additional archive file formats, Never Combined mode on the taskbar, multiple changes in Narrator, and last but not least, several fixes. KB5029352 is the LCU that distributes the Beta updates increasing the build numbers to Windows 11 22631.2199 and 22621.2199. Snipping Tool 11.2306.43.0 and later is also rolled out with this release.
Full name of the version is Cumulative Update for Windows 11 Insider Preview (10.0.22631.2199) (KB5029352). See the points of previous Beta update: Windows 11 KB5028256 Beta Channel Build 22631.2050 rolled out to Insiders. Now look at what is new in the current build:
KB5029352 Windows 11Build 22631.2199 and 22621.2199 features, changes, and fixes
New Features
Native support for reading additional archive file formats
According to declaration at the Build conference back in 05/2023, this build includes built-in support for reading more archive file formats using the libarchive open-source project, for example:
.tar
.tar.gz
.tar.bz2
.tar.zst
.tar.xz
.tgz
.tbz2
.tzst
.txz
.rar
.7z
And more!
Kindly be aware that encrypted archives are presently not compatible.
Changes and Improvements in Build 22631.2199
Start menu
In cases where files lack extensive thumbnail previews that can be furnished, the display of an empty preview section will no longer occur. This effort is part of the ongoing implementation of enriched thumbnail preview (tooltip) for cloud files on the Start menu, which commenced with the release of Build 22631.2129.
Taskbar & System Tray
Enabling the Never Combined mode on the taskbar is now achievable through a right-click on the taskbar itself. By selecting Taskbar settings and navigating to Taskbar behaviors, you can easily modify the option labeled Combine taskbar buttons and hide labels to the Never setting. Additionally, KB5029352 offers a distinct configuration to activate this feature for alternative taskbars, particularly useful in situations involving multiple monitors.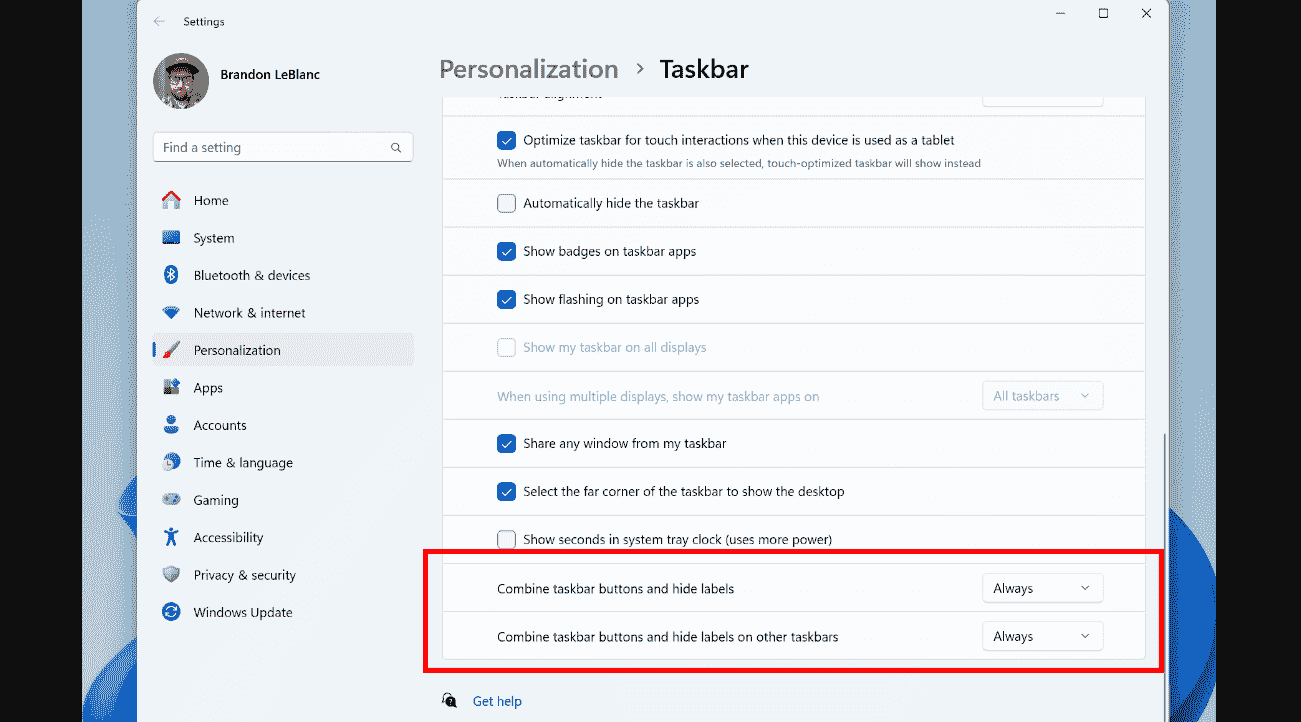 Narrator
KB5029352 LCU has adjusted the default verbosity from 2 to 3, resulting in the announcement of the "Immediate Context Name and Type." This alteration ensures that users are informed about the focused control's context, such as "list" or "toolbar," enabling a clearer understanding, aligning with the same default setting as JAWS and NVDA screen readers.
The addition of a Traditional Chinese dictionary for detailed reading has unblocked Narrator users, enabling them to type Traditional Chinese characters in Windows seamlessly.
We have made the following improvements for Narrator with Braille:
While utilizing scan mode to navigate to attachments in Outlook, Narrator now announces the ampersand (&) of the attachment, and this information is also conveyed on the braille display.
Subsequent to receiving Windows 11 Build 22621.2199, you can utilize the down arrow to navigate to various headings in Scan Mode or use the 'Space + 4' key combination on a Braille device. This navigation action is now accurately represented in Braille.
While navigating a list containing items, whenever Narrator announces an index along with the name of the menu item, the Braille display concurrently presents the corresponding index value, for instance, "1 of 4".
Settings
The end task feature under System > For Developers no longer requires Developer Mode to be enabled first before it can be used.
Fixes in Build 22631.2199
Taskbar & System Tray
Resolved a problem that prevented app icons on the taskbar from being repositioned, which led to overlapping when attempting to move them in the prior flight.
KB5029352 resolved a situation where the Safely Remove Hardware icon failed to appear as anticipated within the system tray.
In Build 22631.2199, a resolution was implemented for an issue where the "End Task" feature would not function properly when attempted with multiple open windows of the same application.
Resolved a problem where utilizing the End Task function on specific apps would result in the unintended closure of unrelated applications.
File Explorer
They have undertaken enhancements to optimize the performance of archive operations during compression on Windows.
Input
Windows 11 Build 22631.2199 fixed a problem that was causing incorrect functioning of typing with Japanese and Chinese Input Method Editors aka IMEs following the most recent flights for certain Insiders.
Narrator
The update KB5029352 resolved a situation in which Narrator failed to read diverse list items within a combo box on different web pages while navigating using the up and down arrow keys.
The LCU Beta channel fixed a problem where Narrator was providing incorrect information by announcing combo boxes as read-only, despite users being able to select different values from the list items within the combo box.
The problem where Narrator failed to announce the checked and unchecked status of radio buttons has been addressed. Previously, it was only announcing "selected" for every item.
Resolved a problem in which Narrator was announcing outdated information while navigating within a date/time picker using arrow keys.
Windows 11 Build 22631.2199 fixed a concern where Narrator was providing inaccurate readings of both the contents of the previous cell and the current cell while navigating within a table using the right and left arrow keys.
Resolved a situation in which Narrator was inaccurately reading an outdated window title even after navigating to an inner control.
Fixed a problem where Narrator was reading the entire paragraph when the up arrow was triggered in an online word document.
Resolved a problem where Narrator was providing incorrect readings by announcing the last word of the previous paragraph when a new paragraph began with a punctuation mark.
Fixed a bug where Narrator was not announcing the character being deleted when using backspace key in some text fields on the web.
Rectified a bug where Narrator was failing to announce the character being deleted when the backspace key was used in certain text fields on web pages.
KB5029352 LCU fixed an issue where Narrator failed to detect different headings on certain web pages in scan mode when using the "h" key for navigation.
The rollout resolved a problem where Narrator's scan mode arrow navigation was ignoring the first item in a container.
Fixed an issue where using the d key to navigate through landmarks in scan mode resulted in Narrator skipping the first item.
Rectified a situation in which Narrator's focus was unable to move past the first checkbox, particularly when a list of checkboxes was present, while using the up and down arrow keys in scan mode.
Corrected a problem where Narrator was not activating combo boxes during navigation through the up and down arrow keys, mandating the use of the enter or spacebar to activate them in scan mode.
The Latest CU in Beta channel fixed an issue where Narrator would collapse combo boxes during navigation in scan mode while using the up and down arrow keys.
Resolved a problem where navigation commands were not executing as anticipated within a dialog box during the second entry into the dialog.
Fixed an issue where Narrator's find function was inconsistently operational on web pages when utilizing the Narrator key + Ctrl + F key combination.
HDR Wallpaper
The problem of HDR wallpapers appearing washed out, even when HDR was enabled, has been resolved.
An issue preventing the selection of .JXL files for your wallpaper slideshow has been fixed.
Task Manager
Updated the summary view for the Performance page (that you see when double clicking the graphs in the navigation pane) to make the window smaller.
Fixes for BOTH Build 22621.2199 & Build 22631.2199
Introducing a new update! This update brings additional functionality that impacts app defaults.
Resolved an issue in this update that leads to Windows encountering failures when utilizing BitLocker on a storage medium with a large sector size.
Also, addressed in this update is an issue related to Remote Desktop sessions. Occasionally, an incorrect error message appears when attempting to sign in to a session.
Furthermore, this update tackles a problem with the search icon. After selecting it, the Search app fails to open, particularly following the computer's period of sleep.
Additionally, this update addresses an issue where the search box on the taskbar fails to be properly identified, and search highlights within the box are not displayed accurately.
A new API for D3D12 Independent Devices has been presented by this update. It enables the creation of multiple D3D12 devices on the same adapter.
Addressed in this update is an issue that affects disk partitions. The system might malfunction after deleting a disk partition and reallocating the space to an existing BitLocker partition.
This update ensures that Start menu icons are not missing after the initial sign-in.
Daylight saving time aka DST changes in Israel are now supported by this update.
The reliability of the Search app has been enhanced by this update.
Print jobs sent to a virtual print queue no longer fail without an error, thanks to this update.
An issue concerning the search box size has been resolved. The size is no longer reduced in tablet posture mode on Microsoft Surface Pro and Surface Book devices.
KB5029352 addresses a problem with the TAB key during search result browsing, eliminating the need for additional actions.
The Group Policy Service now accurately processes policies without waiting for 30 seconds for network availability.
Settings will now sync correctly even after turning on the toggle on the Windows Backup page in the Settings app, due to this update.
KB5029352 resolves an issue in Resultant Set of Policy (RSOP), where the Windows LAPS BackupDirectory policy setting was not being reported when set to 1, Back up to AAD.
High CPU usage caused by enabling the fBlockNonDomain policy has been addressed.
For users of Windows Update for Business, this update fixes an issue. After being prompted to change your password at sign-in, the change operation previously failed, preventing you from signing in. The error code associated with this is 0xc000006d.
Lastly, this update addresses an issue with WS_EX_LAYERED windows. These windows would render with incorrect dimensions or at the wrong position when the display screen was scaled.
Known issues
General
[New Feature] Following the installation of this build, you might notice that the Check for updates option is not visible as anticipated within Settings => Windows Update. To manually initiate the update check, you can launch Windows Terminal (or the Run dialog) and input the command USOClient StartInteractiveScan. This command functions similarly to clicking the "Check for updates" button in Windows Update. It's worth noting that executing the command will not generate any output. To confirm the operation's success, you can execute the command while the Windows Update settings page is actively displayed. If successful, you will observe your device actively checking for updates.
They are currently addressing a problem that leads to explorer.exe crashing on the login screen when attempting to access safe mode.
File Explorer
There are instances where the context menu background in File Explorer might display as transparent.
They are actively looking into a problem where all icons on the desktop could become blank. If this occurs, performing a right-click and then refreshing the desktop will serve as a workaround.
Narrator
Certain strings may appear unlocalized in the chosen language. This issue will be addressed in an upcoming flight.
Snipping Tool Update
The company is commencing the distribution of an update to Snipping Tool (version 11.2306.43.0 and later) to Windows Insiders within the Beta Channel. This update introduces fresh buttons for editing in Paint with regard to screenshots, as well as editing in Clipchamp for screen recordings.
How to download KB5029352 and install
Click on Search and type updates.
Press Enter and allow the concerned Settings page to appear.
Click on Check for updates and wait until the build is downloaded.
Once finished, select Restart now.
KB5029352 download link: https://www.microsoft.com/en-us/software-download/windowsinsiderpreviewiso (When ready.)
Source: Windows blog.
That's all!!