Drprot Folder Monitor is a free utility that records system changes in real time pretty much easily. This application scans and shows you what files have been created. In addition, it also analyzes the created files and notifies whether they are safe or dangerous to your system. See 9 FTP Client for Windows 10 Free You Should Really Depend on.
This application does not charge you anything to download and install it. Moreover, it also provides you various options to manage the files, such as export, run watcher, and so on. So, hook to the guide as we explore more about this software in Windows 10.
Use Drprot Folder Monitor in Windows 10
Download and Install
Step 1 – Visit this web page and click the button Download Drprot folder monitor. The executable file is very small in size, so you can see the download over in few seconds.
Step 2 – Launch File Explorer and go to the Download folder, locate and double-click the file drprotwatchersetup.exe.
Step 3 – If you see Open File Security Warning, click Run to give permission. The setup dialog tells you the instructions, follow them and finish the installation.
Run Drprot folder monitor
Step 1 – Open the program and this may show the UAC prompt on the PC screen, click Yes.
Step 2 – The Drprot folder monitor shows up, click Open to upload the file. Navigate to the location and select the file you prefer to examine.
Step 3 – Moving ahead, click Start button to examine the file.
Step 4 – This evokes a dialog stating that Some files need to be checked online, click OK to proceed.
Note – This dialog does not appear on scanning of every file.
Step 5 – Drprot folder monitor show you the File name, its Status, File Path. It tells whether the files are safe or dangerous for the system. However, in my case, the utility tells that the files are safe.

Other Options
Now, let us take a look at the other options that Drprot folder monitor provides you. On top of the application, you can see ten different buttons.
Open – Click this button to navigate and upload and examine files.
Save – To use this option, first select the scanned files in the application's interface. After choosing the files, store it in a preferred location with a suitable name.
Start – As mentioned earlier, this option allows you to begin the scan.
Stop – To terminate the scan, go ahead with this option. However, the scan happens very quickly and you get little time to cease it.
Check location – This option tells you the location of the selected file.
Select all – Choose all the files scanned by Drprot folder monitor at a time with this option. It makes work easier when you have to export, save or delete them altogether.
Delete – First, pick up the files as per preference in the interface and click this button to remove all of them.
Run watcher – This option records system changes in real-time.
Export – The term itself explains its functionality. Choose the desired location and export them.
End – To terminate the scan, use this button. Once you click this, the application gets closed.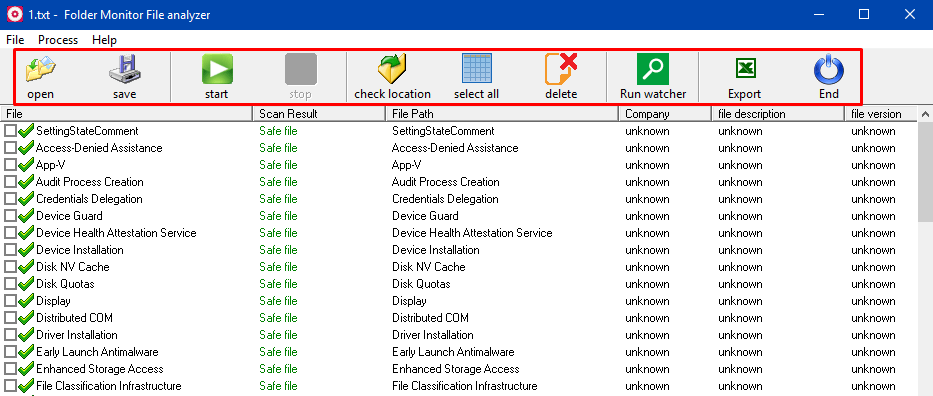 If your PC is cluttered with unnecessary items, you can Download and Use FreeDriveC to Free Up Disk Space on Windows 10.
Conclusion
So, you see that Drprot Folder Monitor program is quite useful as it can let you know about the safe and malicious files. Give a shot to this freeware and let us know how it helped you in locating the safe and unsafe files.