Whenever you see the interior design of a house in a movie, you wish you could have designed the same way in your house. But, it may seem impossible to as you don't have the image captured in your ideas for a long time. What if you got all those pictures stored in your mobile. Yes, it is indeed possible if you are using Android mobile. All you have to do is to install a new app in your mobile named Houzz Interior design ideas.
This app of Android i.e  Houzz Interior design ideas is developed by Houzz which is a free Android application for interior design. This app consists of a large number of pics of redesigned flats. These images can be saved in the Ideabook to see it offline. It is a very amazing and exciting app for Android which gives us a lot of options to design the interior of our rooms.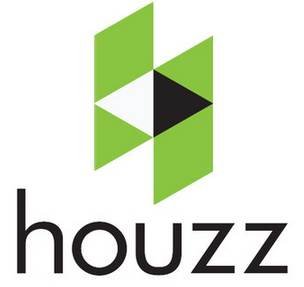 How does it work and what are the features 
As soon as you open this app on your Android, you will see a screen changing itself with different designs of houses. You can add an image to your ideabook so that you can see that image when you are offline i.e. not using the internet. A figure showing the screenshot is shown below.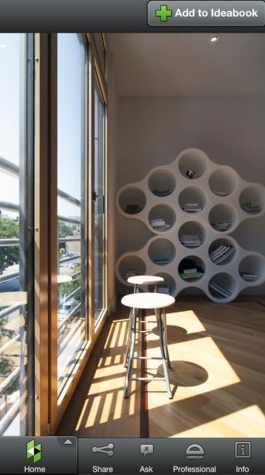 You can see various options at the bottom of above figure. Some of them are mentioned below:
Home: It will take you to the Home Screen. A window will pop-up after clicking on this button and that is shown below.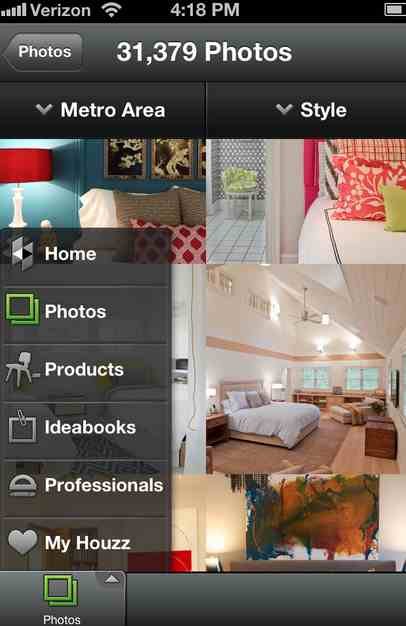 Once you click on the Home button, you have the access to click on Photos, Ideabooks, My Houzz etc.
Professional: Using this you have an option to see the information about the interior decorator.
Using this feature, we can look for the profile of the Designer who has made this app.
Share: Using this you can share this image on Facebook, Gmail etc.
Info: This is of main importance, as after clicking on it, you can see information about the image shown as Screenshot. Similarly, to the above two cases, using this will open a new shortcut where, you can see the detailed information about the design you opt for.
This is really an exciting and amazing app. It is well optimized and smooth and it runs without any lags of any sort. This is the app by which one could design  the best interior design of a house without investing money on this a lot.
How to get this app
You can get this app by visiting the site Houzz App for Android. You can download this app from there, install it in your PC and then have fun by running it.