Ways to use Movie to Gif to convert Video to Animations in Windows 10. – A lightweight freeware Movie to Gif is a handy tool. This software converts Video to Animations in one go in Windows 10 on a simple user interface. You are here to learn the way you will use the tool Movie to GIF. See another method for this – How to create GIF from video with Freemore Video to GIF Converter.
When you use Movie to Gif to convert Video to Animations in Windows 10 it will process the task only after setting Start and end time. To know the existing method to transform video to animations use the software convert Movie to Gif. See the method below.
Way to Use Movie to Gif to Convert Video to Animations in Windows 10
Download Movie to Gif 1.2.4.0
Step 1 – Go to this page and download this featherweight Movie to Gif 1.2.4.0  (the currently released version).
Step 2 – Now follow the guidelines on the monitor to finish the installation process for using Movie to Gif 1.2.4.0.
It is noteworthy to mention that Movie to Gif tries to install a few other software along with its own code. To avoid this, pay attention during setup and decline the offer when it appears.
Read – How to Uninstall Software From Windows 10 After Creators Update.
It is compatible with all kinds of Microsoft Windows, right from Windows 7 till Windows 10. This icon will reserve a place on the desktop after the installation is over.
How to Use Movie to Gif 1.2.4.0
For conversion of Video to Animations in Windows 10 using Movie to Gif 1.2.4.0, follow the given instructions.
Step 1- Press the shortcut icon of the software on the desktop to convert Video to Animations. On the user interface, click on the Open from the top left.
Step 2 – Now look for the video you want to convert, select it and click on the Open option.
Step 3 – After adding it now make necessary modifications as per your needs. You can cut short the video, change, speed and frame rate the size of the video here. After making the changes click on the button Save as Gif.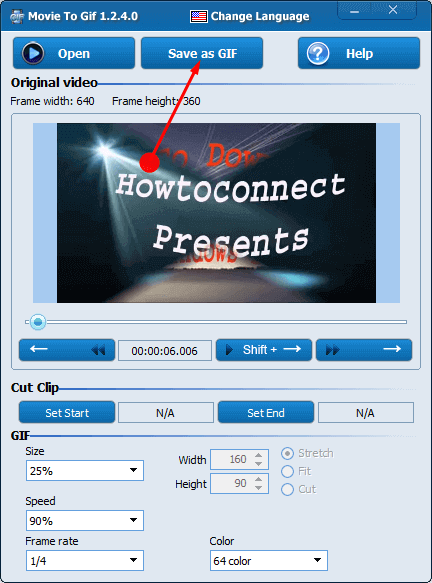 Step 4 – Now, give a name to your file after choosing the destination where you intend to save the file. Then wait till the processing of the video is over.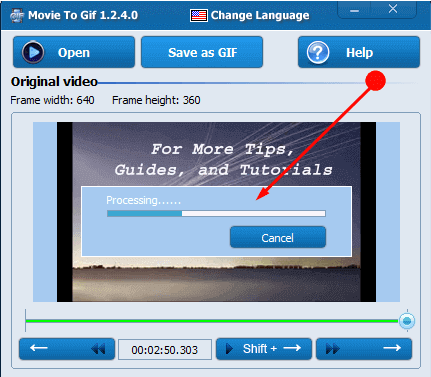 Step 5- After the processing ends the video will be converted into a gif file and will get stored in your chosen location.
GIF is a design for image files that assists both animated and still snapshot. Buttons, banners mostly use Gif as it has no compulsion for using much of colors.
Creating own animated gif files from a video is always a great deal of fun. People use animated.GIF images as ads on a website or hand it out among their friends. You know that there are many Gif files available on the internet but creating a Gif file is always exciting.
Follow – 16 Best Free Animation Software Download for Windows
Winding Up
So, when you also want to create a Gif file, use Movie to Gif 1.2.4.0. It is a very fun filled conversion process and let you create cool files. Get this single pane software and enjoy using this method.