Windows claimed that the next feature for Window 10 version 1809 will release in October 2018. It has been a long time since the last time that Microsoft took a care about the Registry Editor of Windows operating system. The last version offered many basic functions like creating, editing or remove Registry key. So, in this article, we will tell you the way to Use Regedit.exe Address Bar Changes in Windows 10 1809.
Unlike others Register editors, it did not support lots of features and focus mainly on Regedit.exe Address Bar improvements. Besides that, it will help the users to improve the work between the system administrator and the Registry. However, many programs like RegScanner, Regalyzer or Registry Finder has introduced certain new and useful features. They provide you options such as address bar, better filtering option, and tabbed editing. In fact, Microsoft announced an address bar in the built-in Registry Editor in 2016. However, it did not use in Window 7 or 8.1, it is applied to Window 10.
How to Use Regedit.exe Address Bar Changes in Windows 10 1809
Here is how to use Regedit.exe Address Bar Changes in Windows 10 1809 –
Microsoft released a new build for the new feature version to the Insider Channel in Window 10. It included the two new improvements and one of it is Regedit.exe Address Bar changes.
Step-1: Access Registry Editor and to do so, type regedit on Cortana. When the result displays the same command as the Best match, hit Enter.
Step-2: If UAC shows up on the PC screen, click Yes to proceed ahead.
Step-3: When Registry Editor appears, type something directly in its address bar. It will immediately display the next paths of the structure as a suggestion.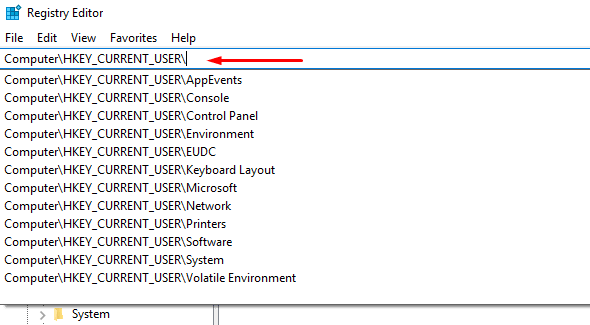 For reference, you may like to read its another feature to Copy Key Path in Registry Editor on Windows 10.
Basically, it will include a drop-down menu to the address bar. All you need is to simply type any contents or details to the address bar, the next path of the structure will be displayed as the recommendations for you.
This feature works like a person who can automatically complete the works in web browsers.
You can choose one of the available options by using your "keyboard or mouse".
The options to delete steps from a path is another advanced feature. Just simultaneously press Ctrl + Backspace keys to remove the last track.
In addition, you can also use Ctrl + Delete to remove the next path. In fact, it is more beneficial than users think. If you type manually, you might find lots of useful functions for your work.
Since the last released in Regedit.exe Address Bar improvements in 2016, it has brought many benefits to the users. Let's wait for the next version and see what are the changes and improvement.