You can use Vitomu, a lightweight utility to convert online or offline videos to audio files. The term Vitomu stands for VIdeo TO MUsic. This software is simple and is developed by the Digimezzo company. You may also like to Use Vov Video Converter to Edit and Convert Video Files Formats.
Vitomu is a single pane application where you have to just drop a video and then the conversion will start. Depending upon your need, you can either drop URL of an online video or local video file in the program. Currently, Vitomu supports only MP4 and MKV input file formats for the conversion. Read another similar article on How to Combine Video with Audio Using Cute Video merger. So, if you want to extract audio tracks from videos, then walk through the below-mentioned series of steps to download and use this freeware.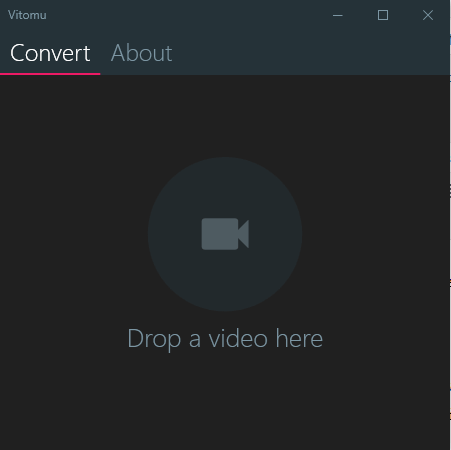 How to Use Vitomu to Convert Video to Music After Only Dropping
Download Vitomu
Step 1 – Visit digimezzo page to grab its tool.
Note – Vitomu comes in 2 types of downloads.
1. Releases: These are the most stable versions.
2. Previews: These are the development previews for those who wish to test every version of the tool. Previews undergo thorough tests but are usually less stable than releases.
Step 2 – So out of these choose the one that suits your need and then download the same. After downloading Vitomu, extract its contents into another folder.
For reference, read How to Extract Compressed Files in Windows 10.
Step 3 – Now, locate and double-click the file Vitomu.exe.
Note – It is worth mentioning here that a pop up might arise stating that the software will harm your device. If it happens then click on the More Info link and press the Run Anyways button. This is just a security feature and it does not mean that the software will harm the device.
How to Use Vitomu
Step 1 – To Use Vitomu, drop any local video file or URL to the software pane and leave it inside the circle that reads Drop a video here.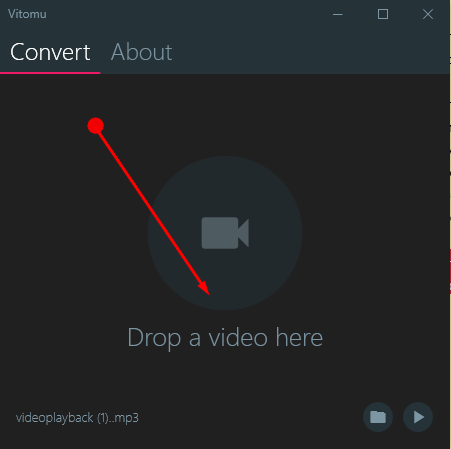 Step 2 – As soon as the file reaches there the process of conversion starts taking place. Now just wait for the process to get over. The total time for conversion depends upon the length of the video.
Step 3 – After the conversion is over two icons are visible at the bottom of the software. To listen the extracted audio instantly click on the Play icon.

Step 4 – Click on the Folder icon to see the storage location of the extracted audio. Now you will be able Use Vitomu to Convert Video to Music in one click.

Go through another related article on How to Use Movie to GIF to Convert Video to Animations in Windows 10.
Winding Up
Hence, you can use Vitomu, a simple software for converting video to music by making a single click. It works on a simple process of dropping a video, converting the video to audio, and storing it for the purpose of further use. In the end, use Vitomu and enjoy a tensionless conversion.