You need to Troubleshoot Incoming Connections when other computers fail to communicate with your PC on a network. This issue happens when Windows Firewall prevents any connection to your computer. Well, a problem in connectivity can also occur when the program(s) you are using for sharing files or folders or for Remote Desktop connection gets corrupt.
So, the main work of Incoming Connections troubleshooter is to check whether Windows Firewall is preventing connections to your PC. When you Troubleshoot Incoming Connections, you will notice that it will instruct you to again run the program using which you were facing troubles in connectivity. If you are also encountering a similar problem, head towards the step and see how to resolve the connectivity issue in your network.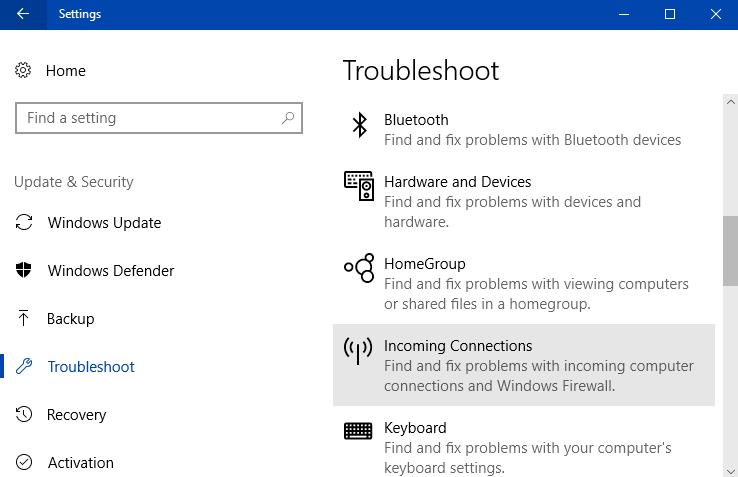 How to Troubleshoot Incoming Connections in Windows 10
Step 1 – To Troubleshoot Incoming Connections in Windows 10, open Settings application. To do so, jointly press Win & I keys.
Step 2 – Locate and click Update & security tab that appears on the home page of Settings application.
You may like to read How to Open and Customize Update & Security in Windows 10.
Step 3 – Click Troubleshoot on the left sidebar of the following page. Now, shift to the right pane, find and select Incoming Connections.
Follow more ways to Open Troubleshooting In Windows 10.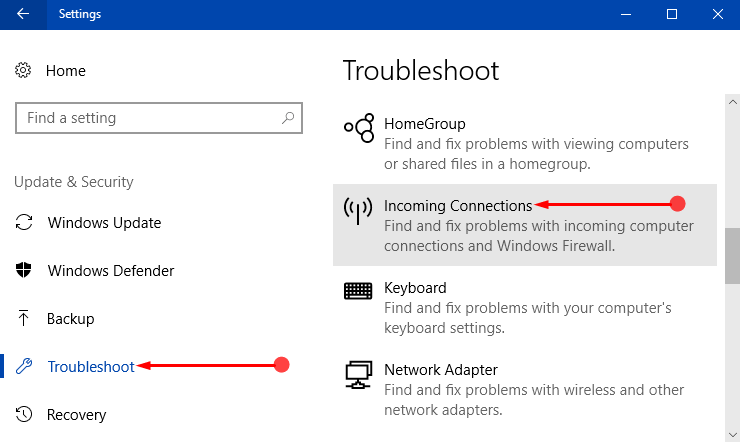 Step 4 – Run the troubleshooter button will come into view, click on it.
Step 5 – Incoming Connections Troubleshoot dialog will start detecting problems. The main task of the troubleshooter is to check whether Windows Firewall is preventing connections to your PC.
Step 6 – Moving on, the dialog will display your four tasks.
1. Share files or folders – Go ahead with this option when you are unable to share files or folders using a specific program.
Read How To Share Folders On Network in Windows 10, 8.
2. Connect to this computer using Remote Desktop Connection – If you are remotely accessing another computer and faces troubles in the connectivity, try out this option.
3. Find this computer on the network – In case, you are having difficulty in knowing about other PCs on your network, select this option.
4. Something else – Choose this option if your problem is not listed here and it's related to a particular program.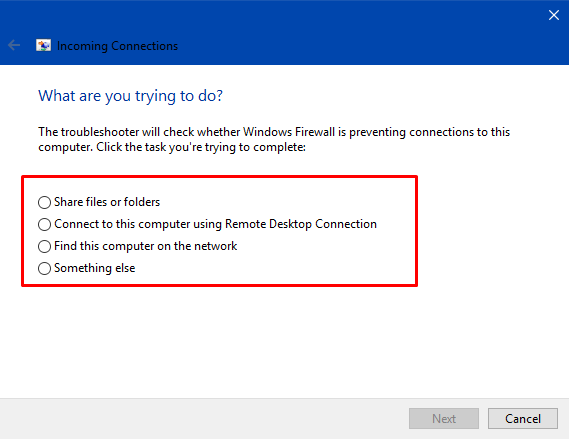 Step 7 – So, depending on what issue you are having, select that option and click Next.
Step 8 – Follow the guidelines on the troubleshoot dialog and complete the process to successfully Troubleshoot Incoming Connections. This will help definitely solve your issues with the incoming connections.
Closure words
Hence, finishing the above-mentioned steps will make you able to Troubleshoot Incoming Connections. Well, users have various issues with incoming connections and in most cases, it is the Firewall that blocks the connections. So, you can also try to configure firewall settings and try to fix things up. If you have more tips about this specific troubleshooter, write down to us.
Repair any Windows problems such as Blue/Black Screen, DLL, Exe, application, Regisrty error and quickly recover system from issues using
Reimage
.