Ways to use Vov Sticky Notes on Windows 10. – Vov sticky notes is a quite simple application lets create stickers, Reminders, and helps to keep important information handy. If you tend to forget things, miss important dates, timelines this note taking tool is a solution. This could be a good alternative for the Windows 10 built-in Sticky note. See a guide How to Change Sticky Notes Color and Format in Windows 10 in this regard.
When you Use Vov Sticky Notes in Windows 10 you can perform several other activities in addition to taking note. This tool allows you to set desktop alerts for important events, colorful stickers on your desktop. So you will learn how to use Vov sticky notes in this guide. When you consider an online service, this article might help – How to Create Box Notes, Edit, and Save.
Use Vov Sticky Notes in Windows 10
You need to follow these steps in order to use sticky notes.
Download and Install
Step 1 – Download the Vov Sticky note from here.
Step 2 – For installation, as you open the vov-sticky-notes.exe Setup you will find the Smartscreen pop up Windows Protected Your PC. Click on More info on this pop up.

Step 4 – Select Run anyway in the pop up. Now the Installation of the Vov sticky notes will begin.
Step 5 – Now you need to complete the installation process of the application following the Onscreen instructions. Once it is installed you will find a colorful note stuck on your desktop.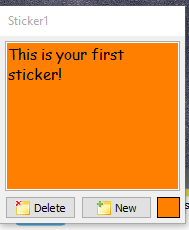 Create a new Note
Step – All you need to do is to click on the New button if you want another note on the desktop.
Delete a Note
Step – Similarly, you can delete the note by pressing the Delete button on the Sticky note. This button is found right next to the New button.
Create a Sticker
Suppose you do not have any sticker on the desktop and you want to create one even this is simple.
Step 1 – Right click on the Vov Sticky Note icon from the system tray and select New sticker.
Create Reminder
Another important feature of Vov sticky notes is that it allows you to set a reminder.
Step 1 – To access this feature you need to again click on the sticky note icon from the system tray. You will find an option New Reminder. Click on it and you will find a box.
Step 2 – Fill the date, time and note and your desired reminder is ready.
You can pursue a guide for setting Reminder to Cortana Via Sticky Notes in Windows 10 from the default utility.
Conclusion
Therefore, these methods should be pretty efficient to make you learn how to Use Vov Sticky Notes in Windows 10. Remember that once you have created a sticker you cannot hide unless you delete.