How to Find the Version of DirectX in Windows 10 – If you are eager to enhance the Audio and Video experience on your computer you attempt different things many times. But the huge factor that can boost up their quality is DirectX. So you should go for updating the DirectX to the most recent edition. Oops! But before proceeding further let's check what the version of the installed DirectX is.
If you are on Windows 10, running a shortcut command is pretty enough to find the Version of DirectX. Let's see
How to Find the Version of DirectX in Windows 10
Begin the procedure by going to the "Cortana" search field and type – '"dxdiag" and soon the same will be observed on top, click on it.
In the condition, if you are trying to launch "DirectX Diagnostic Tool", first time a confirmation pop-up prompts, hit "Yes".
You view "DirectX Diagnostic Tool" on the screen and display 4 tabs on the upper part, stay at the "System" the default tab that opens up with the tool.

Look at the title labeled as "System Information" and then observe its last entry "DirectX Version" and it's associated number – its version.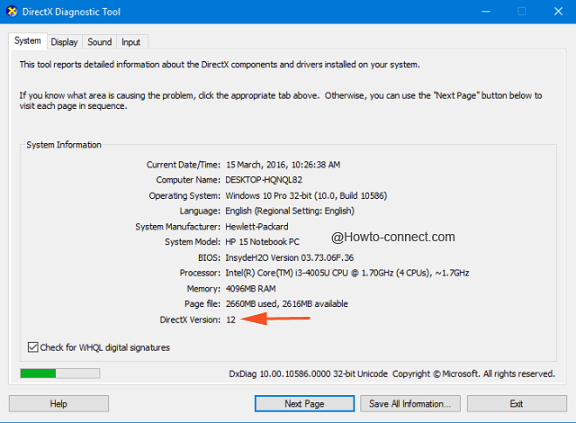 Every one of us wants to boost up our audio and video for certain applications and along with it also desires to intensify the performance of our machines. So, in order to enhance the qualities of audio and video, DirectX is extensively required.
So, in any circumstance, if you face any complication in between your gameplay, it is strongly advised to find out the version of DirectX on your PC. Focusing on this, we had illustrated the steps applying which you can Find the Version of DirectX in Windows 10.
The latest version of DirectX Version is 12 which is installed on most of the Windows 10 machines, like in my PC. Most of the games actually tell you what version of DirectX is required to run the game flawlessly.