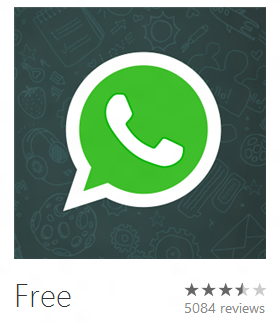 When to avail 'WhatsApp' messaging application for their Windows Phone 8 devices were commonly sought questions. Long pending demand to get WhatsApp for their Windows Phone 8 has become evident once announcement made in this regard. However 'WhatsApp' popular messaging application has been made available in Windows 8 interface earlier and advent of particular App for Windows Phone 8 completes whole cycle.
As 'WhatsApp' is leading messaging app of current breed. It lets you to send limitless Text messages and Audio & Video messages as well to friends or family members in simply smart way. With the help of WhatsApp, you may send Video & Audio Notes to someone having Windows Phone 8. WhatsApp uses WiFi or 3G connectivity to function. Almost every Windows Phone 8 users are being keenly looking to grab this messaging app.
If you have Windows Phone 8 and have same temptation to use 'WhatsApp' on respective devices then you need to access Windows Phone Store and download it. On using WhatsApp on Windows Phone 8, you need not to pay any amount for first year. After completion of first year, it would be charged 99 cents annually. Providing maximum assistant to you all, I am putting WhatsApp downloading link below.
Download WhatsApp (Windows Phone 8)
Apart from entrant like WhatsApp, much improved Facebook App for Windows Phone 8 has been included in Windows Phone Store. The official improved Facebook App fixes bugs which consequently improves performance and stability. Whether you use Facebook app on Windows Phone 8, you may replace it with improved version and feel nice experience than having even before. You may grab latest Facebook App for Windows Phone 8 with help of below link.
Download Facebook App (Version 4.1.0) of Windows Phone 8