VoiceMaster is an awesome app using which you can make your friends surprised with different funny and incredible voice effects during any call or session on Skype. It is a completely free app. Its design supports to use it along with Skype. For better connection and undisturbed chats, it provides you several customization and TCP/IP settings. You can play with this app before talking to someone else on Skype. You can create altered voice by proper adjusting pitch level. Once you feel it is okay to use it now, you can use this altered voice of yours to surprise caller like your friends, family members.
This software is very nice and fruitful. Working with this software is very cool and funny. The interface of this software is very simple but attractive.  A screenshot of its interface is shown below:
How to play with the voice using VoiceMaster
Once the installation is complete, you will see a window will pop-up the above-shown screenshot. It is the home of VoiceMaster. In the middle of these two display mode screen, you can see a pitch controller using which you can control the pitch of your voice during any voice or video call. You can hear your own altered voice on Skype before calling to someone real by using the Rcho/Test service of Skype. In this way, you can create your own altered voice each time you want to surprise the person whom you are talking with.
Again, there is Tool option in this software using which we can make the necessary changes if required. A screenshot of which is shown below: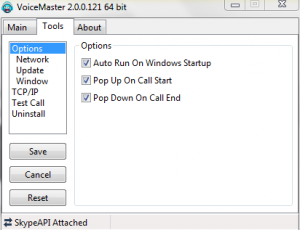 There are several options present here in this section. You can adjust the network settings according to your own Network Proxy. You can also opt for the Auto Update so that it could be updated every time there is a new version of it. You can decide the basic settings on windows option whether it would be on Top, hide on minimize and others. There is a TCP/IP settings option too here in the Tools where there is a different port settings option for Microphone, Input, and Output.
Before running this app, make sure that no other program is using the same ports as assigned to Microphone, Input, and Output. Again, check your firewall and antivirus settings once you encounter any exceptions whenever any attempt is made to open the ports.
Note: There is a message written at the leftmost bottom of this app. It indicates whether the app is attached to Skype or not. You can see that yourself by comparing the two screenshots provided in this article.
 Key-Features of VoiceMaster App
Completely free and very simple to use.

Compatible to almost all types of Windows like: 7/8/Vista/XP.
VoiceMaster app provides you TCP/IP settings.
You can adjust both windows as well as Network settings using this app.
Provides you the customization settings.
Lets you to see the altered voice waves and the original one in two widows mode.
There is a pitch slider too in this app using which you can adjust the variations in the voice.
The percentage of pitch is shown on the screen so that you can control it.
Conclusion
VoiceMaster is a wonderful app which lets you to surprise your friends with its special voice effects. It contains various funny and awesome voice effects. It can add fun to your conversation when you are talking to someone. You can have this app from the below provided link. Download it and enjoy.