Next Windows 10's major release after 21H1 will be Windows 10 21H2 coming in the second half of year 2021. Microsoft is testing new features for the version through Insider preview builds in the Dev Channel so they are apparent. Furthermore, some leaks and reveals indicate the features and also that the new Microsoft Windows 10 version will include a huge list of changes.
Having codename Sun valley update, 21H2 will introduce renovated design of Start menu, emoji panel, Touch keyboard. News and Interest, many important additions in Settings, complete integration of WSL 2 with File Explorer, and OOBE improvements are going to the part of the upcoming release.
Windows 10 21H2 Features
Here are Windows 10 21H2 features –
1] Redesigned Start menu layout with swappability feature
The next version Windows 10 21H2 will bring a new Start menu layout to coexist with the prevailing Start menu. After the Sun Valley update, you will have the ability to use any of the menus using a toggle.
Without having a hamburger menu, the Start menu will include the name, user icon, Power controls, and File Explorer shortcuts throughout the bottom. A button named All apps at the top right (existing currently) will open an isolated apps list view.
The most remarkable thing is the swappability between the redesigned and classic Start menu in the coming version.
If someone asks me how I think Windows will look in 2-3 years I'll tell them go look at @MikeWestDesign

Stuff's quite similar to his concepts in my opinion

— Albacore (@thebookisclosed) January 13, 2021
The new version of Windows 10 will bring a sleeker and leaner user interface as indications are coming out from inside.
The feature will include round corners on different elements such as for buttons, app windows, Start menu, and Action Center. Microsoft is working to increase consistency in context menu, File properties, and copy dialog. File Explorer, Settings, and all in-box apps will be also redesigned in the feature update.
It's refreshing to set yourself a goal that doesn't have any extra constraints.

A lot of the Explorer work I have done so far focuses on retaining existing ideas—so what about something that takes a lot more inspiration from OneDrive web and other file managers? (WIP) ?? pic.twitter.com/nTlDpAeDBl

— Michael West Design (@MikeWestDesign) June 6, 2019
2] Change in Emoji panel and picker
In the upcoming version, you'll experience a new and modern design of Emoji picker that supports animated GIFs, more languages, kaomoji, and symbols.  Furthermore, it would show clipboard history.
In Windows 10 21H2, the picker will be having Fluent Design that will obviously support transparency and blur. The picker will have a search box so that you can easily find emojis and GIFs, instead of having to type.
Because the next version is combining clipboard history and Emoji Picker, this will allow to put emojis from there. You are able to use the keyboard shortcut Win + ., Win + C, and Win + V to insert the GIFs and emojis. Of course, this also means that the old clipboard history experience will no longer be available.
3] On screen keyboard modern design
The arriving release will bring a new design of touch keyboard with a stylish look and changed key sizes with rounded corners. Microsoft is focusing on the OSK layout to renovate for convenience and accuracy in typing.
4] Touch keyboard with emoji, gif, clipboard
The On screen keyboard provides options to search emoji and GIFs including voice typing located in the left of the space bar.
Furthermore, the touch keyboard is having acrylic background, including a new gripper region at the upper part to move the keyboard around. You will experience improved child keys to quickly enter. The OSK includes a new button on the top right corner to undock the keyboard. Pressing the key will emit new annotations and sounds. After the arrival of the version, the touch keyboard will allow to change cursor position using gestures on the space bar.
5] News and interests entrance
News and interests is a new feature planned to be a part of the coming version of Windows 10. Taskbar will show a button to unfold the interface showing feed you have chosen to see such as headlines, weather update, sports, and more. The content is available in real time from the reputed international brands of news and updates on your computer.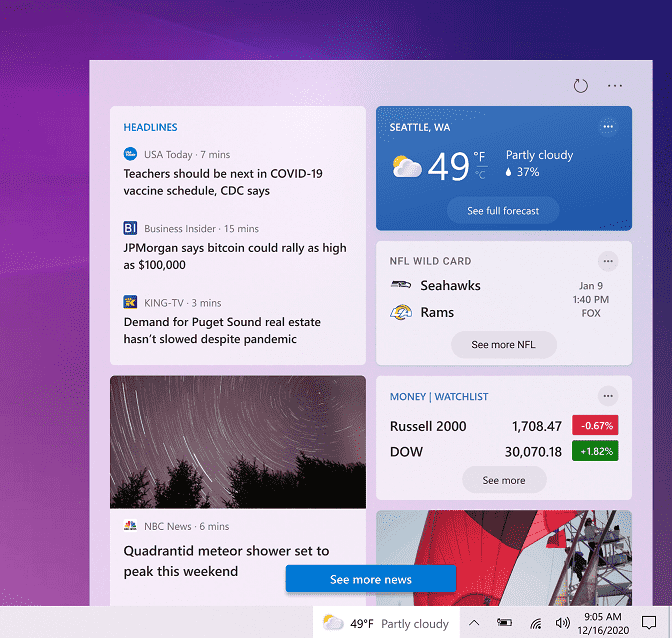 6] Multitasking feature having Aero Shake feature
Windows 10 21H2 is going to introduce multitasking or Snap that will have Aero Shake toggle. Many aspects of this feature are yet to be revealed however Albacore has indicated with a screenshot about this new feature.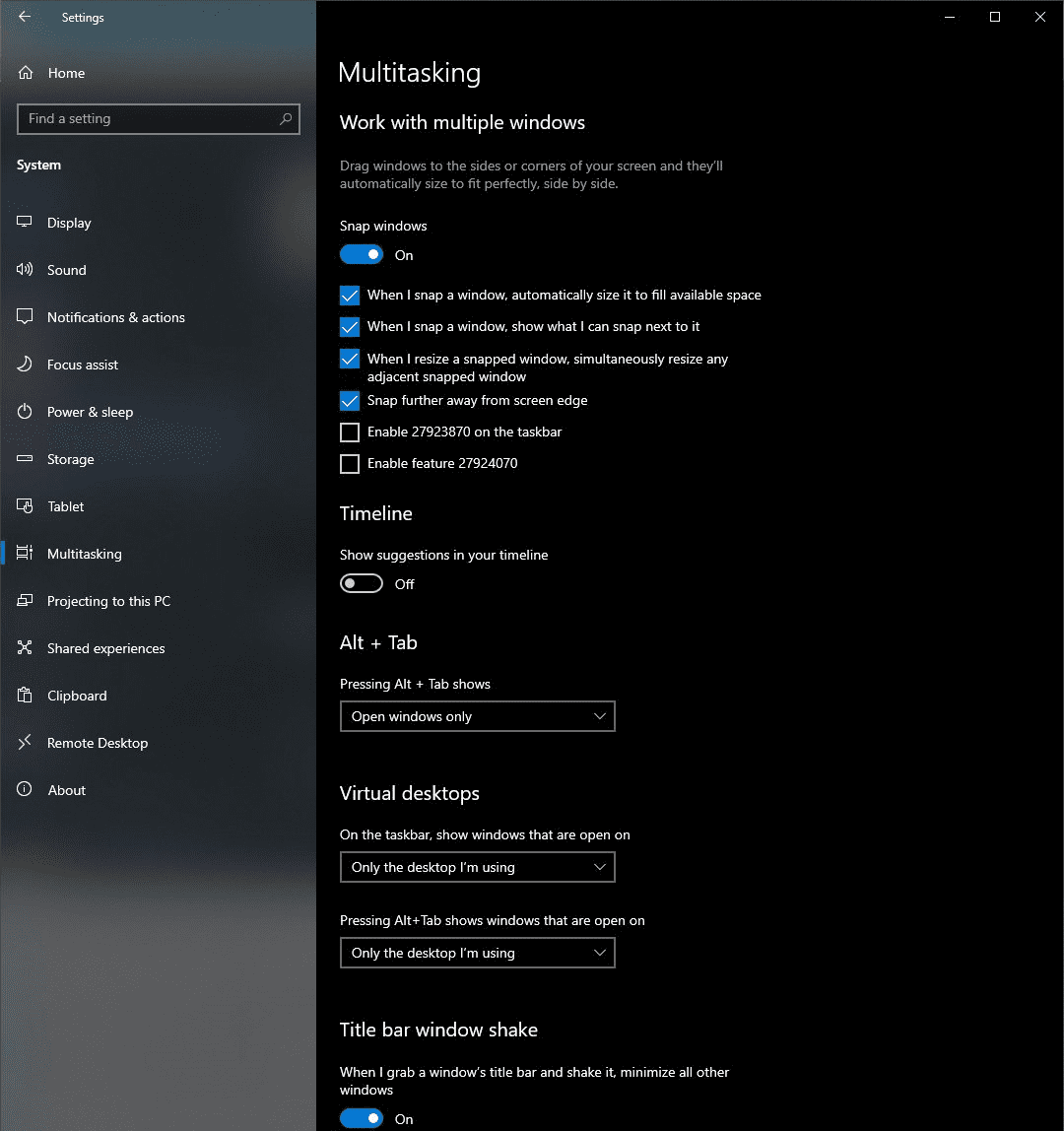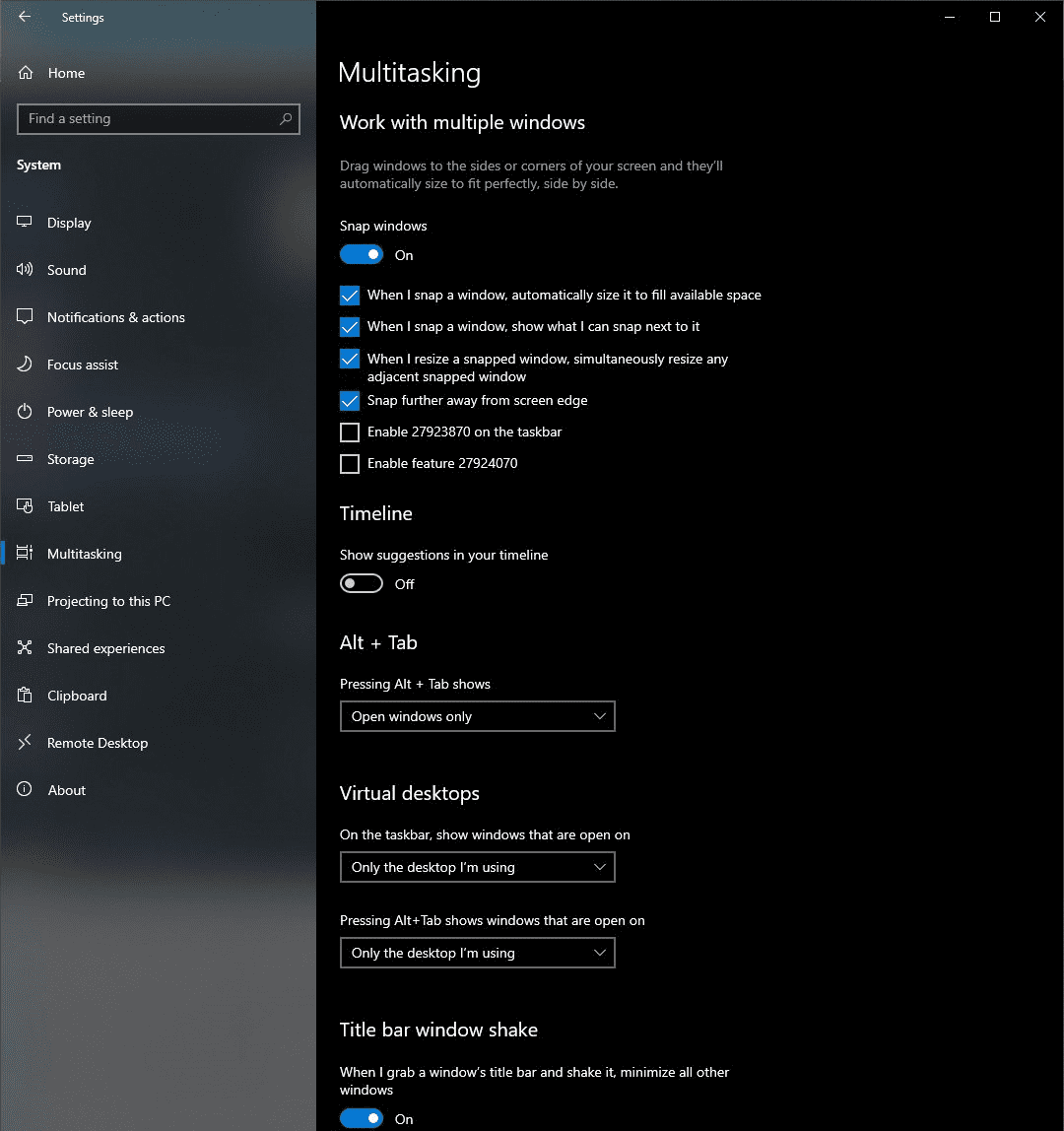 7] Tips app will show first run experience
You come across a welcome page on Microsoft Edge during the first login (first run experience) after installing a new feature update. The browser displays the highlights of the new features and changes in that specific version. In the new version, you will experience the Tips app showing the changes in the major update you've installed on your PC.
8] Complete Linux integration with File Explorer
Because Linux has become an integral part of Windows 10, Microsoft has planned to add WSL2 to the Quick access navigation pane of File Explorer. This way, the next version is expected to fully integrate the Windows Subsystem for Linux into File Explorer.
Selection of the Linux entry will reveal the distros installed on the PC, and each item will allow to quickly access the root of the file system of that distribution.
9] Default setting preference for GPU
One important feature of 21H2 is, you can change default Graphics Card from Settings on your device. If you have installed multiple display adapters, you can tell the OS to switch to your preferred card to complete a task. The option is showing in the "Graphics settings" page of System Display.
The page will include a new Specific GPU option to select a suitable Graphic card per app.
In addition to the PC Specs, the About Settings page includes graphics card information within the Device specifications section.
10] Cleanup recommendations in Storage settings
One of the Upcoming Windows 10 21H2 significant features is new User cleanup recommendations in the storage settings. This prevents you from running out of space as you can see a suggestion before the occurrence. You will be shown Delete to free up space by removing large or unused files after accessing Storage Settings page. This will recommend deleting copies of files already uploaded to OneDrive and uninstalling unused apps.
Additionally, If you want to manually delete files, the settings will allow to click the See cleanup recommendation option.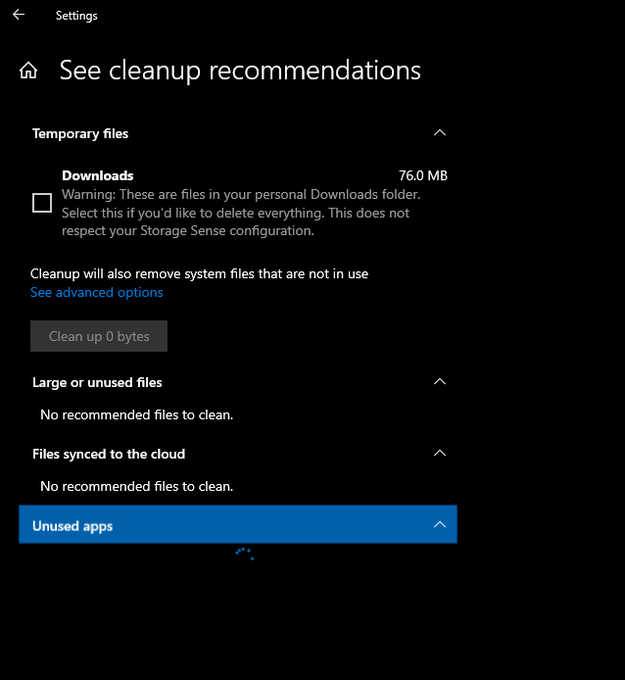 11] Manage Disk and Volumes tool inclusion in Settings
Another most important feature of Windows 10 21H2 is the Disk Management tool's availability on the Storage settings page. This change will provide you to manage disks and volumes from storage settings instead of the classic control panel.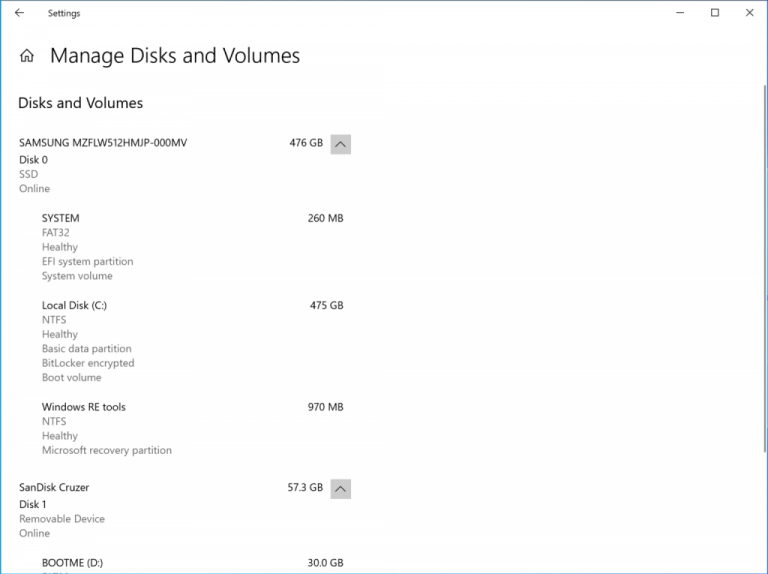 Manage Disks and Volumes page in Storage Settings in 21H2 will present the drives with details and allow you to format, create, delete, resize, and change letters for partitions.
12] storage health monitor in Windows 10
Windows 10 21H2 will bring a new storage health monitor to detect and warn you of any possible issues with the hard drive. The feature will give you sufficient time to backup the data before hardware failure.
Currently, the health monitor tool is available for Non-Volatile Memory Express (NVMe) Solid-State Drive (SSD). In case, the system detects an abnormality in the drives, you'll get a notification having an view more details option in the drive properties from the Manage Disks and Volumes settings page.
13] DNS over HTTPS support in Settings
The new version will add support for DNS over HTTPS (DoH) to boost privacy and security by encrypting queries to prevent attacks and malicious individuals from snooping.
Browsers such as Google Chrome, Mozilla Firefox, and Opera furthermore several online networking services already support the DOH protocol. Integration of the protocol at the core of the OS will protect all queries leaving the computer.
Windows 10 21H2 will include a new DNS settings section in the network adapter properties page of "Network & Internet" category. Using this, you can enable the preferred and alternate DNS addresses of the service which offers DOH manually. In the IPv4 or IPv6 networking stack, you can choose the encryption method, including Unencrypted only, Encrypted only (DNS over HTTPS), and Encrypted preferred, unencrypted allowed.
When setting up DOH, you are able to add the IP addresses from here to unlock the option and select the correct encryption.
14] Install or update WSL 2 easily
Multiple users have been reporting difficulties in installing or updating Windows Subsystem for Linux 2 (WSL 2) Microsoft bypasses the issues by putting forward two commands for these 2 tasks. On Windows 10 21H2 you have the ability to install WSL2 using only the wsl –install command, and the wsl –update. With these commands, you will be able to manage the Linux kernel version used by WSL 2 distros.
15] WSL2 install and update commands
In addition to these changes, the upcoming versions of WSL will have GPU compute that allows the Linux binaries to leverage graphics card. This improvement will help WSL to perform more complex machine learning development and data science workflows.
Over and above that, you'll have the ability to attach and mount physical drives inside the WSL 2 distros. Most of all, the system image of the Linux kernel is replaced by an application Microsoft Store.
16] Reset apps with PowerShell
Windows 10 21H2 is supposed to bring the ability to reset  UWP apps with a PowerShell cmdlet.
For example, this command will help you reset the Calculator app: Get-AppxPackage *photos* | Reset-AppxPackage
17] Change in out-of-box experience (OOBE)
Out of box experience (OOBE) is going to be renovated in the upcoming Windows 10 21H2 to complete the initial setup at the end of clean install.
Now the OOBE will be away from the blue and dark colors to gray and white tones with a more intuitive UI.
18] WPA3 H2E Support
SAE Hash to Element enhances the security of WiFi when using compatible WPA3-enabled hardware. The system will require support for the standard when using WPA3 with Wifi 6E (in the 6GHz band).
19] Cloud Trust Support for Windows Hello for Business
In the recent version, Windows Hello for Business offers passwordless sign-in to enterprises deploy devices. However, the standard Windows Hello feature is available to all. Cloud Trust is a newly discovered feature that allows organizations to deploy the Windows Hello for Business.
20] GPU Computing on Windows Subsystem for Linux (WSL)
Windows 10 will bring forward the GPU of your PC to work along with the software running on Azure IoT Edge as well as WSL for Linux on Windows (EFLOW). This indicates that applications that require computational GPU resources, for example, machine learning tools, can run fully in WSL.
To be continued…