Windows 10 Build 17746 Redstone 5 reached the insiders in the Fast ring with several changes and fixes. Main improvements of this update are in Narrator, Mixed Reality, and  Delete confirmation dialog. In the current insider build, Screen sketch has got a feature delay snip which lets you snip after 3 and 10 seconds.
You will receive Windows 10 Build 17746 Redstone 5 automatically through Windows update. However, this build has some known issues like bugcheck when shutting down or restarting PC and Narrator but Microsoft is actively working on them.
Windows 10 Build 17746 –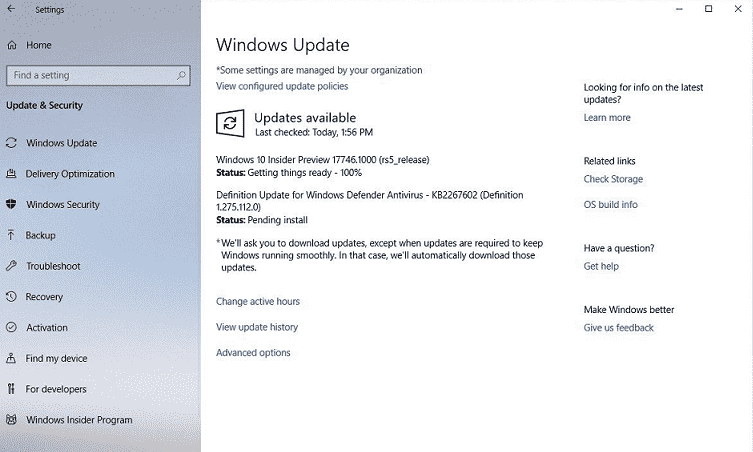 Windows 10 Build 17746 Changes, Fixes, and Known issues Details
Here are the Windows 10 Build 17746 details –
Windows 10 insider team solved Narrator problem that would tell some standard combo boxes wrong as an editable combo box.
When you configure Mixed Reality you will require to troubleshoot motion controllers before it will appear in the headset. In the current build, this issues has been fixed.
Microsoft resolved a problem where progress percent would be written in the middle of the string rather than at the end in German and Japanese when resetting your PC.
Windows 10 Build 17746 includes a solution to Delete confirmation dialog would not appear using Italian as your display language. This occurs when trying for the deletion of a OneDrive file via File Explorer.
Microsoft is thankful to the insiders who submitted feedback about tabs and naming you've set aside in Microsoft Edge.
They're exploring the right approach and in the meantime, the feature has been removed from Redstone 5 builds.
Windows 10 Build 17746 Known issues
You may encounter a bugcheck (Green Screen Of Death) when signing out of your user profile or shutting down your system.
When you apply the option to Make Text bigger in the category Ease of Access, you might face the text clipping problem. You will find that the text is not increasing in size in all locations lie Start menu, Store, desktop.
In Windows 10 Build 17746, Narrator occasionally fails to read the content in the Settings application when you shift with the help of Tab or arrow keys. But a possible solution is switching to Narrator Scan mode for the time being. Further, when you will disable the Scan mode again, the Narrator will now read. Otherwise, you can close and then start Narrator to fix this issue.
Windows 10 Build 17746 Notable app updates
Microsoft is shipping Your Phone app to Insiders whose PCs are running Windows 10 build 17134.
Screen Sketch comes up with the version 10.1807.2286.0 to the insiders who opted Skip Ahead Microsoft is in the search of a new name for this feature so you can suggest them one using feedback.  They have included a delay snip feature following your request. To use this click on the chevron subsequent to the New button and you'll now find 3 options here "Snip now", "Snip in 3 seconds", and "Snip in 10 seconds". Select anyone as per your preference. Additionally, you will get the same options from the right click context menu if you have pinned the Screen snip application to the taskbar.
Source – Windows blog