Windows 10 Build 17758 strikes up to the Insiders who opted Fast ring level with a few important fixes. The main feature of this update is Storage Sense that gets the capability to free up disk space and send older, spare, locally available files be available online-only. The Narrator is still getting trouble to read in Settings app that Microsoft is aware of and trying to fix.
You will receive Windows 10 Build 17758 on your device automatically through the Windows update system. The update includes fixes for Narrator, Explorer.exe crash, Nearby sharing,  and a lot more.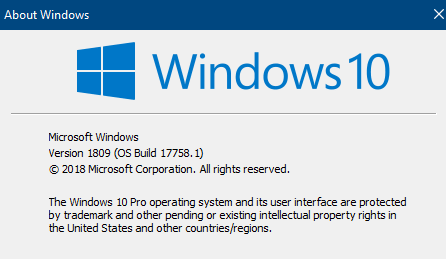 Windows 10 Build 17758 RedStone 5 for Fast Ring Details
Storage Sense Improvement
Microsoft, in the Windows 10 Build 17758, has stricken up a  new way to keep your Storage optimized. They're adding an advanced capability and making a few modifications to Storage Sense's behavior. This will now free up disk space and send older, trifles, locally available files be available online-only. Learn the full details here.
Windows 10 Build 17758 changes, improvements, and fixes for PC
Coming from the previous 3 preview build, you will experience the missing watermark at the lower right-hand corner of the desktop. You will have to wait for the last build as they are testing the final code to set all.
Windows 10 Build 17758 fixed the back button in Settings and other apps the converted to white text on a white background on hover.
Microsoft solved the Narrator problem while IME (for instance, in Japanese) that was not reading the chosen word when typing.
Windows 10 Insider team fixed some applications that were crashing when you attempted to save a file.
They resolved explorer.exe crash that was occurring when clicking on the  Import photos and videos from an autoplay notification.
Microsoft settled Nearby sharing not working for local accounts problem where the account name included some of the characters in Chinese, Japanese, or Korean languages.
They fixed long withstanding bugs causing text clipping when you apply Make text bigger setting in the Ease of Access category.
Windows 10 Build 17758 Known issues
However, still, the Narrator occasionally does not read in the Settings app. This occurs when you switch using Tab and arrow keys. Try navigating to Narrator Scan mode pro tempore. After you disable Scan mode further, Narrator will now start reading when you switch using Tab and arrows key. As the second choice, you can restart Narrator as a solution.
Source – Windows Experience blog.