Microsoft brought another update for Insiders and here we are, with all the Windows 10 Build 18317 details for you. The update offers a great list of fixes for various issues and multiple striking features. The build came with fixes for File Explorer, frequent bugcheck, black screen, high CPU usage, Display Settings crashing, Narrator, mouse pointers and a lot more. The features include separation of Cortana and Search, Font Management, Console, and Start reliability.
You will receive Windows 10 Build 18317 automatically unless you have not disabled or paused the Windows update. Just a quick reminder, as given by Microsoft; these fast ring preview-builds are at an early stage of their development. It is possible that these the update contain bugs and issues that developers still need to address. If you find it troubling your work, then you can always switch to the Slow ring. The builds released to the Slow ring are of far better quality and in a higher stage of development.
Windows 10 Build 18317 Details of Feature and Fixes
Windows 10 Build 18317 basically focuses on improvising the performance and functionality of the OS features. Here, let's talk about the major Feature and Fixes Details introduced with this 19H1 preview update.
The build separated Search and Cortana
Cortana splitting ways with Search is one of the most important and prominent changes seen in this build. As developers put it, going forward, they will be decoupling both in the taskbar. Apparently so, such a decision to separate out Search and Cortana enable each of those features to serve the users with a better experience and to 'innovate independently'.
So this is how the separated Search and Cortana would work. When users click on the search box, it now launches without the voice aid, but with the best 'in-house search experience'. On the other hand, there is a separate icon which you can click to fetch the Microsoft digital assistant. Additional merged settings related to these two features have been split, so are the group policies related to them. Now, with this upcoming update, Microsoft is particularly enhancing the search result and the search landing page. Clearly, the developer has put efforts towards making the start menu more efficient and reliable.
Windows 10 Build 18317 Details of Advanced Start reliability
Until now, ShellExperienceHost.exe is what hosted Start in Windows 10. However, hereafter, Microsoft will be separating Start with its own process, StartMenuExperienceHost.exe. Such a step has intended benefits including boxing out Start functions from any issues that are affecting other areas. This change was under testing for a few weeks and now is out to Insiders. Additionally, to improve the Start launch time, some changes have been programmed to prevent Start from suspending.
Font Management in Settings Improvement
Installing fonts on Windows 10 made easy. Users have now the ability to install them by dragging and dropping their files to Settings => Fonts. Once you installed you can view the faces and details by clicking on a particular font here. Also, from this very page, you can uninstall the same as well.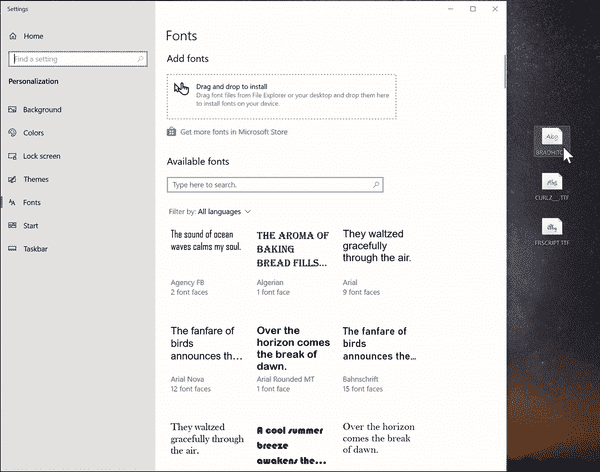 Simpler Windows Insider program Settings page
Windows 10 will now have a straightforward Insider program Settings page. This step removed some clutter from the interface to ease process and experience of signing up for the Windows Insider program and setting up the system accordingly. However, no functionality has been altered in respect to such a simplification. You can change the Insider ring on your computer under the 'Pick your Insider settings' head.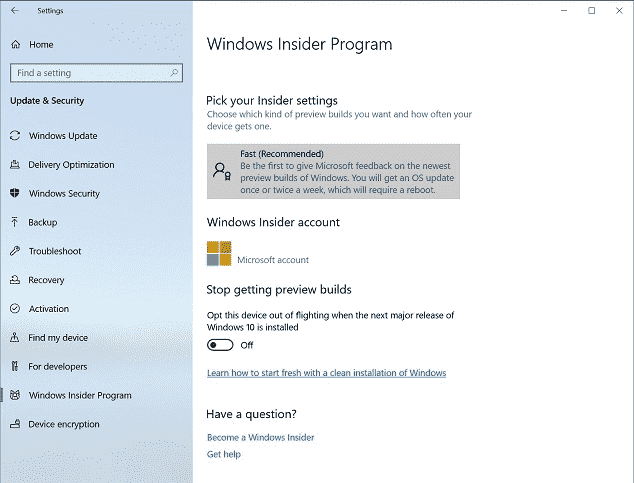 Windows Console Updates
Windows 10 Console has undergone multiple improvements and is introduced with several fixed in the insider build 18317. The important fixes include –
The GitHub Issue 313, which enabled colors over the index #15 to be set via VT OSC 4 (Colors below 99 have the fix in this build; Colors beyond 99 will have fixes in the upcoming build).
The GitHub issue 296 which resulted in an "unexpected mouse-drag behavior" regression.
While active CScope in a Linux VM through SSH, some bogus text artifact used to be shown.
The sizing problems for Linux alt-buffer apps.
The issue of Consoles growing in height when disabling the scroll-forward option.
ConPTY related issues.
Some other fixes include fixing  Console to preserve currently colored text its window when executing Cmd.exe, and to correctly preserve the user's font post running the .NET Core code. Also, it has considerably enhanced the performance of ConPTY – perf now quite close to "raw pipe"
Windows 10 Build 18317 details of General changes, improvements, and fixes
The build solved File Explorer problem that occurs while trying to safely eject USB. You encountered USB got locked unexpectedly.
Windows 10 Build 18317 resolved frequent bugcheck (GSODs) showing error with bindflt.sys.
Microsoft fixed frequent bugchecks (GSODs) with error KERNEL_LOCK_ENTRY_LEAKED_ON_THREAD_TERMINATION.
The Windows Insider experts solved unable to connect to VMs with the help of Hyper-V console after upgrading. This problem also obstructed the capability of connecting to VMs using  Enhanced Sessions enabled.
They resolved some full screen games displaying a black screen despite they worked in windowed mode.
Windows 10 build 18317 solved CDP User Service high amount of CPU utilization problem periodically and surprisingly.
The update resolved text in the Windows Security application to be wrong or potentially missing simultaneously.
Microsoft experts fixed clicking the network button on the sign-in screen failed to work.
They solved some devices that were unable to wake from hibernation. In this situation, you might have been encountering either of the 2 symptoms – black screen or screen showing hibernating….
Windows 10 build 18317 includes a fix for Display Settings crashing. If you were impacted, this would have also had the symptom that clicking System or Ease of Access from the main Settings page may crash Settings.
The update solved some touch keyboard languages in which full layout would dismiss the keyboard after pressing Alt Gr + [any key].
Microsoft Windows 10 insider developers resolved Windows Sandbox that wouldn't launch on PCs with multiple GPUs.
When Narrator Scan mode stays on a slider, the right and left arrows will decrease and increase the slider. Down and Up arrows will persistently navigate to the next and previous item. Home and End will take the slider to the beginning or the end.
The Narrator list of headings commands onward functions as expected in Google Chrome.
Build 18317 made Narrator support better for Microsoft Teams.
The update solved returning to the right mouse pointers when changing back to the original size and colors.
Windows 10 insider team resolves certain devices that would fail to install an update with an error code when you are updating from 18309 or later. If you are updating from a build prevenient 18309 it will be fixed for the next update.
Windows 10 Build 18317 details of Known issues
WSL will be assumed to cause a bugcheck (Green Screen of Death) when using some Linux binaries, for example, VI and tar. If you require Windows Subsystem for Linux to work, kindly pause taking builds until the issue is fixed.
Windows Security application may display an unknown status for the section of "Virus & threat protection", or not refresh correctly. The issue may happen after an upgrade, reboot, or settings changes.
When you open a game that uses anti-cheat software it may trigger a bugcheck (Green Screen Of Death).
Cortana Permissions doesn't show up the interface to sign out  (if you were already signed in).
Many users experience that Creative X-Fi sound cards are not working properly. Microsoft is partnering with Creative to fix this issue.
Certain S Mode devices will download and restart but fail to receive this update.
In the current build, the Night light is impacted by a bug.
Quick actions field in Action Center may be missing.
Windows feature update may be unsuccessful instead shows a successful update in Windows Update history page. When this problem occurs you will view multiple successful install for the same update on the history page.
To make sure that Reserved storage working correctly you need to restart your PC.
Some users may not receive policies who are enrolled in Microsoft Intune. Those policies are not applied and daffed by in a pending state on the server. The solution is to go to Settings => Accounts =>Access work or school and Disconnect your Azure AD account and then re-enroll.
Certain Realtek SD card readers are not working properly.
Update Orchestrator Service ceases to work time and again. So you may encounter an error on Windows Update Settings saying that the update failed to restart. In case, you get this, rebooting using the power menu in Start (Update and restart) may work. Microsoft will dispatch a fix in an upcoming build.
When you close the lid to a device and re-open it can cause icons in the taskbar to appear blank. To solve this open task manager and either restart explorer.exe or reboot.
After downloading a theme from Microsoft Store, it won't bring up in Themes Settings.
Windows 10 Build 18317 Known issues for Developers
Once installing the current build from Fast ring, switching to the Slow ring will lead enabling developer mode to fail. The problem occurs due to the optional content that will only install on the builds stipulated for the particular rings.
Get the latest Windows 10 app updates
Microsoft has locked down the inbox apps in 19H1. These lite editions of the inbox applications are what will ship with 19H1 when it is pushed. consequently, Insiders may have noticed that certain features have disappeared from these apps. This was possibly most noticeable with the Photos application. Windows Insiders can restore these features through the settings of an inbox app, for example, Photos and clicking the – Join preview button.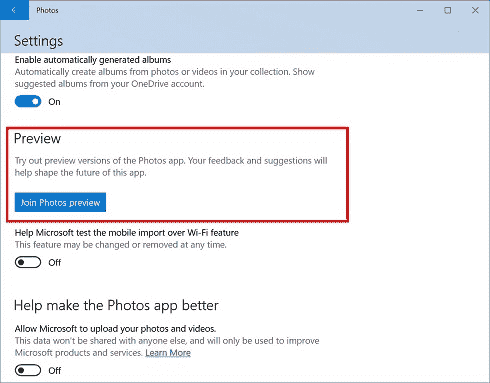 Source – Windows Insider blog.