KB4480967 cumulative update has been rolled out by Microsoft on 15 Jan 2019. This patch for Win10 1709 arrives taking the operating system to Build 16299.936. The update includes fixes and improvements in application stop working, Microsoft Edge, BitLocker Network Unlock, blue screen, error code "0x139", and in a lot more.
You can download KB4480967 from Microsoft Update Catalog website as a standalone package. However, the standard approach to get the package is through automatically Windows update. If you haven't got the patch till now then go to Settings => Update & Security => then click on 'Check for Updates'.
KB4480967 –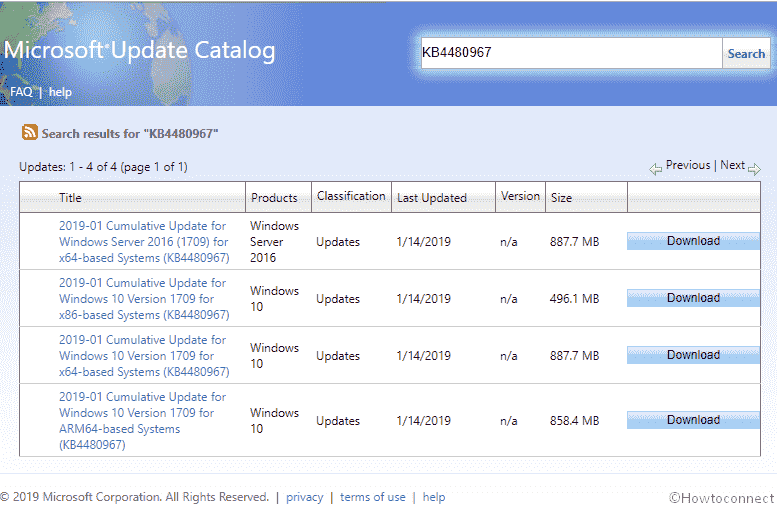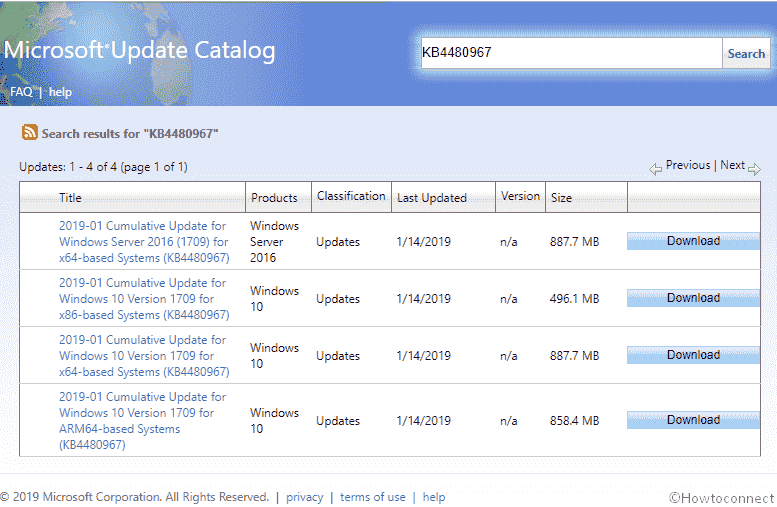 KB4480967 for Windows 10 1709 Build 16299.936 details
This cumulative update KB4480967 does not carry any new features to the operating system but contains multiple quality improvements like –
Works on a problem that fails to trigger the focusin result in Microsoft Edge. It occurs if the focus event listener of an element shifts focuses to another element.
The cumulative update works on Help Function key (F1) Window that does not appear correctly.
When long Kana converts to Kanji with the help of a predictive and non-predictive key, it stops the running application.
The patch addresses the Windows that unexpectedly moves to another monitor in a multi-monitor setup.
Microsoft Windows 10 developers work on the Wallpaper issue of not updating when it is set by group policy and has an identical name.
They are seriously trying to resolve "Windows Defender Application Control" failure audit event generation issue. This problem occurs when the event is generated by catalog signed scripts, moreover, those shipped as part of Windows.
KB4480967 works on in BitLocker Network Unlock failed problem. The issue takes place on generation 2 virtual machines when using a network that only supports IPv4.
This Windows 10 cumulative update addresses Scheduled Tasks issue that is created in a disabled state to not run.
The patch tries to solve overwriting a file in a shared folder problem occurring due to an Access Denied error when a filter driver is loaded.
The patch tries to solve 3rd-party apps to have trouble in authenticating hotspot.
When a Thunderbolt storage device attached, blue screen came into view.
Detect the error code "0x139" for the RNDISMP6!KeepAliveTimerHandler when it connects to a device name Remote Network Driver Interface Specification (RNDIS).
Consequent, proper and suitable installation of the September 11, 2018, ".NET Framework update" or "August Preview of Quality Rollup", instantiation of  "SqlConnection" can throw an exception.
See all the patches on a single place – Windows 10 Cumulative Updates List.
If you have received all the earlier patches on regular basis, only the new fixes which are available in this package will be installed.
KB4480967 known issue-
Symptom
Workaround
The apps that use MS Access 97 might not open if the column names of the Microsoft Jet database that exceed 32 characters. This will show an error "Unrecognized Database Format".
Microsoft still working on it and maybe in the next patch update, it would completely be resolved.

Several people have claimed that when KB4480978 is installed in their system,

webpage became unresponsive in Microsoft Edge using a local IP address.

Press the Win icon available on your keyboard and type cp.
Select Control Panel from the list and click on Internet Options from the result.
Click Security=> Trusted sites => Sites.
Uncheck the box for "Require server verification (https:) for all sites in this zone".
Type the local IP address that failed to load in the "Add this website to the zone:" box.
Click on the Add button; Select the "Require server verification (https:) for all sites in this zone" checkbox.
Now, select the Close button followed by OK.
Relaunch Microsoft Edge.
How to get KB4480967 for Windows 10 1709 Build 16299.936
If your system is experiencing any hindrance in receiving this patch KB4480967, try this:
Step-1: Open Windows settings by pressing Win+I hotkey.
Step-2: Click on Update & Security option
Step-3: Select Windows Update option, available in the left column of the screen.
Step-4: Finally, Click on Check for updates.
Before installing the LCU KB4480967, We recommend you to install the latest SSU to improve the consistency of the update process. You can get the latest servicing stack update KB4477136 if there is the updated Windows version.
You can also download KB4480967 from Microsoft Update Catalog website.
Source – Release note.