With a set of various enhancements, changes and fixes, Windows 10 Build 18841 20H1 arrive for the Insiders who chose to be in the Skip Ahead ring. This build focuses on Windows Sandbox as it adds some features to it and also tries to resolve a few of its serious issues. Furthermore, it also addresses several other problems that continue to occur since the past some flights.
As per the announcement, this build may contain certain bugs that might be a little difficult for you to handle. You can easily grab this Skip Ahead build by navigating to Windows Settings => Update & Security => Check for updates. Today, in this article, we will mention all the changes, fixes, and improvements as well that this build carries for you.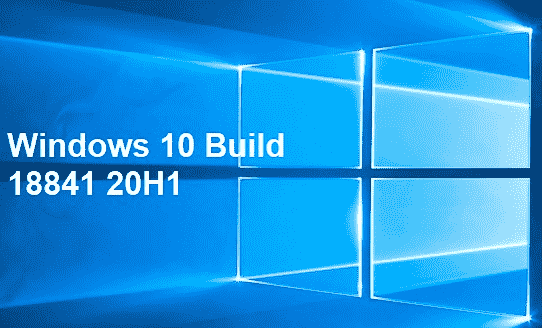 Windows 10 Build 18841 20H1 Improvements, Fixes, and General Changes Details
The rollout of Windows 10 Build 18841 20H1 will allow Windows Sandbox to support configuration files. Furthermore, these files will let you configure certain aspects of the sandbox. For example, vGPU, shared folders and networking.
Another feature of Windows Sandbox is that it has gained the ability to capture hotkeys in full screen.
Microsoft and the team resolve the problem where Windows Sandbox failed to start on localized builds.
Moving ahead with this feature, Build 18841 20H1 also did a few works in order to enhance errors that report in Windows Sandbox. When you confront the error dialog, you will see the error code along with a link to the Feedback Hub.
Windows Sandbox out of the blue throws an error. It happens because of a deletion of reference file under Windows.old will not occur anymore as Microsoft fixes this as well.
The unpinned groups from Start applications including apps may end up. They assume that their tiles were still pinned is fixed in this build.
If you have hidden the search icon in the taskbar, various win32 apps unexpectedly redraw while you make an attempt to open the Start Menu. Microsoft fixes this issue as well in this Windows 10 Build 18841 20H1.
The Search pane becomes truncated if accessed after rotating the device orientation. It happens when you do it from horizontal to vertical. However, it will not occur anymore after installing this build.
Microsoft fixes another issue of Settings application. It crashes down while launching "Advanced Display Settings" from Display Settings.
The team bypasses the problem where it was not possible to include a drive to the list of folders to exclude when setting up Enhanced Search in Settings.
The sudden appearance of characters in the text underneath the "Storage Sense" listing for temporary files is fixed with the release of this build.
Certain games fail to render UI updates. Basically, it visually stuck after pressing Alt + Tab to quickly switch away and back to the game. Windows 10 Build 18841 resolves this problem as well.
The taskbar continues to blink when the device has less than 20% battery, and you attach the AC adapter. You will not face this weird issue once you install this build.
Another problem of taskbar gets a fix in this release. The taskbar will not disappear anymore for a second or so when you dismiss Search/Start/Cortana on a secondary monitor.
In the recent flights, there was an issue in File Explorer. This file manager hangs down when you make an attempt to delete, rename or move MKV files. Microsoft fixes this File Explorer problem as well.
After dismissing the lock screen, there used to occur an issue. Windows logon forgets the last logged on user. Instead, it displays the sign-in prompt for the default user. So, once you install Windows 10 Build 18841, this issue will resolve.
Microsoft resolves the issue that leads to CDPUserSVC using a huge amount of CPU for a longer period of time.
After using the device for some time, the newly added popup window shadows may out of a sudden stop showing up. You will not experience this problem anymore.
The team deals with an important issue that impacts the UWP apps. It will not result in entries under a "…" that launched other applications not working. It used to happen especially after the first time the secondary app was launched.
In certain languages, there was an issue that Microsoft fixes with this release. The problem results in the left and right arrows on the touch keyboard inserting 4 and 6.
The game bar record including broadcast options stops functioning in the recent builds. But if you are using the Skip Ahead ring, install this build to fix up this issue.
Windows 10 Build 18841 bypasses the problem that impacts Emoji Panel and Clipboard History reliability as well.
The problem in Ease of Access's Cursor and pointer settings, mouse pointer size and color is fixed. These settings will retain on upgrade. However, there still remains an issue with the mouse pointer. It will continue to display white color instead of the selected color. This will happen after signing out and signing back in.
When you will use the Magnifier with larger pointers, it will pan smoothly as the pointers continue to change shape.
The team fixes an issue where the navigation mode on Orbit braille display fails to change.
The Narrator will not pause all of a sudden when you read through a PDF.
Windows 10 Build 18841 fixes a problem that asks for an additional restart. It occurs when you try to execute Reset this PC and select Keep my files on a device that has Reserved Storage enabled.
Windows 10 Build 18841 Known Issues
You may experience a Green Screen of Death (GSOD) while trying to launch games. It will happen when you use anti-cheat software.
In this build also, Microsoft did some work to upgrade the night light reliability. The team also continues investigating the issue in this space.
After installing this build, certain Realtek SD card readers fail to function correctly.
The built-in Settings app may crash down if you make an attempt to navigate to the Narrator settings in "Windows Sandbox".
Once you sign out and sign back, the "mouse pointer" color may incorrectly switch to white.
Creative X-Fi sound cards will fail to work appropriately. In order to resolve this problem, the team is trying to be a partner with Creative.
Lastly, you will also encounter quite a few Start menu reliability problems. In the next flight, Microsoft will resolve this issue.
Known Issues for Developers
The optional content such as enabling developer mode may fail if you make an attempt to install any of the latest builds from Skip Ahead. It will happen when you try to switch to either a Slow ring or Fast ring. Therefore, you need to stay in the Fast ring. By doing so, you will be able to add/install/enable optional content. This is necessary because optional content will be able to only install on builds that are approved for certain rings.
That's all!!!
Source – Windows blog.