KB4487021 is another new cumulative update rolled out on Feb 19, 2019, for Windows 10. This patch consists of quality improvement for version 1709 taking the operating system to Build 16299.1004. Microsoft mainly focused or fixed the issues are – Windows ecosystem, UE-VAppmonitor, Japanese era, Jet database and some more. Besides, KB4487021 includes stability enhancement to make the operating system consistently good in performance.
You may download KB4487021 as MSI file format form the Microsoft update catalog otherwise you'll get it automatically from the Windows update. After all, currently no issue has been found by Redmond in this patch.
KB4487021 –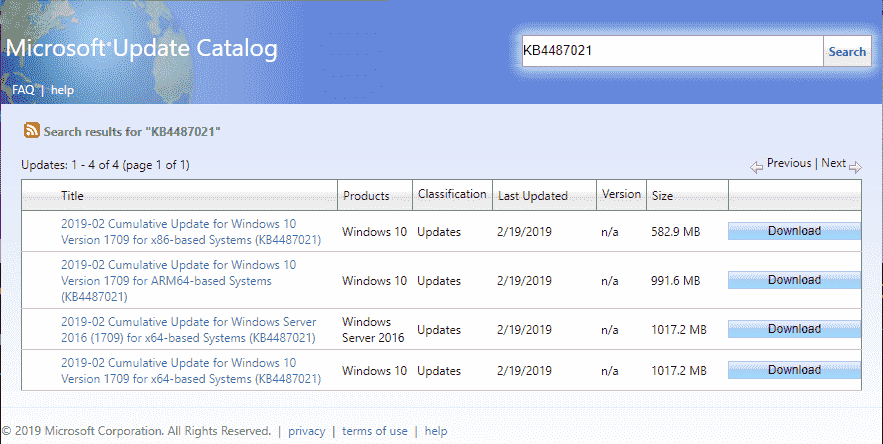 KB4487021 for Windows 10 1709 Build 16299.1004 Cumulative update details
This is a bug fixing patch carries no new feature to the operating system but comprises multiple quality improvements like –
Time zone info is updated for Chile.
Microsoft experts improve the performance of being connected to case-insensitive string comparison functions. For instance – _"stricmp()" in the Universal C runtime.
The cumulative update KB4487021 includes an enhancement regarding evaluating Windows ecosystem compatibility status. It ensures the compatibility of application and device with the entire updates
The team tries to make the reliability better of the UE-VAppmonitor.

Microsoft Windows 10 developers try to fix the hampering of user hive update. This problem is generated when you publish an optional package in Connection Group subsequent to the earlier published Connection Group.

The experts comprise a new group policy will immediately disconnect any wireless connections. It'll take place when a wired connection is detected.
KB4487021 with Build 16299.1004 tries to fix the issue of the clock and the calendar flyout for the Japanese era. Since they were ignoring user settings date and time formats.
With the latest cumulative update, Microsoft developers work on an issue that can overwrite gan-nen support behavior for the Japanese era.
This patch empowers some character for the first year in the Japanese era.
With this KB4487021 patch, Microsoft focuses on displaying the inaccurate Japanese era name in Microsoft Office Visual Basic for Applications.
Windows 10 team works on and tries to fix the failing issue of identifying the first character of the Japanese era name as an abbreviation and may cause date parsing issues.
Microsoft Developers focus loading images through Internet Explorer failed. Moreover, there's a backslash (\) in their relative source path of images.
KB4487021 for Windows 10 works for applications that arbitrarily stop working using Microsoft Jet database with the Microsoft Access 95 file format.
How to download KB4487021 for Windows 10, 1709 and install
Prior to receiving the latest cumulative updates KB4487021, we strongly recommend you install the latest servicing stack update. Doing this, improve the performance of the update process in order to mitigate the potential issues.
Open Settings by pressing Win+I.
Click Update & Security option.
After that, select Check for updates button on the right side of the following page.
Download KB4487021 from Microsoft Update Catalog.
Source – Release note.