Windows 10 Build 18845 (20H1) For Skip Ahead is out with an update in Emoji along with several fixes. This update also contains improvements in File Explorer where the icons will appear little better after you enable dark theme.
You can easily get this build by navigating to Windows Settings => Update & Security => Check for updates. However, let us go through the details that this Skip Ahead build contains for you.
Windows 10 Build 18845 (20H1) For Skip Ahead Features and Fixes Details
Emoji 12.0 Update
Being an Insider, you may have noticed the first appearance of Emoji 12.0 with the release of Build 18277. But with today's update, when you press "WIN+(period)" or "WIN+(semicolon)", all of the emoji will now have keyboards hooked up. This will make it easy to search for. It is a worth to try and keywords contain waffle ballet shoes, otter, sloth and more.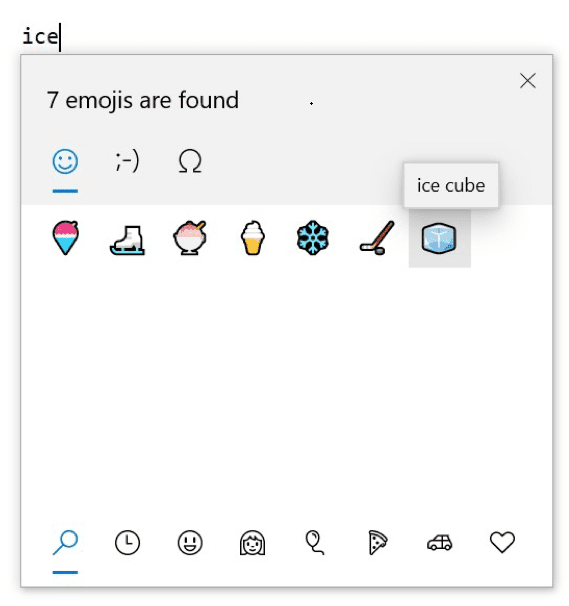 In case you have not tried it, ensure to also check out the new Symbols and Kaomoji section in the picker. It will make it super easy to type things such as  (????)? or em dash!
Windows 10 Build 18845 general fixes, changes, and improvements
The team releases a solution for the issue that leads the Bluetooth Hands-Free audio driver to hand.
Some users report that they continuously fail to access the Quests section of the Feedback Hub. But after installing Windows 10 Build 18845 (20H1) for Skip Ahead, you will get rid of this problem.
In the previous flight, there was a decrease in Start menu reliability. Microsoft fixes this specific issue as well.
Build 18845 resolves another issue of the previous flight were Microsoft Edge crashes during its launch.
Microsoft made small improvements that will make the File Explorer icons appear little better when you enable dark theme.
Windows 10 Build 18845 (20H1) For Skip Ahead fixes the problem where in some languages if you press Win + V before choosing clipboard history, the interface would be truncated.
The "Adlam keyboard" results in not being able to type certain common words are fixed now.
When typing Vietnamese, the touch keyboard used to auto-capitalize every word in a few apps. The team resolves this issue in this build.
The unexpected flickering when you use pen or touch in some "win32 apps" in order to open a second instance of the application when in tablet mode is fixed.
After enabling high contrast, an issue used to occurs that crashes DWM. But after you install this build, you will not face it anymore.
One more issue gets a solution where when you enable the friendly dates in File Explorer, certain languages display wrong day name. For example, languages like Chinese and Japanese.
Non-functional and unexpected "Family Safety" icon in the notification area gets a fix in this release.
The search box text will no more become black on a black background after this release.
After installing the update Start Menu will not crash when you use Narrator to navigate pinned folders in Start.
Windows 10 Build 18845 Known Issues
There are possibilities that may trigger a bugcheck Green Screen of Death when you launch games that use anti-cheat software.
Certain enhancements are out to night light reliability in this flight. However, the team continues to investigate the reported issues.
In the built-in Color Management application, monitors may go missing for certain display calibration. As a solution to this issue, please navigate to the Settings app in order to choose the color profile.
The team is investigating the problem where certain Realtek SD card readers fail to operate correctly.
You may come across one more issue where the Settings app may crash when you try to go to the Narrator settings in Windows Sandbox.
Furthermore, your mouse pointer color may also me incorrectly switch. It will automatically switch to white after signing out and signing back in.
The functioning of Creative X-Fi sound cards will be affected. The team is partnering with Creative to bypass this problem.
Known Issues for Developers
Certain optional content may fail to function. For instance, enabling developer mode may fail when you install any of the recent builds from Skip Ahead and then choose to switch to either Slow or Fast ring. Hence, you need to stay into the Fast ring only to make optional content work. It is necessary because optional content will only be able to install on builds that are assigned for their rings.
That's all!!!
Source – Windows Blog