Ski Paradise Windows 10 Theme is out on February 2019 offers you the skiing thrill sitting at home. Snow lovers will now experience Bunny Slope and Double Diamond out of the game since Microsoft likes the same in the desktop. All these snowy curves will create a complete environment decorated with 16 most amazing wallpapers. These background images contain Snowfall, Snowy Mountains, Christmas trees covered with snow and cable car experience in snow will take you to the land of dreams.
Ski Paradise Windows 10 Theme is a lightweight application occupying only 12.01 MB of Hard Disk Drive. This is quite user-friendly and having zero vulgar contents in it, hence users of all age can feel the thrill. You can also install the same theme in a minimum of ten Windows 10 devices which is pretty amazing. For that, you just need to download the theme being signed into your Microsoft Account.
Ski Paradise Windows 10 Theme
Here is How to Download Ski Paradise Windows 10 Theme –
Step-1: Launch the Microsoft Edge browser or any other and move to the official webpage of Ski Paradise Theme.
Step-2: When the page is loaded fully, make a click on the Get button as shown.
Step-3: This will by default redirect you to the Microsoft Store. Once moved there, you can see all the details of the Theme including requirements as well.
Note – You can also Open the Microsoft Store directly and search the theme manually as an alternative.
Step-4: Hit the Get button to initiate the Download and the installation process.
Step-5: Once the installation finishes, the Store will Preview a banner in the rightmost top corner of the desktop as well as in the Store interface. Perform a click on the Apply button to set the theme and images to your desktop.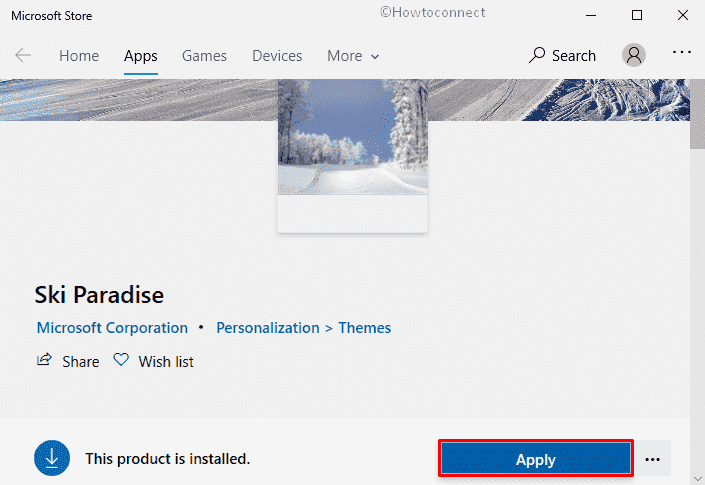 Step-6: Upon clicking the option, the System will open the Theme Settings page.
Step-7: Switch to the right pane and Scroll down eventually reach out to the theme present here and do a click on Ski Paradise. This action will give you the experience of snowing mountain in your device.
System Requirements for the Theme for Windows 10
To apply the mentioned Theme, your machine should have the following Specification at least –
Operating System of 10 version 14951.0 or higher as to open and Use the theme.
The requirement of architecture is x86, x64, ARM, ARM64.
There is no age restriction to use the theme in Desktop. Users irrespective all ages supporting supports English (United States) language can avail this.
That's all!!!