The giant software corporation, Microsoft declared Windows 10 version 20H2 as the upcoming feature update for Windows 10. The 20H2 feature update will be a set of features and incorporates the new Microsoft Edge Chromium version as well. So the team releases Build 19042.330 to the Beta Channel (previously termed as Slow ring) which involves all the fixes from KB4557957.
Moreover, the build also carries updates for the new Microsoft Edge browser as well. After Beta Channel Insiders update their PC's to this build, Edge will be automatically updated to its latest Chromium version. So download and install the build to keep your computer up to date with new features.
Windows 10 Build 19042.330 20H2
The company rolled out Windows 10 Build 19042.330 through their seeker experience in Windows Update to the Insiders who are enrolled in Beta Channel. This means users have to go through the below steps –
Open Windows Settings using "Win+I" hotkey.
Select Update & Security.
On the right side of Windows Update, click the link Download and install that appears below Feature update to Windows 10, version 20H2.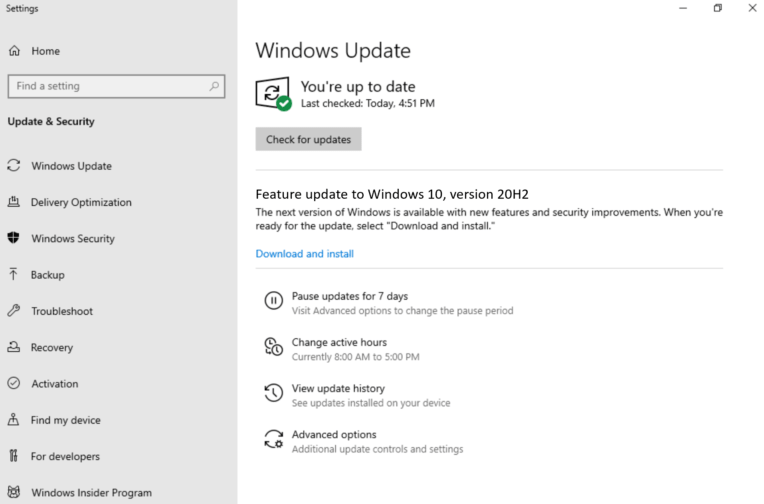 Once the PC gets updated to 20H2, the device will persistently receive 20H2 developments through Windows Update. This automatic process will happen through their servicing technology, like the monthly update process. And as time passes by, more such new features and enhancements will be delivered through the same process.
Previously, for 19H2, the team rolled out bits to certain Insiders with features turned Off; whereas some received with featured turned On. However, in response to their feedback, this time they are not doing that for 20H2. In fact, Insiders who will opt to download and install 20H2 on their computers will obtain new 20H2 features as they are delivered. In addition, Insiders who are in the Beta Channel and doesn't prefer to download as well as install 20H2 will not see new features.
Source – Windows experience Blog
That' all!!!