Another wonderful year is coming to end but for Windows 10 users, Microsoft keeps on rolling significant updates. The giant software came forward with Windows 10 Build 19536 20H2 for the Insiders in the Fast channel. It offers several exciting features like optional drivers, new Korean IME, family group setup, and more.
While coming to the updates, the build provides several improvements to Your Phone app. It lets you view and interact with 2000 recent pictures, support of pen input, etc. Furthermore, it also contains improvements in Your Phone Calls feature. However, similar to other updates, this build also carries some known issues. So in this article, we will cover every information that the Fast ring Insiders needs to know before grabbing the update.
Windows 10 Build 19536 20H2 Changelog
Here is everything you need to know about Windows 10 Build 19536 which includes new features, enhancements, and other known issues –
New Features in Build 19536
Optional Drivers
The giant software is working on the appearance of optional updates like drivers, monthly non-security updates, feature updates, and so on. When the system detects such updates, they will be listed under Settings => Update & security => Windows Update => View optional updates.
You navigate to the Device Manager in order to update a specific device. But now, you don't need it anymore as optional updates will keep the drivers also up to date all by itself. However, if you are having issues with any of those, one of the optional drivers might help out.
Re-releasing the updated Korean IME
During the development of 19H1, the giant software was working on an enhanced version of the Korean IME. This specific endeavor was a part of their ongoing efforts to develop and improve the typing experience of users. However, depending on users' feedback, the team put a hold on its release and worked more on it. But with the release of Build 19536, they are re-releasing the Korean IME which also contains certain enhancements that assist it to work better with several other apps as well.
Most noticeable modifications of this IME are –
When writing in Hanja, there is a new candidate selection window. It uses modern controls and clearer typography.
An updated algorithm predicts text when using the touch keyboard. The text recommendations will be more accurate and relevant to what you are typing.
Family group setup
The various platforms of Microsoft like Android, Xbox, and Windows has family features. When it comes to Windows, you can try out several family features. For example, screen time limits, let kids ask before they purchase things, shared family calendar, content filters, Office 365, OneNote, etc. To take advantage of all these features, just use the family group account setup.
Windows 10 Build 19536 20H2, the team wants to help multiple people in the family to set up their device. Though no ISO file is available for this build, Insiders will come across one new option. Insiders who choose to reset their PC will come across a screen that asks who will be using the device. You can move ahead with the option of People in my family. They would provide you the help to set up in a family group after getting to the desktop.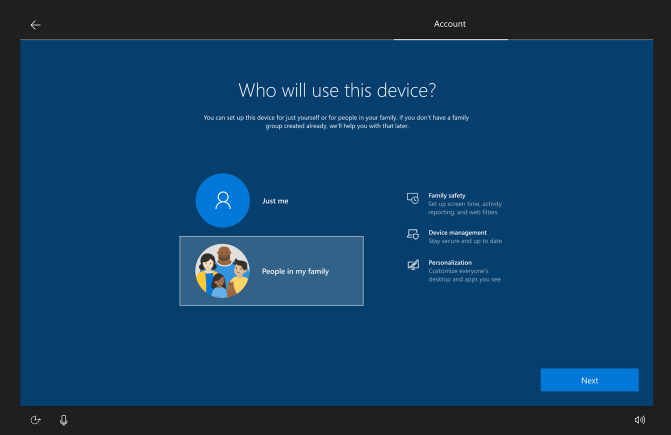 Other updates for Insiders in Windows 10 Build 19536
Your Phone app
a] View and interact with the most recent 2000 photos
With the release of this build, you will gain the ability to view and interact with the most recent 2000 photos in Your Phone app. The team has increased the number of pictures depending on the users' requests. You can do this from your Android smartphone's camera roll on your PC.
You don't even require to email the pictures to yourself with Your Phone Photos feature. Just capture an image on your handset and instantly view it on your computer. Whenever there arises a need to add a recent picture to your presentation, paper, or email, simply drag and drop. Moreover, you are a right-click away from sharing it with family or friends, or directly save it to the PC.
Well, you need to definitely try out this new capability.
b] Photos specifications
It is applicable to any Android smartphones running version 7.0 or higher.
The computer should be running Windows 10 April 2018 Update or higher.
c] Known Issues
The Photos selector in Messages may appear blank. In such cases, navigate to Photos on the left and hit refresh. The image should show up on the Photo selector.
It may take a few days to be available inside Your Phone app. However, to experience the feature, you need to ensure to have the latest version of both Your Phone Companion and the Your Phone app respectively.
Phone screen now supports pen input
Microsoft is giving a boost to the Phone screen feature. Any touch screen enabled Windows 10 PC can be used with your digital pen with a compatible stylus. In this way, you can interact with your mobile apps while in the Phone screen session. For drawing and writing, simply leverage "pen pressure sensitivity" with your phone's stylus with apps that supports pressure sensitivity. Furthermore, you will be able to hover over buttons and it can differentiate between the pen and finger touch.
All Windows Insiders with Windows 10 October 2018 Update or higher can avail this feature. In addition, users require a Phone screen compatible devices as well.
a] Pen Input Prerequisites
Your Phone App version should be 1.19102.500.0 or higher.
Phone screen compatible devices.
Calls – Gradually rolling out to all users
There was a massive improvement in the Calls feature that got rolled out in October. This feature is almost ready and will gradually roll out for everyone. To answer the phone calls, you don't need to split your attention between phone and PC. By using the "Your Phone Calls" feature, experience a richer calling by just tapping into your PC's speakers, microphone, and a larger screen. Furthermore, you can effortlessly transfer calls between your devices for privacy.
a] Your Phone Calls Capabilities
Answer incoming calls on your PC.
Use the in-app dialer or contact list to initiate phone calls from the PC.
You can decline incoming phone calls as well. Use the custom/pre-defined text or send them directly to your phone's voicemail.
Access recent call history on the computer. Just choose the phone number to text or call.
Flawlessly transfer calls between your devices.
Choose a phone number in the supported browser and it will initiate a call.
b] Calls requirements
It requires any Android smartphones running version 7.0 or higher.
Secondly, it needs a Windows 10 computer with a Bluetooth radio.
Must be running Windows 10 May 2019 Update or newer.
Your Phone app has evolved a lot in the past months and now provides a wide range of features. It gives you the ability to instantly access your recent pictures, texts, apps. calls, notifications, and more. No need to split attention between devices and put a hindrance on the workflow.
General modifications, enhancements, and fixes for PC 
Manage your life and plan your day by using Microsoft To Do. If you are accessing it for the first time, you may come across certain new UI. It would help you to ensure that the latest version of To Do is installed. This is only applicable for the users opening it for the 1st time. Users who have already installed To Do will not view this step at all.
Another Windows 10 Build 19536 modification is that Windows RE (Recovery Environment) will no longer ask for an administrator password to access recovery tools.
An update is out for the File Explorer search engine. It enables you to remove the previous searches through an option when you right-click the entry in the dropdown.
The team fixes a problem that results in the 1st character of your query getting dropped. It happens when a setting "Automatically type into the search box" in the search box is enabled.
Windows 10 Build 19536 also resolves the issue that could result in unexpectedly needing to re-download the whole game. It used to happen when an update to the installed game came through the store.
The Task Manager icon fails to appear in the taskbar even though it was enabled in Settings. Microsoft fixes this issue as well.
Another trouble that results in Resource Manager getting stuck and not displaying any disk activity got resolved.
One more complication with the Vietnamese Telex keyboard where after writing an upper-case letter in some apps, Ctrl+A fails to function is solved.
Microsoft fixes the issue where generating a new storage pool in the UI fails with an incorrect parameter.
The giant software resolves the problem where after dragging the bottom of a UWP app to resize, some additional resizing actions do not function from the bottom.
After installation of this build, users who had previously used "HomeGroup" will no more come across a notification on upgrade about its deprecation.
A typo in the text under Settings => Search => Searching Window got resolved.
Microsoft is working on the Privacy Settings options. They are trying to add Downloads Folder to it. More details are yet to come.
An issue where if the device was offline, the 'Narrator' would continue to announce that language features were available to download. It happens when you navigate to the per-language options under Language Settings.
There was an issue that results in no tooltip with the full text appearing in Settings. It used to occur when hovering over text truncated with an ellipsis. It will not happen anymore after installing this build.
Microsoft removes the separate "Hotspot 2.0" setting under Wi-Fi. It was there while the feature was still in an experimental phase. And turning it on is basically a part of having Wi-Fi enabled.
The "Bluetooth battery" level in Settings gets stuck and thus reduces the accuracy. Microsoft resolves this problem as well.
Another issue with the Windows Update got fixed. If you rolled back the build, Windows Update might continue to list the older build number under Update History.
Known Issues
Incompatibility problems are found by Microsoft and BattlEye. It happens because of differences in the operating system between some versions of BattlEye anti-cheat software and certain Insider Preview builds. Microsoft provides a temporary solution for the Insiders who might have these versions installed on their PC. It applies a compatibility hold on those devices. No affected builds of Windows Insider Preview can be offered.
While trying to install a new build, the update process hangs for an extended period. The team is looking into the matter.
Moving on, Microsoft is also considering the reports of certain external USB 3.0 drives. Once they are connected, they are not responding with Start Code 10.
The Optimize Drives Control Panel is giving incorrect reports. It states that optimization has never run on certain devices. It is completely successful even though it does not reflect in the user interface.
There occurs a broken icon (only a rectangle) in the Documents section under Privacy.
Source – Windows Blog
That's all!!!