First of all, sorry for the delay; Windows Insider has already received a new build in Dev channel. This is Windows 10 Build 21286 in RS_PRERELEASE branch that introduced many new striking features along with bringing some important fixes. The main highlight of this build is News and Interest.
All Dev channel insiders have got this build and you may experience more known issues in this. You can install the update as usual.
Windows 10 Build 21286 Rolled out
Here is the changelog –
Experience News and interests from the taskbar
The build brings quick access to an integrated feed of dynamic content, for example, weather and news.
You are able to personalize your feed with suitable content tailored for you. Furthermore, you can stay up to date with news and interests Instead of switching between apps or your PC and phone.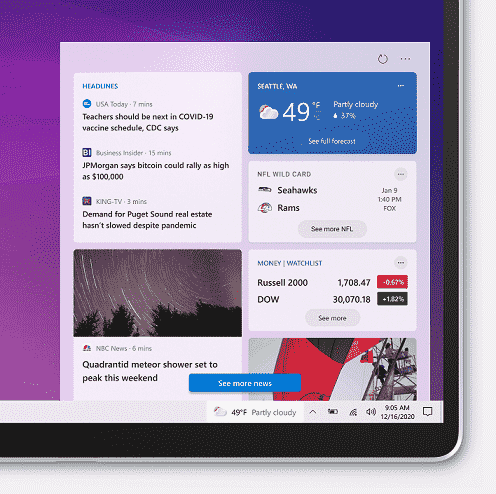 Staying up to date
You have the ability to quickly see news and your interests straight from the taskbar. Read the latest headlines, sports, weather, and more, then return back to whatever you were doing. This will avoid disrupting your workflow. You have the opportunity to access exciting content and news from over 4,500 international brands, for example, BBC, or The Verge, The New York Times. Moreover, you can access the gorgeous live weather maps. To stay focused and save time you need to choose an article and open a streamlined reading view.
Personalize your feed
You have the preferences to choose More options … which includes More stories like this and Fewer stories like this. This will automatically exhibit in your feed, including ones you might otherwise miss. You can also use emoji to react to stories, too.
You're in control
You can quickly turn off the feed after checking it in the Microsoft Privacy Dashboard by right-clicking on the taskbar.
Storage Spaces Settings enhancements
The current build allows to create and manage Storage Spaces from staying at the Settings app. Furthermore, you can create storage pools and storage spaces, add, and remove disks, and optimize pools.
In WSL, Run commands on startup
Windows 10 Build 21286 lets you run any particular Linux command on the startup of a WSL distribution. You need to modify /etc/wsl.conf file in the distribution and add an option command under boot. This will run when your specific WSL distribution starts up.
The command will begin running when a Windows Subsystem for Linux distribution is first prompted. WSL distributions will be continuously running for a few minutes even after the final Linux process inside of them is closed. You have the ability to see if the WSL distro is running through wsl –list –verbose and you can manually shut down entire WSL distributions with wsl –shutdown.
Improving your experience when transitioning between time zones
The present RS_PRERELEASE build has modified Set time zone automatically within Date & Time Settings –
Windows will show notifications for any update of time zone due to high confidence caught location change. This will include information regarding the new time zone and clicking it will launch the Date & Time Settings.
If it notices a low confidence location change and there is a single administrator on the device, we will now send a notification asking if you would like to update your time zone – clicking the OK button in the prompt will make the change.
Windows File Recovery – Winter 2020 Update
This update comprises performance improvements, bug fixes, and the advent of 2 simplified recovery modes! These are Regular mode and extensive mode. The first one is a fast recovery option for NTFS file systems and the later is a thorough search that applies to most file systems. The update is currently for Windows Insiders and will be rolled out to the general public (Windows 10 May 2020 Update and higher) in early 2021. You can install this from Microsoft store.
Windows 10 Build 21286.1000 Rs_Prerelease Changes and Improvements
The build has added an option to disable automatic controller-to-virtual-key mapping for Universal Windows Platform apps. For this, add the following registry key, with a DWORD value of Enabled set to 0:
"HKLM\Software\Microsoft\Input\Settings\ControllerProcessor\ControllerToVKMapping".
Windows 10 Build 21286.1000 Rs_Prerelease Fixes
The build has fixed – Your PC ran into a problem and restart in 1 min that appears after logging in to Windows. The issue occurs in Azure Active Directory or Active Directory account on Build 21277.
Current update fixed  no drives appeared under Settings => System => Storage => Manage Disks and Volumes.
The experts have fixed some printers that were getting stuck on connecting when added from Settings.
They fixed being logged out of apps and websites unexpectedly after rebooting your PC.
Furthermore, they fixed Windows Security icon that would sometimes be unexpectedly large in the context menu when shift-right-clicking taskbar icons.
They fixed MediaTranscoder hanging that occurred when transcoding certain files.
The build solved audio playing from UWP apps that wasn't ducking after hitting the microphone icon to begin Cortana listening.
It fixed VPN entries in the network flyout that was getting stuck at Action Needed until you selected Cancel and Connect again.
The build fixed the touch targeting that was impacted when resizing windows using touch.
Experts solved emoji keyword search results and added a new keyword so that typing lgbtq will now give you the rainbow flag emoji.
They fixed Read Aloud options in Magnifier that is being suddenly greyed out.
Also, they fixed the toggle of Help make Narrator better that was disabled for Insiders.
They fixed Narrator That will onward read Excel cell contents when verbosity is set to 2.
Windows 10 Build 21286 fixed the Narrator that might not announce whether a combo box was in collapsed or expanded state.
The build fixed the Narrator that couldn't read the names of certain links on websites in the browser Microsoft Edge.
They fixed the Narrator that couldn't read code windows in Visual Studio.
Finally, the build fixed Settings crashing when going to Ease of Access for high contrast users.
Known issues
Developers are working on a fix for games such as Assassin's Creed or State of Decay 2 that may crash or hang when launching.
The professionals are analyzing Call of Duty: Black Ops Cold War and Call of Duty: Modern Warfare that may not launch starting with this build. If you want to play these games, you can pause updates until the problem is resolved.
You may encounter some graphic / rendering problems after resizing certain app windows. If you minimize all application windows and start them again it should settle the issue (hit the Windows key and D twice).
They are studying some 32-bit systems that may lose internet connection after receiving this build. In case, you keep Windows 32-bit, you may prefer to pause updates until the problem is corrected.
The PC may be unresponsive on opening box Game Bar from Start or through Win+G when running a text editor. If you find this problem, close the Xbox Game Bar by pressing WIN+G and end the process GameBar.exe from Task Manager.
Windows 10 Build 21286 users may encounter very low frame rates in Miracast.
They are studying reports of the Windows shell or explorer.exe that is crashing or hanging. This issue started with Build 21277.
They are studying reports of the update process hanging for longer when trying to receive a new build.
The current build has disabled Aero Shake. If you want to enable the same then create a new DWORD named DisallowShaking put value 0 -HKCU\Software\Microsoft\Windows\CurrentVersion\Explorer\Advanced
This build has again didn't enable Live preview for pinned websites for all Insiders. Therefore, you may notice only a grey window on hovering over the thumbnail showing in the taskbar. However, they have been continuously working to polish this experience.
The experts are involved in enabling the new taskbar experience for pinned sites. However, as of now, you are able to unpin the website from the taskbar. All you need is to terminate it from the edge://apps page and then re-pin the website.
Many times, news and interests flyout may appear offline despite the user is online.
You might not navigate into the news and interests flyout by pressing the key on keyboard.
News and interests flyout may seem blank and having without content in some scenarios.
You might not close the news and interests flyout with touch and pen.
News and interests occupy more space on taskbar than expected.
See – Windows 10 Build 20270.1 FE_RELEASE Rolling out with File Skill Cortana.
Source – Windows insider blog.
That's all!!!