If you are using the Windows operating system you might have known Windows Defender becomes automatically activated on your PC. This default antivirus protection app is also shipped with Windows 10. It is based on Microsoft Security Essentials application and offers better safety for your PC by adding full-blown protection against all kinds of Malware. Although it was present in the previous versions of the Windows like Windows 8/8.1, Windows 7, and Vista, Windows 10 has introduced several modified features.
If you prefer to use a third-party anti-malware app you can disable Windows Defender on your PC. However, this is not an advisable state because the system may be prone to threats. You may follow us to know the tips for how you can disable or enable this app. See: How to Turn On and Off Windows Defender in Windows 10.
Ways to Disable or Enable Windows Defender on Windows 10
Tips-1: Through Settings App
After the multiple betterments and enhancements in this OS, at this time to Disable or Enable Windows Defender in Windows 10 has become pretty comfortable.
This specific process will disable the built-in protection app on Windows 10 for a short period. However, if it is left disabled for a while, the operating system will automatically turn it On.
Step-1: To begin with, click Win logo on the taskbar and select the Settings icon.
Step-2: Click – Update & Security.
Step-3: Click on Windows Security and select – Virus & threat protection.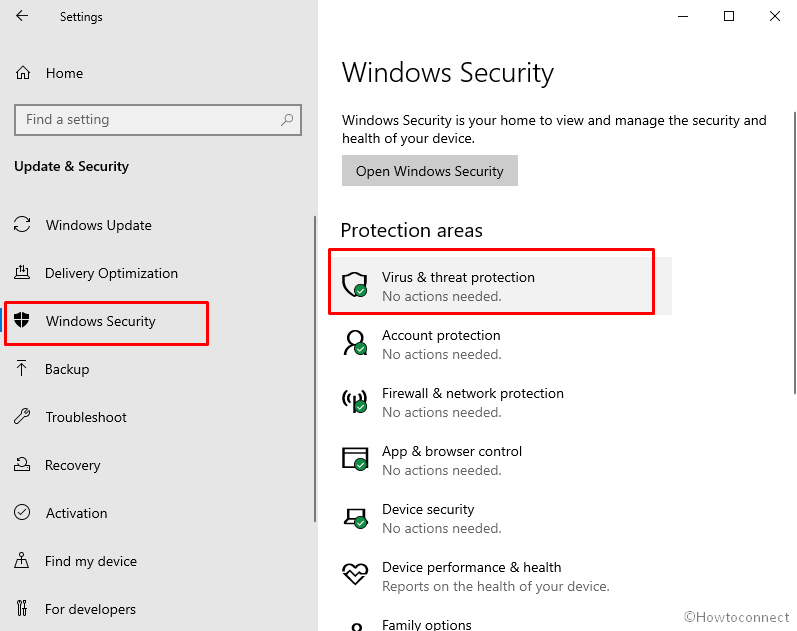 Step-4: Under Virus & threat protection settings, click – Manage settings link.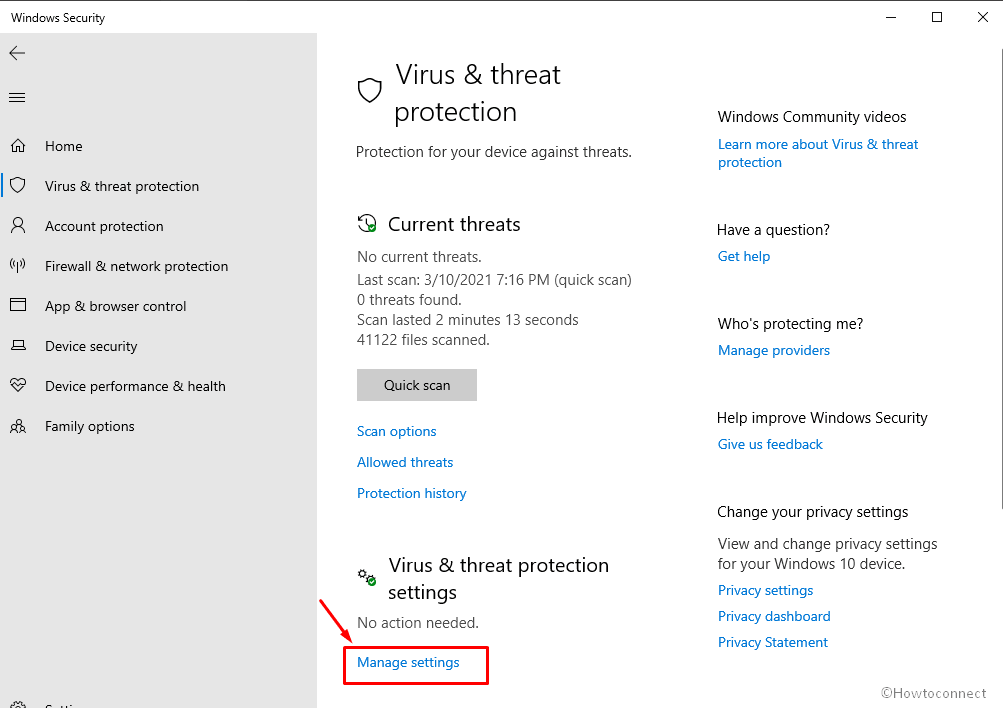 Step-4: Click on the toggle switch under – Real-time protection.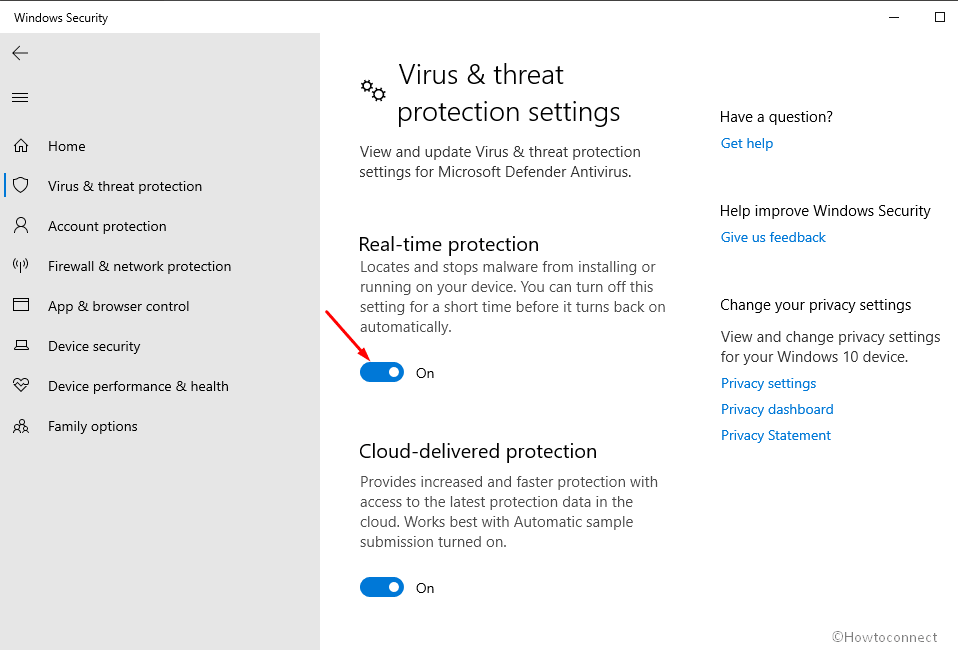 Step-5: Select Yes when User account control prompt appears.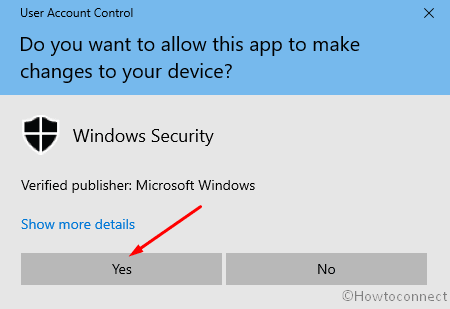 Step-6: To enable Windows Defender, again click the same toggle switch.
Tips-2: Disable or Enable Windows Defender via Group Policy Editor
Step-1: First, click on Windows icon and write gpedit.msc. The result will show the same command, click on it.
Step-2: Now, go through this path – Local Computer Policy > Computer Configuration > Administrative Templates > Windows Components > Windows Defender
Step-3: The right side of Windows Defender shows a list of various policies. So, locate the setting "Turn off Windows Defender", right-click on it and select Edit.
Step-4: Select Enabled button on the window that opens up and click OK button to make the changes effective.
Step-5: In this case, the protection app will turn off immediately forever and an attempt to run it will show the below error message.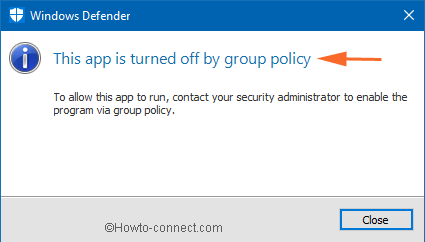 Step-6: To enable this feature, choose Not Configured button and implement the changes by clicking the OK button.
Tips-3: Using Registry Editor
Step-1: Press Windows key and write regedit. As a result, Cortana will come up and show the same command as Best match, click on it.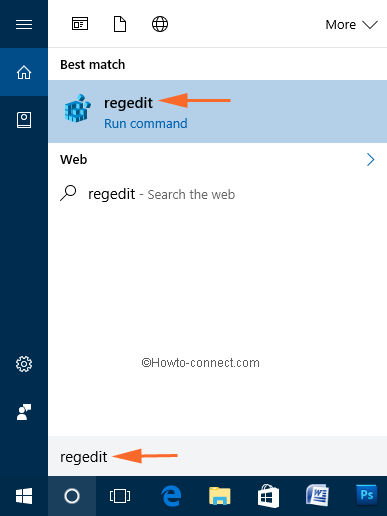 Step-2: To continue, click Yes on the UAC that appears.
Step-3: On Registry Editor, travel to this key – HKEY_LOCAL_MACHINE\SOFTWARE\Policies\Microsoft\Windows Defender.
Step-4: On the right side, locate and double-click the DWORD DisableAntiSpyware.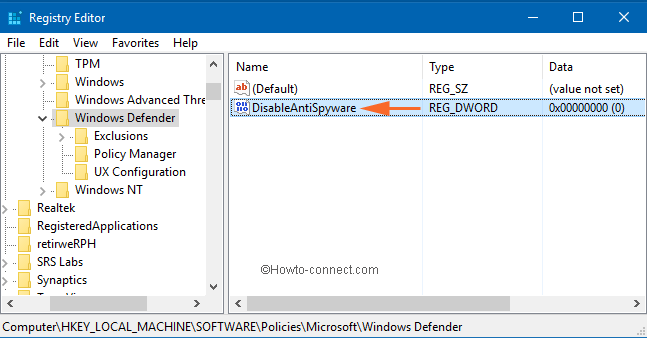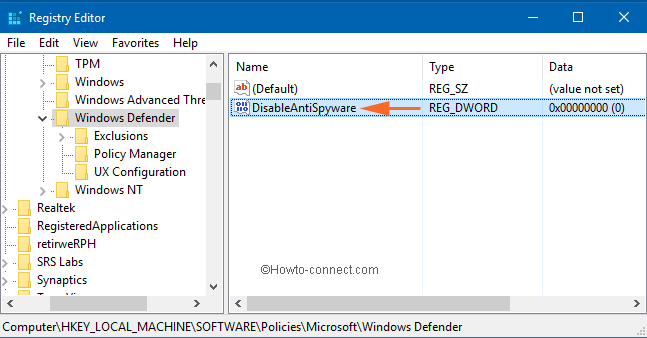 Step-5: Finally, set the value to 1 in the Edit window and click OK to permanently disable this protection app.
Step-6: In case, you don't find the DWORD, right-click Windows Defender and click New. From the list of options, click DWORD (32-bit) Value and finally, name it as "DisableAntiSpyware".
In addition to Group Policy, this method also disables the built-in protection app forever. However, in the future, if there arises a desire to bring back the functionality of Windows Defender, then either set the Value to 0 or delete the DWORD.