How To Get 3 Finger Gestures for Precision Touchpads on Windows 10. – You might like to keep Windows 10 on your PC if you are windows users because Microsoft has introduced this edition with very specific features and apps. The look and appearance of this version are awesome, furthermore, all the settings and options are easily accessible. Similarly, Windows 10 has introduced the 3-finger gestures for the Precision touchpads with its latest version.
Precision touchpads are a new kind of touchpad whose design is mainly for laptops that allow running Windows 10, 8, and RT 8.1. It is just similar to the Trackpad on those Mac machines on which Precision touchpad supports multi-finger touch gestures and works as a touch screen. On Windows 10, this Precision touchpad supports only up to 2-finger gestures earlier. You were only allowed to use 2-finger gestures to tap, slide, pinch, stretch, or swipe by right-clicking which shows more commands for the apps.
You may like to read:
Now, we are mentioning here a few tips to use 3-finger gestures on your PC. You may follow us to know tips for this feature from below.
How To Get 3 Finger Gestures for Precision Touchpads on Windows 10
Corresponding to Aul, Windows users have been provided new conceivably time-saving shortcuts to operate the Windows desktop using 3-finger gestures as they are as follow:
If you use
3 finger up to get Task View.
Finger down if you want to Show Desktop.
3 finger flick to left or right if you need to switch to the earlier app (go back 1).
3 finger move either left or right –> Alt tab pops up and you can choose the app according to  your need (remove fingers to select),
3 finger tap is aimed to Search.
You have to turn on the one Precision touchpad on your PC.
Tips
Launch Settings on your desktop.
Choose Devices option.
And tap on Mouse and touchpad. Then you will see that if you have one installed it under touchpad.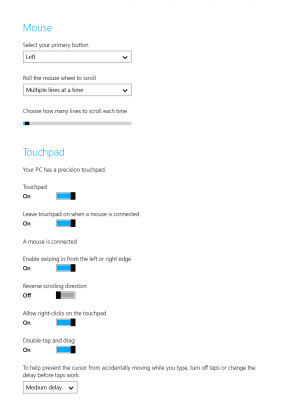 Note: You have to first, update your Windows 10 on your PC.
That's all.