Windows 10 Insider Build 18272 bangs the users who have opted Fast ring. The update includes multiple important improvements in Sign-in Options, Indic Phonetic keyboards, Input, and Accessibility. The build also contains fixes for Notepad, Settings app crashing, Speaker enhancement, FLAC metadata in File Explorer, and Task Manager.
You will receive Windows 10 Build 18272 (19H1) automatically through the Windows update system. Otherwise, you can go to Settings => Update & Security => and click on Check for updates right now. You can an also download iso file for Build 18272 from here.
Windows 10 Build 18272 (19H1) Changes, Features, and Fixes Details
Here are the details of Windows 10 Insider Build 18272 (19H1) Changes and Fixes –
Sign-in Options Redesigned for Windows Hello
Security shouldn't be frightening, and Microsoft helps you eliminate passwords. So they want from you to set up Windows Hello as the first line of defense. They simplify and declutter the Sign-in options Settings to make it the safest and fastest "sign-in option" whether using a PIN or a biometric factor like a fingerprint or facial recognition.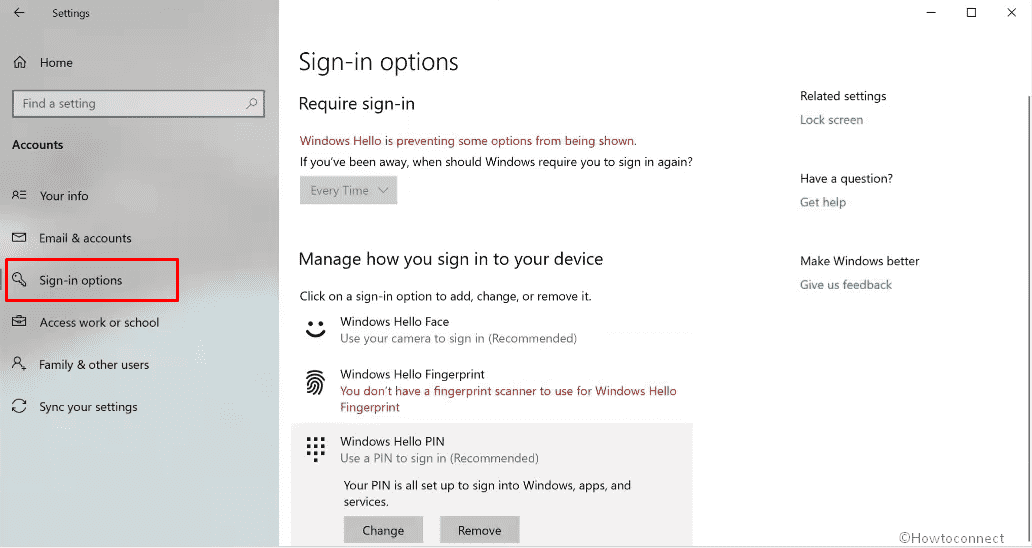 Windows 10 Insider Build 18272 (19H1) Input Improvements
SwiftKey is available for More Languages – From Windows 10 Insider Preview Build 17692,  Microsoft began to work on SwiftKey AI technology. This current buld they are adding the following languages –
English (Canada) – en-CA
English (India) – en-IN
French (Canada) – fr-CA
French (Belgium) – fr-BE
French (Switzerland) – fr-CH
Portuguese (Portugal) – pt-PT
German (Switzerland) – de-CH
Spanish (United States) – es-US
If you're using touch keyboard then try out the text predictions and shapewriting in this build. To compare with and without this change on your keyboard, enable the options for supported languages. Navigate to Settings => Devices => Typing => Suggestions and Autocorrections and check.
The mentioned languages also support on a physical keyboard. They started support for Text suggestions for the hardware keyboard in Build 17035 and expanded language in RS5. To try it out enable the "Show text suggestions as I type" under Settings => Devices => Typing.
Enjoy Indic Phonetic keyboards for PC –  It this build 18272 (19H1), Microsoft added the support for Indic Phonetic keyboard for Punjabi, Hindi, Gujarati, Bangla, "Tamil", Odia, "Marathi", "Malayalam" "Telugu", and "Kannada".
The phonetic keyboard is an expedient method of typing that leverages the English QWERTY keyboard. Transliteration suggests the most possible Indic text candidates in this feature. For instance, when you type namaste on Hindi Phonetic keyboard the feature would suggest.
How to Enable Phonetic Support in Windows 10
Step-1: Follow Start => Settings => Time & Language => Language from the navigation menu.
Step-2: Click the + icon that indicates [Add a preferred language] (or Go directly to step 4 if you have previously added the preferred Indic language).
Step-3: Type  Indic language into the start search and select it. For example, "Hindi". Select the Next button to install the Indic language, which will take you straight to the Language page.
Step-4: Return to the Language page, click the added, and then choose the Options button. This will send you to that language options page.
Step-5: Select the + icon that indicates [Add a keyboard].
Step-6: Turn on the Phonetic keyboard, for instance [Hindi Phonetic – Input method editor].
Step-7: Click input indicator from the far right of the taskbar (or press the Windows key + Space). Choose the Indic Phonetic keyboard and type something!
To download the dictionaries for phonetic keyboard wait for few minutes after making sure that internet is connected.
Accessibility Improvements in Windows 10 Insider Build 18272 (19H1)
Alert for Narrator Caps Lock ON – Narrator will now notify you when you are casually typing with Caps Lock turned on. The setting is enabled by default. To modify this setting, navigate to the Narrator Settings (Ctrl + Win + N). Access "Change when you receive Caps Lock warnings while typing" located under "Change how much content you hear".
The feature will work even when "Hear characters as you type" option is turned off. The alert will also work in edit and the password fields. The narrator will always use this feature regardless of presses of the Shift key as you type alphabetic characters. But you are able to select the Alert when you press the Shift key simultaneously with an alphabetic character, or you can disable the feature altogether.
The sound effect of the Narrator you hear will like the standard error sound effect.
Windows 10 Insider Build 18272 (19H1) Other Updates
Next version of Snip & Sketch (10.1809.2964.0) – The Windows 10 Insider Build 18272 brings several improvements, including –
Emphasis in Screenshots – the latest application version will provide a new option to add a border to your screenshots.
Print  – The current build adds a button in the toolbar to print directly from the Snip & Sketch.
Refined save options – When you have unsaved changes and close a window or open a file then a confirmation dialog will prompt.
The default proposed file name will now contain a timestamp.
A new settings page – They have substituted the old About flyout with a full settings page. Here you'll find the option to add a border, updates made to your snip to copy itself to your clipboard, and more!
Sticky Notes 3.1 (Version 3.1.32) – The app has also got an update in this build with the following improvements –
The build has added a feature to enable dark mode in Sticky Notes 3.1. The option is in the color mode in Sticky Notes and is independent of system settings.
Sticky Notes will now sync faster.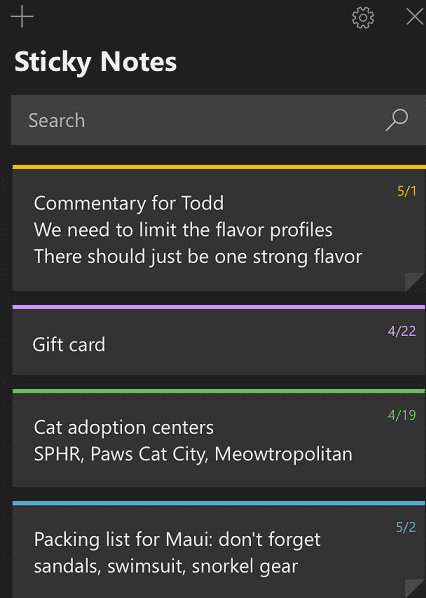 Windows 10 Insider Build 18272 (19H1) General changes, improvements, and fixes for PC
This build will allow you to unpin a tile in folder or group by right-clicking through an option on the context menu. Presently, 50% of Insiders will get this option.
Windows 10 insider team solved Task Manager settings wouldn't persist after closing and reopening.
They fixed only users in Vietnam could use the Vietnamese Telex and Number key-based keyboards added in Windows 10 Build 18267.
Microsoft resolved an upwards search with wrap enabled problem in Notepad that wouldn't find the last word in the text.
Windows 10 team solved Settings app problem resulting in crashing when navigating to Data Usage.
They fixed an issue Settings crash when clicking Cancel prompted password during the PIN removal.
Windows 10 team solved twinui.dll would crash on some devices problem after choosing a wireless display to project to the Connect flyout.
Microsoft fixed Speaker Properties => Enhancements wouldn't persist on upgrade when you select enhancement.
Windows 10 developers solved FLAC metadata being cut short issue in File Explorer and other locations.
The Forget option for Wi-Fi profiles is equally available for non-admin users.
You can use Ctrl + Mouse Wheel Scroll to zoom in the text in Command Prompt, PowerShell and WSL.
Windows 10 Insider Build 18272 (19H1) Known issues
The first issue is Task View doesn't show the + button under New Desktop after creating 2 Virtual Desktops.
Some users will get the update status cycling in the middle of Getting Things Ready, Downloading, and Installing. This often shows error code 0x8024200d caused by a failed express package download.
When you have installed multiple OTF fonts, or "OTF fonts" supporting extended East Asian character set, you may encounter missing text across the system. As a workaround, navigate to the Fonts folder (c:\windows\fonts).
PDFs opened with Edge browser may not show properly (small, instead of using the entire space).
Windows 10 insider team is investigating a race condition ending with blue screens during dual boot. If you're getting this issue then disable dual boot for now, as the will come with the solution in the next build.
Refinement of hyperlink colors Dark Mode in Sticky Notes is needed when the Insights are enabled.
The settings app will crash after changing the account password. They recommend using the CTRL+ALT+DEL method for the same.
Windows 10 Insider Build 18272 (19H1) Known issues for Developers
If you want to switch to slow ring level after receiving a build in Fast then optional content for example turning on developer mode will no longer work. You will need to continue with the Fast ring to enable/add/install/optional content.
Source – Windows Experience blog.