Microsoft rolls out Windows 10 Insider Preview Build 18290 (19H1) which carries a few new features, changes as well as improvements for its Fast ring users. This update provides a Fluent touch to the Start Menu, lets you sync Clock with time server, improvements in Mail & Calendar, etc. Moreover, this build has multiple fixes for issues in language settings, Microsoft Edge, Windows Security and more.
You will automatically receive Build 18290 through Settings => Update & Security => Windows Update => Check for updates. So, let us explore all the details which include the new features, changes, improvements as well as fixes that this build carries for you.
Windows 10 Insider Preview Build 18290 –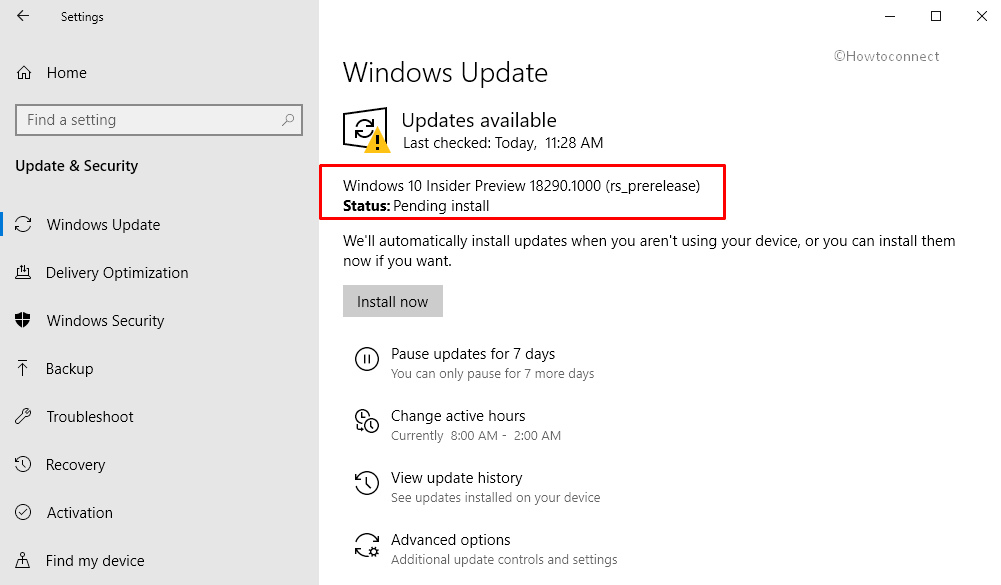 Windows 10 Insider Preview Build 18290
Timebombs will warn you get the lateset update
The Insider Preview builds includes a built-in expiration date which they refer as "Timebomb". Once the build expires, you will be notified that the build has expired and you will receive that warning once a day. In addition to that, you will also see User Access Control (in short UAC) warnings as well. So, you need to make sure that whatever ring you are into, you are using the latest builds offered to those rings. The timebomb set for build 18290 is 14th December.
However, being an Insider, you can check the flight settings and verify the latest builds by navigating to Settings => Update & Security => Windows Insider Program.
You can check the build expiration date by typing "winver" on Cortana.
Start Menu with a touch of Fluent
By now you will be aware that the Build 18282 carried jump list improvements. But when you will update the system to this latest build, you will notice that the team polished the power and user menus in Start as well. The Start Menu will display icons for easier identification. Moreover, you can see the power icons on the sign in screen also.

Synchronize your Clock
The Date & Time Settings provides a new option to manually synchronize your clock with the time server. It will be of a great help on certain scenarios where you may think the clock to be out of sync. Or when the time server is disabled. Furthermore, this new addition will also display the last time when the time was successfully synced along with the address of the time server.
Note – For the time being, this feature only supports the non-domained joined PCs. Although, in this build, it will be visible on the devices.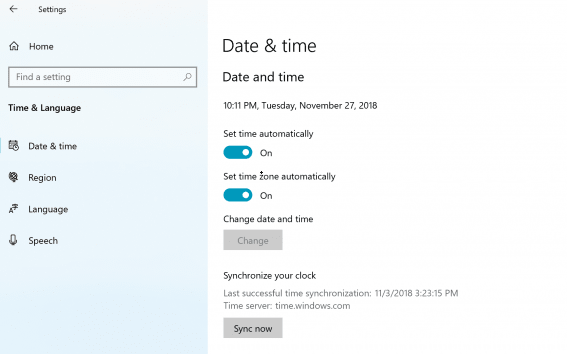 Know which app is using your Microphone
The notification area launched a new mic icon with the release of Build 18252. This icon will let you know when an app accesses your microphone. But with this build, when you will hover the mouse over this Mic icon, it will tell you which app is using your Microphone. When you double-click this icon, you will get access to the Microphone Privacy Settings.
However, if multiple apps are using the microphone, then it will list how many are actively using it.

Improve Cortana and Search Improvements
Microsoft is all set to explore new options to enhance the search the experience. The team introduces a new landing page when you make a search on Cortana. It provides more space for recent activities, a touch of acrylic, includes light theme support,  and also includes all the search filter options. You may notice certain other changes as well in the future builds.
Windows Update Notifications
Starting with 19H1, when your device requires a reboot after it receives an update, you will notice a new Windows Update icon with an "orange indicator" in the notification area. It will alert you to restart Windows 10 PC.
Mail & Calendar
With the help of Microsoft To-Do, you can easily keep a track of your tasks from Mail & Calendar. After the update of Mail & Calendar update from Microsoft Store, you will get the ability to switch directly to To-Do in the app navigation. This update will be available to both Insiders as well as Retail users.
Windows 10 Insider Preview Build 18290 Common Changes, Improvements, and Fixes
The Insider team fixes an issue that results in PDFs opened in Microsoft Edge not displaying correctly. Instead of using the entire space, it displays small.
In recent builds, the mouse wheel scrolls unexpectedly fast in several "UWP apps" and "XAML surfaces".
Microsoft offers certain updates to the taskbar to reduce the number of times you may view the icons redraw. The most observable point is while interacting with the Recycle Bin, although in other scenarios as well.
We've made some updates to the taskbar to reduce the number of times you may see the icons redraw. Most noticeably when interacting with the recycle bin, although in other scenarios as well.
"Antivirus software" must run as a protected process to register with Windows and appear in the "Windows Security" app. In case, an AV fails to register, Windows Defender Antivirus will remain enabled.
The system unexpectedly consumes a high CPU usage for a prolonged period of time. It happens when enumerating Bluetooth devices. So, Microsoft releases a fix for this issue in this build.
Cortana.Signals.dll crashes in the background is resolved. There is a fix for this as well.
An issue that leads Remote Desktop to display a black screen for some users is resolved in this build. This same problem also freezes over Remote Desktop while using VPN.
When you use the net use command, the mapped network drivers potentially displays as "Unavailable" moreover shows a red X in File Explorer.
Windows 10 Insider Preview Build 18290 enhances the compatibility of Narrator with Chrome.
The improvement list continues with the performance of Magnifier centered mouse mode.
In the previous flight, when typing in Chinese mode, the Pinyin IME would always display English mode in the taskbar. So, Microsoft fixes it in this release.
A problem in the Languages Settings is resolved. In the previous flight, the languages display an unexpected "Unavailable input method" in their list of keyboards. The issue occurs when you add a language through Language Settings.
Microsoft considers users feedback regarding the introduction of new Japanese Microsoft IME. For the moment, the IME version will return to the one that shipped with October 2018 Update.
The team introduced a support for "LEDBAT" in uploads to "Delivery Optimization" peers on the same LAN. However, for the moment, LEDBAT is only used by Delivery Optimization in uploads to "Group or Internet" peers. This feature will avoid congestion on the local network. Moreover, it will allow peer-to-peer upload traffic to back off immediately when the network is utilized for higher priority traffic.
Known Issues in Windows 10 Insider Preview Build 18290
The hyperlink colors require to be refined in Dark Mode in Sticky Notes if you turn on the Insights.
To change the password or PIN, Microsoft suggests using the Ctrl + Alt + Del method. If not done in this way, then the Settings page will crash.
The options for turning On/Off Dynamic Lock are missing from Sign-in Settings due to a merge conflict. The team will provide a fix very soon in the next flight.
When you navigate to System => Storage, the Settings application will crash drown upon clicking on the option "View storage usage on other drives".
The built-in Windows Security app may not refresh properly or display an unknown status for Virus & threat protection category. This may happen after settings changes, restart or upgrade.
You cannot select Delete previous version of Windows in "Configure Storage Sense".
When you make an attempt to launch Speech Settings, the Settings app will crash down.
While interacting with certain games and apps, being an Insider may see green screens with error messages like  System Service Exception in win32kbase.sys. So, just be patient as the team will release the fix in the upcoming flight.
There's an update block for this build 18290 in place for a small number of computers that use "Nuvoton (NTC) TPM" chips with a specific firmware version (1.3.0.1). This occurs due to a bug causing issues with "Windows Hello" face/biometric/pin login not working. Microsoft will soon flight a fix for this issue.
Windows 10 Insider Preview Build 18290 Known issues for Developers  
In case you install any of the recent builds from the Fast ring and switch to the Slow ring, then optional content like "enable developer mode" will fail. However, you will still have to remain in the Fast ring in order to enable/install/add "optional content". This is because 'optional content' will only install on builds agreed for specific rings.
Source – Windows Blog