A secret or you can also term it hidden Windows 10 administrator account is there that you might be not aware of. By default, that account is turned off or inactive.
You make a user account when you first install Windows 10 on your system. And by default, that account is treated as an administrator account and also is the main account of your system. But there is one thing you are unaware of, Windows 10 automatically creates two accounts by itself, and here also by default both are kept inactive. Among the two accounts, one is the Guest Account and the second one is Administrator Account. With the Guest Account, you cannot install any hardware or software or do any system modifications. The Administrator Account which is also not active by default can be enabled in case of troubleshooting or in administrative matters.
There is a small difference between the user's Administrator Account and build–in Administrator Account. The users' Administrator Account faces the prompting of UAC (User Account Control) while the built–in one does not. And the users' Administrator Account is an unelevated one whereas the built-in is the elevated one. See: Enable / Disable Built-in Hidden Administrator Account in Windows 8.1|10. Now let's dive into the Windows 10 tips.
How to Enable and Disable Hidden Windows 10 Administrator and Guest Account
Way-1: Using Command Prompt
Press Windows and R keys.
Type cmd.
Press – Ctrl + Shift + Enter.
Select Yes to open an elevated Command Prompt.
First, you have to get the list of all the user accounts of your system and to get the list type the command net user and press Enter.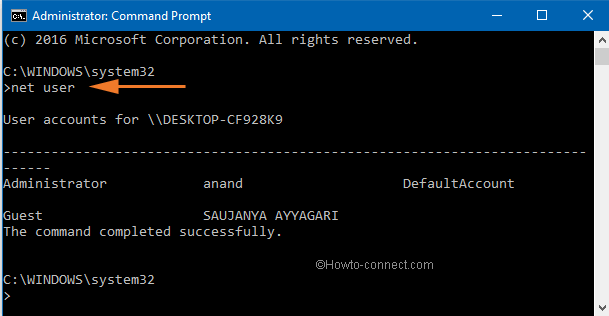 In order to active Administrator Account, type the following command –
net user administrator /active:yes
To activate the Guest Account type this command –
net user guest /active:yes
The built-in Administrator Account is enabled. You can sign–in to the system using this account. But by default it is not password protected.
Use this command and protect your account with a password –
net user administrator *
Provide your desired password.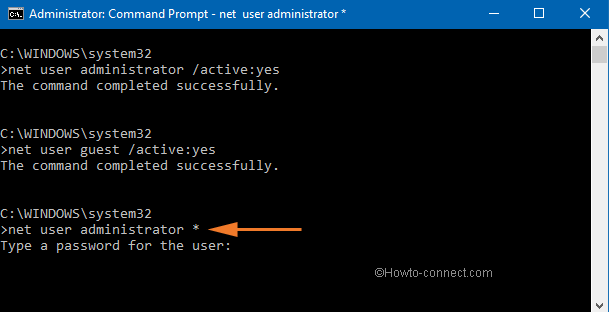 In the future, if you desire to disable or cast off the build–in Administrator Account provide the command on elevated Command Prompt –
net user administrator /active:no

In these ways, you gain control over your Windows 10 PC.
Way-2: Local Group Policy Editor
Click on Search from the Taskbar.
Typegpedit.msc.
Press the Enter key.
Now, follow this path to make the changes: Local Computer Policy -> Computer Configuration -> Windows Settings -> Security Settings -> Local Policies -> Security Options
Now, look at the right pane of the Security Options. A list of different settings is visible. First, find Accounts: Administrator account status.
Double-click on this Policy setting.
After the arrival of its Properties windows, select Enabled.
To make changes in the guest account, find Accounts: Guest account status in the list.
Double-click on the Policy setting.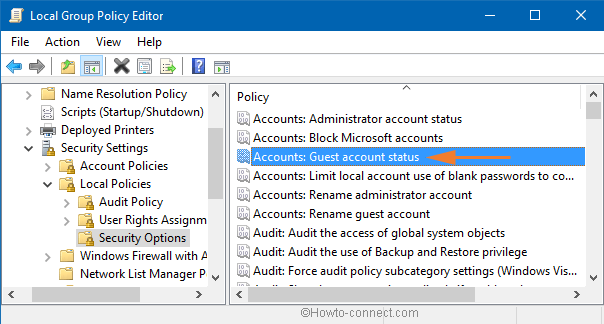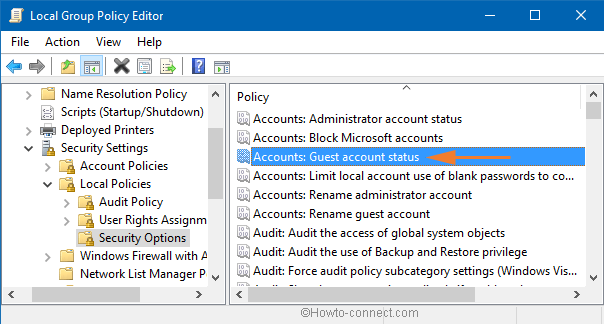 Once the Properties box is visible on the screen, you can see two options. Choose Enabled.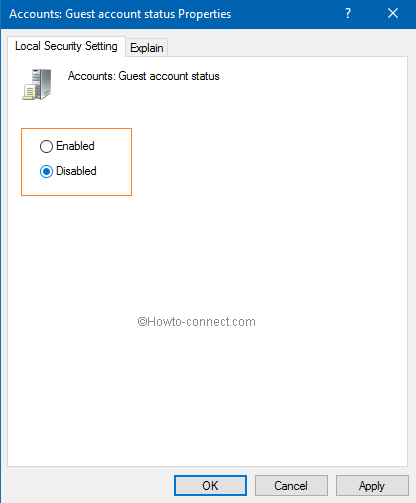 In the Properties box of both accounts, click Apply and Ok to implement the modifications.
Way-3: Through Computer Management
Right click on the Start to bring up different options.
Click Computer Management.
Follow this path on the left pane: Computer Management (Local) -> System Tools -> Local Users and Groups -> Users.
On the right, you can see Administrator with built-in description. Double click on it.
The Administrator Properties window will emerge. To activate it, clear off the cell that says Account is disabled.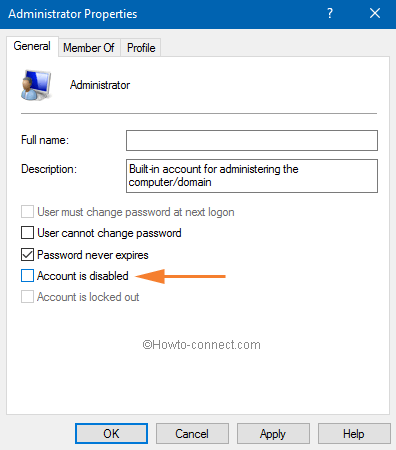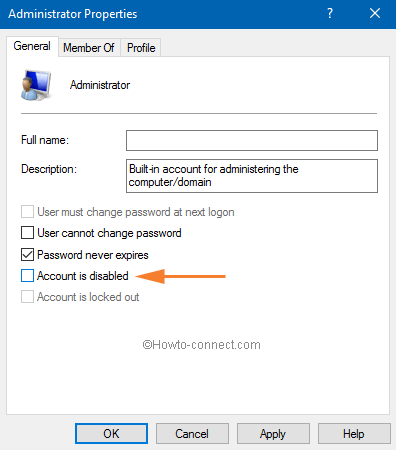 When you select the cell of Account is disabled, you get into the disabled mode.
After dealing with this, look for Guest account with a description.
Double-click it and after its Properties window appears, uncheck Account is disabled to enable the account.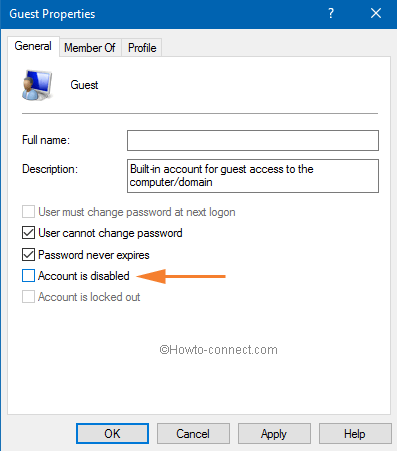 Now, check the box Account is disabled to deactivate it.
Read: How to Use Computer Management and its Tools on Windows 10.
Bonus Tips – How to Switch to the local account after creating a new one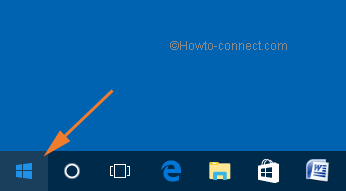 On the Setting window, select Accounts.
Click the link Sign in with a local account instead.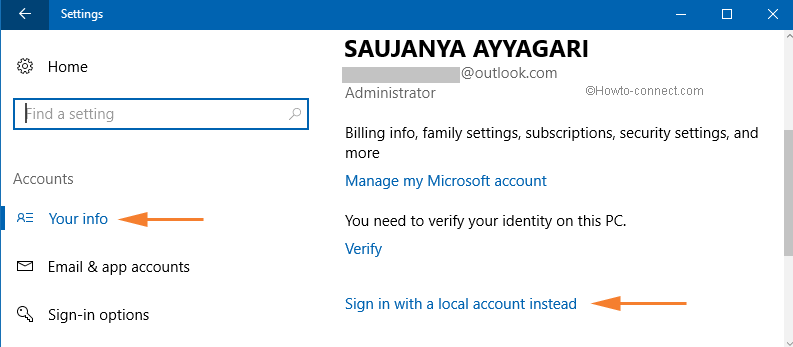 You will see a pop-up. Type the current password of your Microsoft account and click Next button.
In the next pop-up, write the credentials you want to use further and select Next.
A little later, you will be carried to your login screen. Log in by filling in the local account password.
These are the 3 ways to unhide activate or enable Hidden Administrator and Guest account and switch to one another in Windows 10. If any question we will welcome you to reply.
Methods:
Way-1: Using Command Prompt
Way-2: Via Local Group Policy Editor
Way-3: Through Computer Management
Bonus Tips – How to Switch to the local account after creating a new one
That's all!!