After installing a Windows 10 or Windows 11 update dated March 21, 2023, or later, users will be presented with a notice informing them about the transfer of data outside China. KB5026964 provides a workaround (registry modification) to deal with the issue.
It has come to our attention that the notice is displayed to users logging into a local user account on a device running Enterprise or Education versions of Windows 10 or Windows 11. If an Enterprise wishes to disable this notice, the following workaround can be implemented. See: Windows 11 KB5025800 OOBE Update Rolled out to 22H2.
KB5026964 – Symptompts and Workaround for the notice, Windows updates are installed
Here are the symptoms and workarounds:
Symptoms:
Notice shown on Windows 11
Your data will be processed outside of your country or region:
Microsoft Privacy Statement: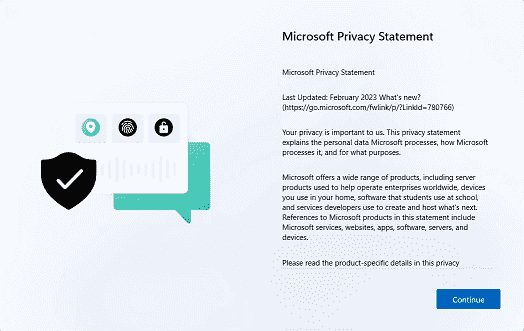 Notice shown on Windows 10:
Your data will be processed outside of your country or region:
Microsoft Privacy Statement: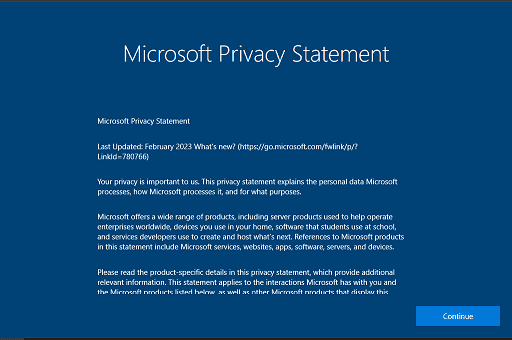 Here is the workaround in KB5026964:
To prepare for a Windows update released on or after March 21, 2023, it is recommended to create a registry entry on the Windows 10 or Windows 11 device for each local account before applying the update.
Press Windows and R keys.
Type regedit.exe.
Hit Enter and select Yes to launch Registry Editor.
Then navigate to
HKEY_CURRENT_USER\SOFTWARE\Microsoft\Windows\CurrentVersion\CloudExperienceHost\Intent\PersonalDataExport
Right-click on an empty space and select New => DWORD (32-bit) Value.
Provide a name to the value: PDEShown.
Double-click on this value and put in Valu data 1.
Press Enter.
Restart the computer to apply the change.
Registry location
HKEY_CURRENT_USER\SOFTWARE\Microsoft\Windows\
CurrentVersion\CloudExperienceHost\Intent\
PersonalDataExport
Value name
PDEShown
Data type
REG_DWORD
Data value
1
Microsoft has planned to inform Windows users with local accounts on unmanaged devices about the transfer of certain personal data from China to another country or region, as part of its compliance with the Chinese Personal Information Protection Law (PIPL). This transfer is necessary to process the personal data and ensure the proper functioning of the product. For a comprehensive list of products impacted by this notification, kindly refer to the support article linked below.
Source: Release note
That's all!!