The Windows 8.1 Preview has returned with Start Button. It has presented some old apps with new features and many new utility apps. Really the new utility apps of the windows 8.1 version are notable.
We have found four striking utility apps namely Alarm, Calculator, Sound Recorder, Scan. Besides a few new apps for example Photo Editor, Health and Fitness, Food and Drinks and Reading List are also very interesting and easy to use.
Windows 10 / 8.1 Preview Apps – Alarm, Calculator, Scan, Food & Drink
1.  Alarm
The alarm is not available as a desktop app in any previous windows version. Now Alarm has been introduced as metro apps on the start screen. This app is truly useful for windows 8 based tablets, laptops or desktop PC. The Alarm app is categorized into three sections like stopwatch, Alarm, and timer. The interface of Alarm app is admirable. Each clock look is as a disc with two dials that you can shift clockwise or anti clockwise to increase or decrease the time.
You can set snoozing sound of Alarms one time or repeatedly for several days. You can also select from a list of available alarm sounds inside the app.
2.  Calculator
The calculator is present as a desktop app in Windows 8. Now windows 8.1 preview version has added a modern UI Calculator app included unit converter. This calculator app divides into three tabs like a standard calculator, scientific calculator, and a converter. The first experience with Calculator app is fairly useful while you convert weight from one unit to the other.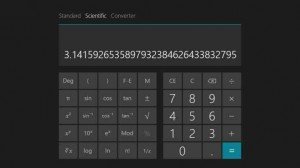 3. Sound Recorder
The new Modern UI Sound Recorder app is available in windows 8.1 preview OS. This app has a neat feature that lets you to cut down the length of a voice recording quickly and easily. It is one of the best apps in term of design and speed because you can cut audio clip parts from the start to end portion simply. If you start another app while you are recording with the Sound Recorder app, then the app will automatically pause audio recording.
4.  Scan
The scan is a basic app within Windows 8.1 preview. It is also an alternate option instead of built-in Windows Fax and Scan manager tool. The scan app lets you choose the installed scanner device with the output setting format so that you could save the scanned items.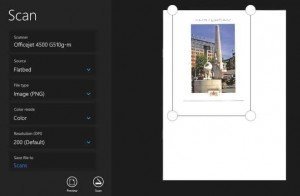 5.   Health & Fitness
We have already discussed S Health app for Samsung Galaxy S4. Now same feature integrated app has been introduced in Windows 8.1 preview. The name of the app is Health & Fitness. It lets you to manage your exercise schedule, track your calorie drinking or eating, and your vitals.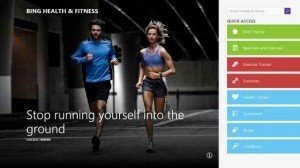 6. Food & Drink
Windows 8.1 introduces a remarkable digital cookbook based app which is called Food & Drink. This app allows you to search for recipes from supported food channels, help you locate recipes, recipe book, and meal planner to a shopping list.
7.  Reading List
The Reading List app supports Internet Explorer in order to set as your default browser. It is a separate app and you can save links using the Share Charm from other apps. You can read saved links or bookmarks later and share an article using another windows 8 apps quickly. It appears to compete in the area of reading list features than Safari, Pocket.