Windows 8 presents some default basic apps on Metro screen after installation. These basic apps as Photos, Mail, Music, Weather, Store are to assist you to run operating system in a better way. In the month of August 2012 Windows 8 RTM was launched.
In this Windows version, there are more Apps. Here we are presenting an introduction to these apps.
Best Windows 8 Apps for Photo, Mail, Music, Weather, Store
1.  Microsoft Apps Store
Here all apps regarding Windows 8 are stored by default.  Through it, you can download and install Windows 8 supported new apps and games. These Apps are put in arranged way and category-wise in Microsoft App Store. When you click any App in Store it shows introduction and option to install.
If you like to add a new app, choose Install option here. Now Store will put it in queue for downloading in the background stages so that you could browse store further. You can also search for new apps in the store through Windows 8 search tool.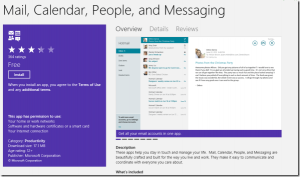 2. Mail, Calendar, People, and Messaging
In Windows 8, three human being related apps as People, Calendar, and Messaging have been presented. These apps work together and are used to connect through online accounts (Live, Hotmail). These fetch email messages, contact, and many more at a single place in a single click.
To configure setup of these apps, you have to start with People app first. If you have already signed in Microsoft live or Hotmail account in Windows 8 account then email and calendar, contact, etc can be operated from here. For getting more advantages, you can add another account such as Twitter, Facebook, Gmail to sync new incoming email and contacts. You will receive alerts of new email and calendar ultimately. These apps also provide update notifications in metro screen.
3. Photos app
In metro screen, Windows 8 Photos apps are used to find and view all images on computer in slideshow mode. This app also shares image from connected social accounts such as Facebook and flicker.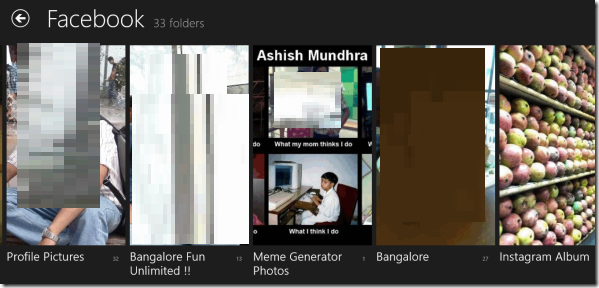 4. Music app
In Windows 8, Music app is the most interesting app. Here not only you can play music but also download new music albums from the music store. We can listen to music in tracks, see preview and purchase, or download.
5. Video app
There is not much difference between music app and video app on Windows 8 metro screen. You can play a new online video and purchase or download new movies from video library.
6. Sky drive app
Just now, Microsoft launched Sky Drive (online storage). In metro screen in Sky Drive apps, you can upload document files, photos of Windows 8 computers and also edit online.
7. Maps app
Map app is used to discover our current location online through GPS and Wi-Fi technology. This app provides status of location and driving direction information through Microsoft supported Bing Maps tool.