Drums is a free app of windows 8 which could be used to play drums on Windows 8 devices. In this app, you could experience 12 different sounding drums. This app comes for both i.e. a touchscreen device or a simple PC or laptop having windows 8 installed in them. The interface of sounding drums app is exciting and very adorable. Developers has left no stone untouched to make it a great app. It's fun and entertaining. This app is really handy and easily understandable. This can be used by any amateur or professional one. A screenshot of this beautiful app is shown below: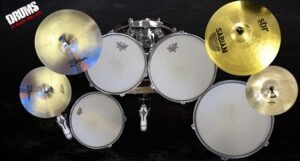 You can have the access to sounding drums app from the link provided at the last of this article.
How to use sounding drums app
Running this app after its proper installation to your windows machine will open a window like the above shown picture. It is a lovable as well as an adorable game. It suits both types i.e. normal PC or touchscreen, you will find the touchscreen more flexible and entertaining. However, it doesn't mean it is no good for those having laptops. It is just swiping of fingers that face least resistance and we love those things which offer least resistance. This app could be used using mouse clicks to play the drums. keyboard could also be used for this purpose. In fact,keyboard adds different flavors to the playing drums and thus improves its usability.
This app provides you 12 different drums with various sounds. The sound provided on this game is clear and good. The sounds of Toms, Ride, Crash stays for a longer time just like in real life, and doesn't end quickly. The useful keywords of this game app is provides below:
 Snare –> D, Toms –> H and J, Floor Tom –> K, Splash –> ;, Ride –> L and O, Crash –> S, Opened –> Q, Closed –> A, Hi Nat Pedal –> Z, and Kick –> F.
As this app doesn't support any ads, it would help one in concentrating on playing drums on windows machine. This app is very easy and simple. No need of any special knowledge, no switching between screens, no need of login. You can also have this app from windows 8 store under the entertainment category.
Key Feature of sounding drums App
Freely available
Uncluttered Interface
Multitouch enabled
12 High Fidelity drum sounds
No promotion of ads here
Snap mode is active here
real sounding drums
Final Note
This is indeed a good Window 8 drum app. If you like playing drums, this is the best place to enjoy playing with them along with enjoying their wonderful sounds. Even you are not good at it but love listening to drums, this app will provide you enough ways to entertain you. It keeps one glued to itself for a long period of time. In spite of its good features, there are some things which you won't like here like the option to record and save the sounds that you made by hitting the drums. Again, not providing the sharing facility hindered many opportunities to have fun with your friends. Still, this is a nice application and you will love this app because of its simplicity.
Downloading Link: Drum App For Windows 8