Free Download Transformation Pack, Windows 8 Theme for Windows 7 –  This time, Windows 8 has moved forward with an absolutely new interface and theme than the previous one. Special features like Metro Start button, High-resolution theme, modern interface Windows tools, etc make Windows 8 more special and attractive.
Here in this post the Features of Transformation Pack, How to remodel the look furthermore plausibility, and finally Download link are given.
Windows 8 Theme for Windows 7
Sometimes users want to convert Windows 7 or Vista appearance into upgraded Windows 8 interface. For this, the software comes in use named third-party software. It is also called Windows 8 Transformation Pack. It helps the users to convert pre-installed Windows 7 appearance to Windows 8. There are many advantages of Windows 8 Transformation Pack. It changes Windows 7 appearance in Windows 8 styles with several features like Windows 8 Theme for Windows 7 and Wallpaper, Startup log, start-up booting screen, add Metro User Interface, Charm bars, etc.
Additional Feature

It enables new booting screen lookup ( Beta Fish boot screen logo).
New appearance includes – Windows 8 login screen, Start button, and Modern Windows 8 logo, Theme, multiple packs of modern Skin, Wallpaper, and desktop background.
 It changes Charms Bar setting pane at the right side on the desktop if Metro Interface or Apps is unable.
Transforms Windows 8 Fonts in every lookup.
Convert in Metro Style button with Metro navigation button.
How to transform Windows 8 appearance from Windows 7
First, Download Windows 8 Transformation Pack software through the link given below. Run this setup in Windows 7. When the Setup process completes steps wise, new interface of Windows 8 appearances will be displayed.
Download Windows 8 Transformation Pack Ver. 4.0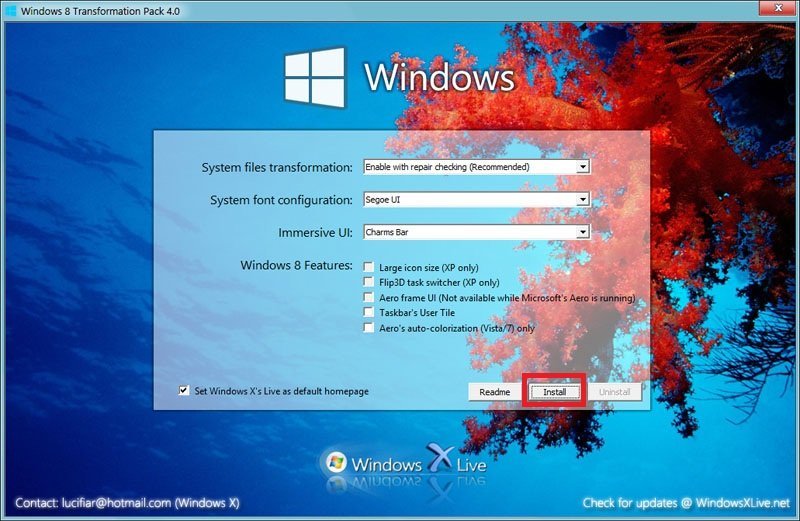 Windows 8 Theme for Windows 7 – Windows 7 must be installed Microsoft Dot Net Framework ( 2.5, 3.0. 4.0) otherwise Windows 8 Transformation Pack will not run. If on your computer, dot net has not been installed try to download from the below link and run setup.
Download Microsoft Dot Net Frame Work  4.0 Pack