Windows 8 Shortcut Keys – Keyboard Applications – Windows 8 inducts a brand new feature called Metro User Interface. The awesome interface is introduced to ease up the user's effort. Accessing or operating with Metro interface could be an uphill task for new users. Therefore, Microsoft has published important window keyboard shortcuts or hotkeys to work in Windows 8.
Important Windows 8 Shortcut Keys for harnessing keyboard application for the sake of Windows 8 comprising metro screen to lessen users effort is described. More important Windows 8 Shortcut Keys are written underneath.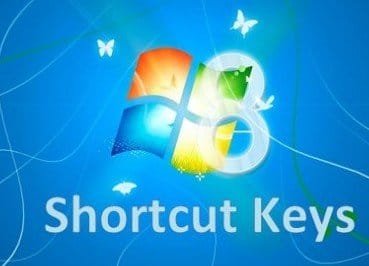 Lists of compatible Windows 8 Shortcut Keys
Return back to the Metro Start menu button.
Display all the currently active applications in slide view on the desktop and choose optional applications from here.
Launch Charms menu tab at the right side of Windows screen, it contains search button, setting, date and time, and notification.
Starts setting tab in Charms bar where a user can configure settings options – WIFI, Adjust Volume, Shut down, active applications, adjust color settings.
A round from first to last screenshots of active applications.
Return to active windows desktop screen.
Launches Application Bar of Current Metro UI tab.
Starts Metro Share window.
Starts Metro File Search pane.
Launches setting search tab in Metro Window.
Starts search box in Apps tab in Metro window.
Starts device setting window of connecting device (projector etc)
Turn on meeting point among snapped Metro UI contains applications
Return to the desktop screen or minimize all the currently active applications.
Lock current Windows 8 Computer and go back to lock screen.
Make connection among Tablet PC from Windows 8
Starts connection between multiple displays (Projector, Display dual view on the external monitor etc)
Starts Run box on the desktop screen
Starts Easy Access Center tab to configure following services (Magnifier, Narrator, Adjust high contrast, on-screen Keyboard)
Launches search setting pane of Windows Explorer
Starts window Mobility Center including various system tools such as Display brightness, Mute, Wi-Fi Connection, Power condition etc.
Starts the App pane on the window screen
Change Keyboard layout and input language
Starts Narrator tools.
Windows Key + Page UP button 
Shifts open applications or Start Screen to the other display (monitor) in the left pane.
Windows Key + Page DOWN  button 
Shifts open applications or Start Screen to the other display (monitor) in the right pane.