You might have the curiosity about what is wsappx Process in the Task Manager (taskmgr.exe) and How it Works. It is responsible to run Microsoft Store and Universal Windows Platform (UWP) apps. Expanding this process will show you AppXSvc AppX Deployment Service (AppXSVC). wsappx is not a virus but a built-in program of Windows 10 (many users ask). This Process handles Preinstalled apps on your system using its service.
wsappx in Windows 10 Task manager means –
When you go to Task manager you come across a good number of processes in the list of the first column. wsappx appears in the bottom part. It manages two different background services on Windows 10 and its predecessor Windows 8. These are AppX Deployment Service (AppXSVC) and Client License Service (ClipSVC).
wsappx comprises the subservice AppX Deployment Service ("AppXSVC") you can view after expanding. This service liable to run Microsoft Store.
Commonly, you will not find this wsappx in taskmgr.exe while the Store is not open on your computer.
The executable file for this process is svchost.exe. This subservice is involved in installing, removing, and updating Microsoft Store apps, as well as confirming they have the genuine license.
The process appears for a short span of time period and then disappears. FIle location for wsappx – C:\Windows\System32\svchost.exe on your hard drive.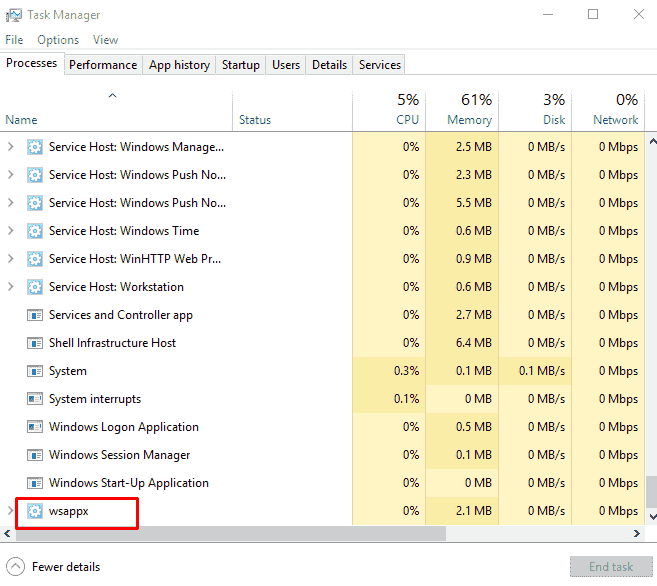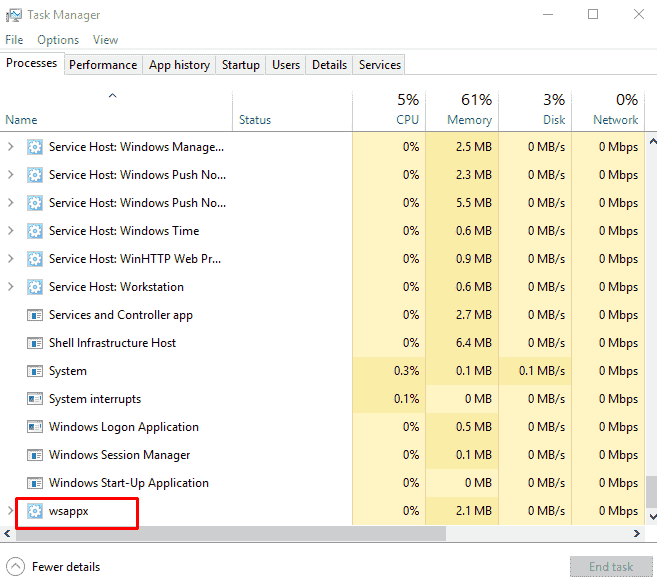 How to End task for wsappx Process
However, you can End task with this process as you usually follow with other. But this is not an ideal situation. End task of wsappx in normal circumstances creates mess up on your system. You receive the warning –
"Ending this process will cause Windows to become unusable or shut down,
causing you to lose any data hasn't been saved. Are you sure you want to."
Because the wsappx holds AppXSvc AppX Deployment Service (AppXSVC) so let's have a detail of this –
What is AppX Deployment Service (AppXSVC) in Task manager?
AppX Deployment Service controls the Microsoft Store applications. It installs, removes, updates in the background and all the built-in apps. These are Mail app, Calendar, Photos, Calculator, Groove music, Feedback hub, Weather, and all other.
Previously these kinds of apps run through Windows installers so sucked the resource like CPU. But after they have been coming from the store, AppXSVC service uses the resources instead of the programs.
Sometimes you find that your CPU usage goes high despite you are not running a program. This is the situation when AppXSVC sucks your resources in updating the apps in the background.
What Is Client License Service (ClipSVC) in the Task manager?
ClipSVC background service maintains infrastructure support for the Microsoft Store so when you stop this the applications will not function properly. In addition, the service does different things that enable Microsoft Store apps to work correctly. It holds license management job, which ensures that you have paid for a premium app before using.
CPU Usage for wsappx is high in Windows 10, why?
As wsappx handles the Store apps so high CPU usage clearly indicates that there is something is happening there. You might be uninstalling or installing an application moreover, watching themes or a heavy program.
If you are not involved in either of the activities Microsoft Store itself should update the apps in the background. After the completion of installation of Windows 10, you might experience due to a sudden update of store apps in the background. You can deal with this occurrence by disabling automatic update.
How to Reduce wsappx high CPU Usage in Windows 10
If you are serious about decreasing the CPU using put by wsappx then you can simply turn off automatic update in Microsoft store. Follow to disable –
Open Microsoft Store and click on See more icon from the menu bar (3 dots). Choose Settings from drop down and look for the first option App updates. Use the toggle button here to turn it off.
Old apps may create issues while running so you will need to check it manually and sporadically to obtain the updates. If you encounter issues of hanging, crashing like more severe problems due to wsappx high CPU usage you can tweak paging file size.
In addition, Registry Editor and Group policy editor give you chances to turn off the Microsoft Store applications.
So wsappx is a useful process which cannot harm you anyhow. It is not an adware, malware or virus instead a Microsoft file that handles your Store apps.
Repair any Windows problems such as Blue/Black Screen, DLL, Exe, application, Regisrty error and quickly recover system from issues using
Reimage
.