Are you finding ways to fix Xbox Error Code 8015190b? Commonly, this issue takes place when you try to connect to Xbox Live. The main reason is Slow Internet connection and you lose unsaved progress in the middle of your game due to this error. You can also see a related article – 80072EF3 Xbox Live Sign in Error.
The error also asks if you prefer to exit the session or want to perform the connection test. So, here, you can see few workarounds that can eventually help you to come out of this stop code. In this regard, you may like to see How to Fix Xbox Networking Problems in Windows 10. So, stick to the tutorial and go through the solutions.
How to Fix Xbox Error Code 8015190b
Solution 1 – Restart Xbox 360
The first attempt that you can try is to completely turn Off Xbox 360 console. Wait until it shuts down perfectly and again turn it On. Finally, give a shot to Xbox Live and check if this fixes the error.
Solution 2 – Check Xbox Live Status
Step 1 – To start this solution, first, visit Xbox Live Status web page. Here, you can see all the breakdown of all the services.
Step 2 – In case, you see an alert for a specific service, wait until it shows up and running.
Step 3 – Once all the services are up and running, you should not face any error codes. So, again go to Xbox Live and check if you still receive Xbox Error Code 8015190b.
However, you can also rerun the test manually through Xbox 360 interface. To re-run the test on Xbox 360, follow these given steps.
Step 1 – On the controller, press the Guide button. Out of various options, select Settings followed by System Settings.
Step 2 – Here, choose Network Settings.
Step 3 – Moving on, select the network you are using. Few options are visible, click "Test Xbox Live Connection".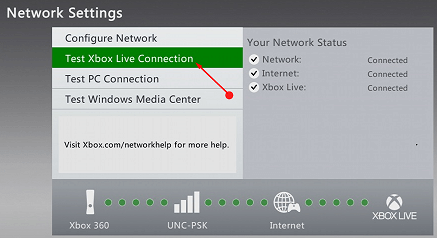 Pursue our similar tutorial – Windows 10 – How to connect XBOX 360 Console to Computer Monitor.
Solution 3 – Check Connection Speed and Bandwidth
Test your overall Internet speed to have a proper Xbox 360 online experience. There are a number of websites that can help you out in this regard. Whatever result you get, not them down because it may come into use to share with your Internet Service Provider.
Read How to Analyze Internet Speed with Google Chrome DSL Speed Test to know more.
However, the higher the Internet speed will be, the better you experience a game.
For reference, you can follow How to Save Internet Bandwidth on Windows 10.
Conclusion
So, using these solutions you can pretty much easily overcome the Xbox Error Code 8015190b. The main reason behind this issue is the internet connection. In case, you bypass this error with some other methods, do write them to us.
Repair any Windows problems such as Blue/Black Screen, DLL, Exe, application, Regisrty error and quickly recover system from issues using
Reimage
.