Yasisoft Image Editor is an easy to use and highly interactive photo editor and graphic design software that allows you to use its varying effects. There are times when the picture you click may not fit into the slots you want them to be in. Photo Editors find their way during these crucial moments of our lives. They don't just help in modifying the image as required but also refines the overall quality and appearance of the pic.
You can download Yasisoft Image Editor for Windows absolutely without any payment. But before that, let's discuss how you can use it on your PC.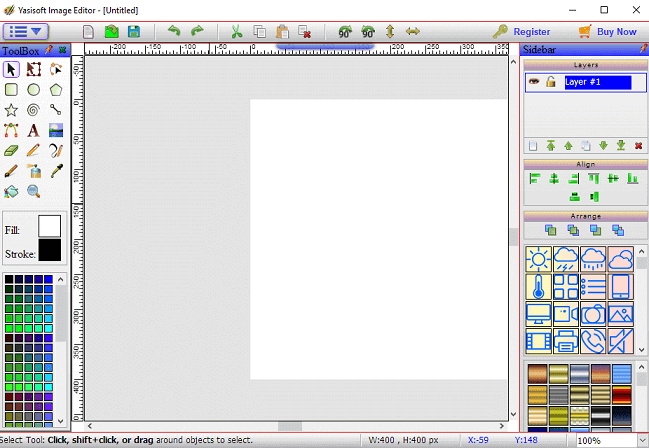 How to Use Yasisoft Image Editor for Windows
Yasisoft Image Editor comes in a 25.35 MB setup file which is absolutely free to download. However, after a successful trial period, you can buy it for $29. Here is how you can use it for free:
Step 1 – Download Yasisoft Image Editor for Windows first (select the version i.e. 8, 8.1, 10, 7 or XP) from the bottom.
Step 2 – After downloading is done, click the setup file to install it on your PC. Click OK and launch the application from the desktop.
Step 3 – Click Main menu hamburger icon and then Insert Image from the drop-down. Choose a pic from the system memory and let it open with the image editor.
Step 4 – Apply the desired effects, and graphics, or manipulate the original dimensions of the photo.
Step 5 – Go to the upper right corner, click the icon (3 horizontal lines), and choose the "Save as" option from the menu. Name your file and press Enter.
That's it. You can now use it the way you want.
Yasisoft Image Editor Features
Actually, the very advanced features of Yasisoft Image Editor for Windows are what make it suitable to carry all your Editing requirements. Here are those features:
1. Highly supportive to formats
Yasisoft Image Editor for Windows supports nearly every popular format like PNG, JPEG, BMP, GIF, TGA, TIFF, WEBP, and a lot more.
2. Advanced Text tools
It's highly rich text tool lets you add desired words and characters that support Gradients, Transparency, and Patterns. The Text Multi-shadow features make it even more advanced as you can include more than one shadow texture via this feature.
3. Layers
The Editor has this facility that permits you to stack a number of image sizes to form one single image.
4. Alpha Channel Support
This support eases working under complete transparency with the software.
5. Draw Shapes using Yasisoft
You can draw Lines, curves, Rectangles, circles, or any various other structure with the application. Also, if required, this utility allows to even manipulate these shapes to fit your perfection.
6. Spray and Brush Tools
Using the Spray tool you can evenly distribute the copies of objects to different locations. Brush tool, on the other hand, contains a set of pixmaps to paint with grace.
7. Other basic features
Crop, Resize, Rotate and Flip are other basic features which makes it very grounded to human needs.
Final Words
Yasisoft Image Editor is no doubt, a great software whose graphic design effects make it even more advanced. Its tools, effects, transparency, facility to imply gradients and patterns, support for all popular formats moreover highly intuitive interface makes it extraordinarily reliable. The layout looks somewhat boring to use as the tools are given the traditional icons. But all in all, this is a good picture editor.
Download Yasisoft Image Editor from here – https://download.cnet.com/Yasisoft-Image-Editor/3000-2192_4-77705441.html