It is a good idea to Use 1st Choice Free Clipboard Manager software to easily handle clipboard jobs. This tool helps to paste visual graphics clips straight to Outlook and Windows email box. This lightweight utility has the ability to copy and store up to 25 items at a time. It provides you with an array of options like self-minimize after pasting, wipe the clipboard, edit clips and screenshots, paste and modify digital photos and screenshots.
Scroll down to know more about the application.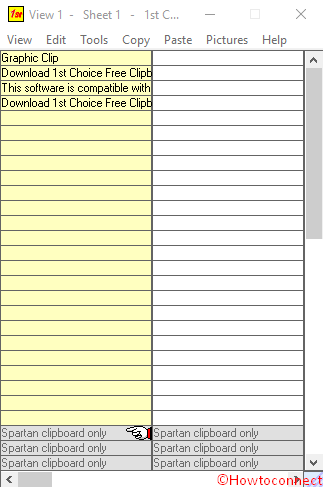 Download 1st Choice Free Clipboard Manager for Windows
Downloading and installing
Step 1 – Go to the bottom part of this page and grab the software through the link. Then follow the guidelines on the screen to finish off the installation process.
After the installation, this software reserves a place in the system tray of the PC. On launching this software it will help you out with a video clip about how to handle this utility.
How to Use 1st Choice Free Clipboard Manager
The yellow portion, with a total of 25 cells, is the multi clipboard. Whenever you cut or copy, this software aims to capture the clip. Further, it will again store the same to disk. It becomes very easy to display a default name for it in one of these cells.
To move clips to the permanent area from the clipboard area drag it there. To bring back the clips leave the cursor on the standby mode at the place to stick the clip. Then bring back the clip from the software and paste it out there. This Application can host a total of 20 clips and can also have the capability of changing the sheet menu. It even automatically reduces the size of photo clips while pasting them.
The white area is the field where you store the clipboard content you want to keep permanently. 
The uppermost area of this software contains many tabs such which help the functioning of the application.
This software is compatible with all the versions of Windows right from Windows 8 to Windows 10.
Closing Remarks
Thus you see that this lightweight, single pane software is a very effective tool that works pretty well with Windows. It lightens the burden of copy and pasting anywhere in documents. Therefore Download 1st Choice Free Clipboard Manager for Windows stay free while doing copy-paste jobs.