Zulu Star, is a free Windows 8 gaming app which lets you enjoy it in your spare time. This game is based on simple permutations and combinations i.e. how fast you are at arranging things and how far you can think of from the present moment. You have to be attentive to burst a large number of bubbles. You should never try to do a mistake to get a few points as it will destroy your whole strategy. Zulu Star game is nothing but tests how fast you can think and react at the right moment. In simple words, it is a Puzzle game.

Here, in Zulu Star game you have to shoot at different colored bubbles, all coming out in a series from a hole at one of the corners, and going towards the other hole at the other end of the screen. These all bubbles follow a trend which you have to understand. Once you get the track behind the onset of coming bubbles it would be very easy for you to score the maximum. There is a catch here in Zulu Star game, and that is you can't just randomly shoot at them you have to form a series of at least 3 matching colored bubbles. You should also note down that once a single bubble even manages to reach the other hole except in the one you are sending it, the game would end there, and you will lose that match. The interface of Zulu Star app is designed in a very simple and uncluttered way. A screenshot of its home screen is shown below: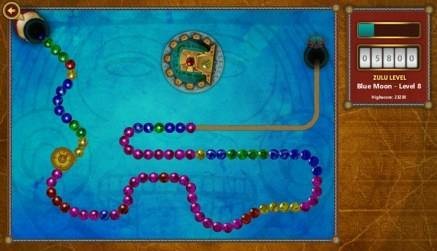 A link has been provided at the last of this article from where you can access the official website of Zulu Star app.
How to use and play Zulu Star Gaming App
Game Play of Zulu Star app – This new gaming app of windows 8 is a challenging app which tests how fast you can think of any incoming set of patterns and solve it by reacting. All you have to do here in this game is to have an eye on the incoming bubbles coming out of the holes in addition to the bubbles which are going to be loaded in the cannon. One thing you should note down here that, you can't just simply choose the bubbles which get loaded. All you have to fire with no choice left. The speed of the bubble coming out of the hole is pretty fast. So, you have to be a little smarter to think and reflect in the least possible time.
What to do burst maximum number of bubbles in Zulu Star
To burst a large number of bubbles, all you have to do is to make a series of at least 3 similar colored bubbles. But as the cannon gets loaded with different colored bubbles and it's all random, so usually you end up with bubbles in series that don't exactly match. The bubbles don't stop at this very point, and they try to make it extremely hard for you to win the level. They just keep on coming and constantly moving towards the other hole. There are different powers provided to you during the game play which would help you during the game. Some blast out a specific number of bubbles, even if they have different colors, another power automatically matches bubble you fire with the bubbles they touch, making it easy for you to form a series of 3 matching bubbles. Again, if you even try to blast off the series of matching colored balls somewhere in the middle of the series of the random ball in the track, the balls which are there in the front row would not stop and carry on their path, thus you miss them.
There is a sum total of 45 levels in Zulu Star app which you have to complete. These 45 levels have been grouped under 5 stages. As usual, you have to complete one level to reach a different level. The difficulty level is very easy initially and it gets tougher as the game proceeds. You just have to direct the cannon face using the mouse, it automatically follows your mouse movements and fire using a click.
Key features of Zulu Star Windows 8 Gaming App
A freely available gaming app
Easy to control buttons and play game
45 different levels to complete
6 different bonuses to help you win
Difficulty increases with every completion of single level
A good 3D graphics and sound
Based on basic arrangements of bubbles such that they could be broken
My Note
Zulu Star, is a fantastic Windows 8 gaming app. This game is based on creating high scores and then break it off. Using Zulu Star app you can also challenge yourself with new scores and achieve that. Overall, this is a good app to try on in your spare time.
Link: Zulu Star