Do you encounter Error Code 0xc004f074 during activation process using a digital license or product key of Windows 10? However, Microsoft released a patch to bypass the problem but it still persists to occur during Cumulative Updates.
For a good number of users, the Error 0xc004f074 also appears while activating using Command Prompt. This annoying message occurs when Software Licensing fails to contact KMS (Key Management Server). Failed activation with 0xc004f074 Windows 10 Error describes the situation as –
"Windows is unable to reach your company's activation service."
However, this error can be resolved using a number of ways. Without making any more delay, let's go for fixing this specification activation problem in Windows 10.
0xc004f074 Windows 10 Error Workarounds
Workaround-1: Detect and Repair System Files
Step-1: Go to the Search box beside Start menu from your computer and type cmd.
Step-2: When the search result appears, you see Command Prompt at the top. Select it and using the right-click from mouse and click "Run As Administrator".
Step-3: On the Command Prompt window, there is a black screen with blinking cursor. Type "sfc/scannow" command here and press Enter key.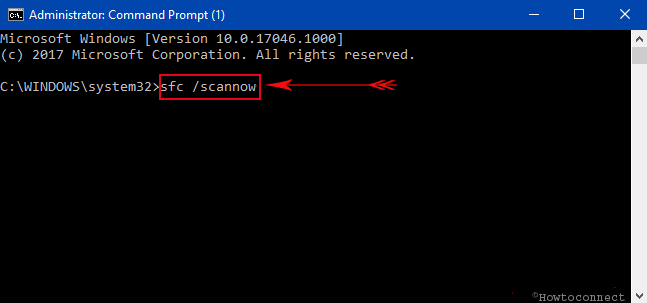 Step-4: System instantly starts the scan on the full PC and based on the result, it will fix the error.
Step-5: Now Restart Windows 10 PC and when it starts again, try to activate the product in order to check the error message.
If the error appears, you need to follow the next method.
Read more about SFC /Scannow, DISM.Exe, CHKDSK Windows 10.
Workaround-2: Activate Product key
Step-1: First and foremost, press Windows logo + R shortcut keys from the keyboard. The Run dialog immediately comes into view on the PC screen.
Step-2: Type Slui 3 in its text field and click on OK option after typing.
Step-3: A pop-up window of Windows activation appears. On that blue panel, type your Windows Product key.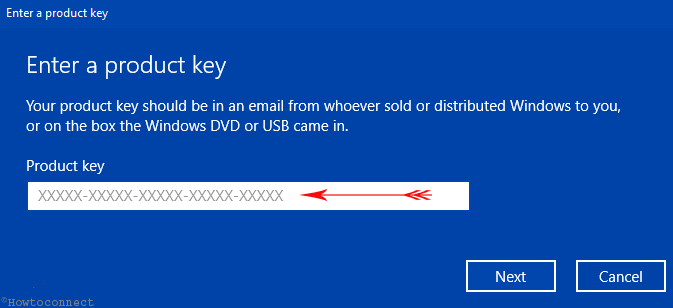 Step-4: Click on the button Next in order to activate this key.
Step-5: Restart the computer and see if the Error Code 0xc004f074 still continues to show up. If the problem is not resolved by this method, you need to proceed on to the next solution.
Workaround-3: Run SLMGR.VBS Command
Step-1: To get rid of 0xc004f074 Windows 10 Error, launch an elevated Command Prompt using any method. However, the quickest one is to type cmd on Cortana. Next, keep a hold on Ctrl and Shift key altogether and then hit the Enter key.
Step-2: Upon the evoke of UAC, agree by clicking Yes button.
Step-3: Type the below-mentioned command at the blinking cursor of the black panel and press Enter on the keyboard:
slmgr.vbs –ipk abcde - abcde – abcde – abcde – abcde
Remove X letters in the above command and use the product key of your Windows. Ensure that you insert the 25 numbers key perfectly.
Step-4: On the same window, type in or copy/paste slmgr.vbs –ato and hit Enter.
Step-5: Finally, as the last thing, close the Command Prompt and Restart the computer. Once the PC starts, the error must be resolved. If it doesn't, please head towards the next solution.
Workaround-4: Disable Windows Defender Firewall
The 0xc004f074 Windows 10 Error is likely to occur when your Firewall program prevents Windows from licensing files over the Internet. So, you can temporarily disable Firewall until you activate Windows.
Step-1: To begin with, click "Windows Defender Security Center" icon on the system tray (see screenshot).
Step-2: Click Firewall & network protection on the left sidebar. On its right pane, click on the network you are into whose Firewall is On.
Step-3: Lastly, toggle OFF the slider as shown in the given picture.
Now, give a shot to the activation phase and if you don't get any error, enable the Firewall program.
Workaround-5: Contacting Microsoft Support Squad
You have already known that the error is associated with the product key. You may try several attempts in order to change the keys on your own. It risky enough and you might get blocked. The best way to avoid any kind of hassle is to contact with Microsoft support team in this regard. Ask them to change the product key. Therefore, you will be able to resolve the error easily.
Conclusion
This is too annoying to have a stop code while activating the operating system. 0xc004f074 Windows 10 Error is the same that demands to fix as soon as you encounter. We have come to know five different methods to resolve the error. Read properly apply each one in case of failure. Hopefully, you should be able to fix this error by any one of them. Hence, you can download the update smoothly and avoid any error message during activation.
Repair any Windows problems such as Blue/Black Screen, DLL, Exe, application, Regisrty error and quickly recover system from issues using
Reimage
.