Neglecting the negative points, Windows 10 is no doubt an effective mixture of Windows 7 familiarity and Windows 8 functionality. Though it comes with a lot of pre-activated functions still you can trip down or customize certain settings to bring in more magic. Because sticking to and working with an operating system with the same pre-activated features makes it dull and boring. But, knowing secrets about anything makes it better to explore and work with. Just the same way, there are a lot of Windows 10 tips, secret tricks and hacks using which you can easily make your operating system a real superpower.
You can, for example, save your time off doing tricks or hacks or can even streamline your navigation around the system. But only a few users know how interesting it becomes when you turn your system into a customizable gadget. The figures are down because not everywhere you can find a complete list of those to make the actual difference. So here in this article, we are going to tell you almost all the Windows 10 tips, secret tricks and hacks with least hassle involved. So buckle up and enjoy the ride.
Windows 10 Tips, Secret Tricks and Hacks
Here are Windows 10 Tips, Secret Tricks and Hacks –
1. Night light
Windows 10 allows you to use Night light to save your eyes from the harmful emission of blue light. In addition you can schedule this feature to automatically enable after sunset.
Go to Settings => System => Night light settings => Turn on now => Adjust color temperature at night => Schedule.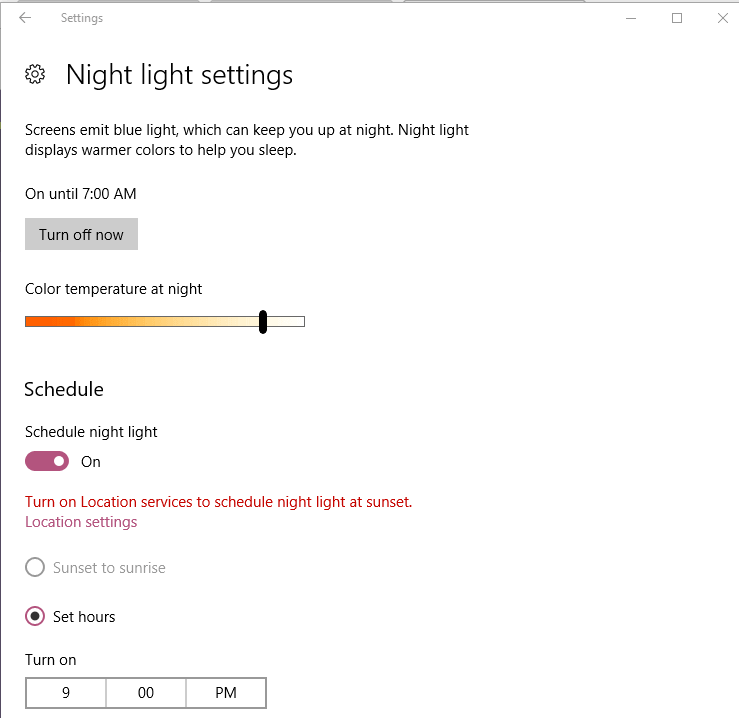 2. Opting Custom install instead of Express Install
While setting up Windows 10 on a PC, it is always asked if we desire a Custom install or a default Express installation. The default mode for the same is simple and normal. The custom Installation however, lets you install some additional privacy certificates/settings or modify the existing ones more than what default installation allows.
3. Action center
Only a few know this that Windows 10 includes a new action center. This action center tracks notifications from all over the system. So if you want to keep a detailed note about what is actually taking place in your system simply visit the Action center.
Go to the system tray and click the text bubble icon. The panel will come out from the right-hand side of your screen.
4. Remove Old files once you install Windows 10
Even after upgrading to higher Windows version, the old files continue to exist in the drive. You can simply delete them to free a considerable amount of space for the new files. For doing this, navigate to:
"Control panel => System and Security => Administrative Tools => Disk-clean-Up"
and toggle the box named "Previous Windows Installations" in the list.
That's it, you have successfully assigned a new spot for the upcoming files.
See the details in – Windows 10 – 3 Ways to Fully Delete Windows.old Folder.
5. Sign Out from User tile menu
The User tile menu holds options like Shutdown and Restart. You can also sign in as another user to the same system using this power menu. Just right click the Start button and then on your name displayed at the top of the Start menu. This will open up a menu with the Sign-out option.
So using this you can easily sign out of Windows 10.
For detail, Follow Sign out, Lock Windows 10 through Start, Power User Menu.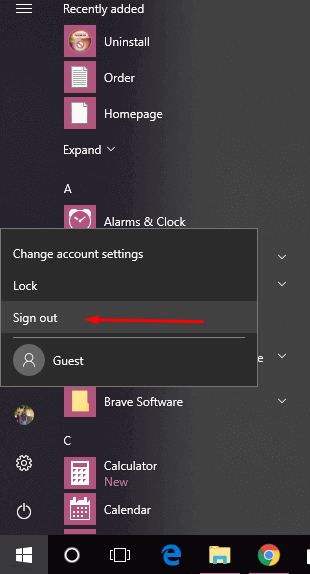 6. Monitor using Task Manager
There is an improved Task Manager present in Windows 10. This manager has a better layout and is a storehouse of useful and digestible information. The stats are represented in the form of graphs which look catchy. So use this Task Manager to monitor those excessive resources on your PC and to end unresponsive programs.
Get at an improved feature from here – How to Track GPU Performance in Windows 10 using Task Manager.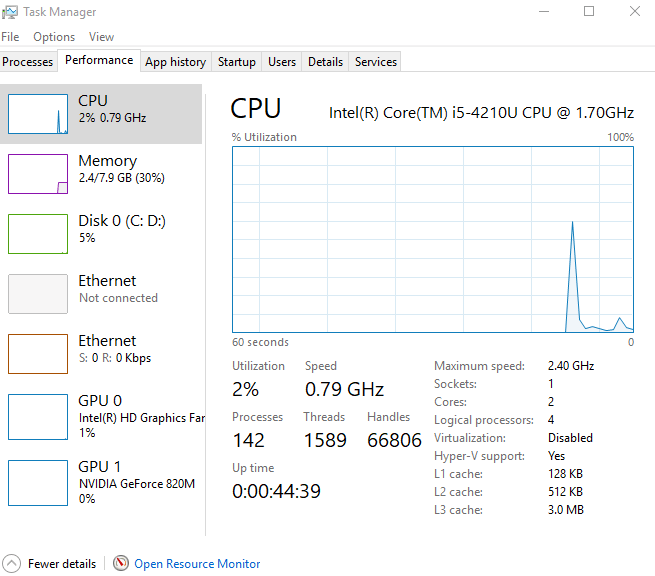 7. Create a Local Account
If you have not an interest in a synchronized account with OneDrive, you can create an offline account in Windows 10. Go to Start => Accounts and select "Sign in with a different account instead" option. Fill in your Microsoft account details there and hit the sign in button to access the Windows version being a local user.
Guide in this concern – How to Configure OneDrive Files On-Demand in Windows 10.
Thus it can be included in Windows 10 tips, secret tricks and hacks.
8. Contact Support
The Contact Support App lets you detect errors and also resolves issues regarding faulty software installations and updates. To use this, simply go to Start and in the "All apps" menu, you'll see this support app. The app will have answers to all the relevant questions and queries. You, therefore, can read those threads and fix technical issues on your system yourself.
9. Activate the Fingerprint Sensor to unlock PC
Windows 10 consists of a biometric feature also to ensure that security is maintained at its best. This means that you can easily unlock your Windows 10 computer using face detection or fingerprint identification technology. To do this,
Navigate to Start => Settings => Accounts => Sign in to check these biometric features/options. Change these options as per your requirements.
10. Customize Battery Saver
The battery saver ends all the unnecessary tasks running in the background. This enhances the system's battery back-up. You can enable it from the Start menu as:
Start => Settings => System => Battery Saver. It automatically pops up once the charge goes down to 20%.
Get the full detail at – How to Optimize Battery Saver Settings in Windows 10 to get Utmost.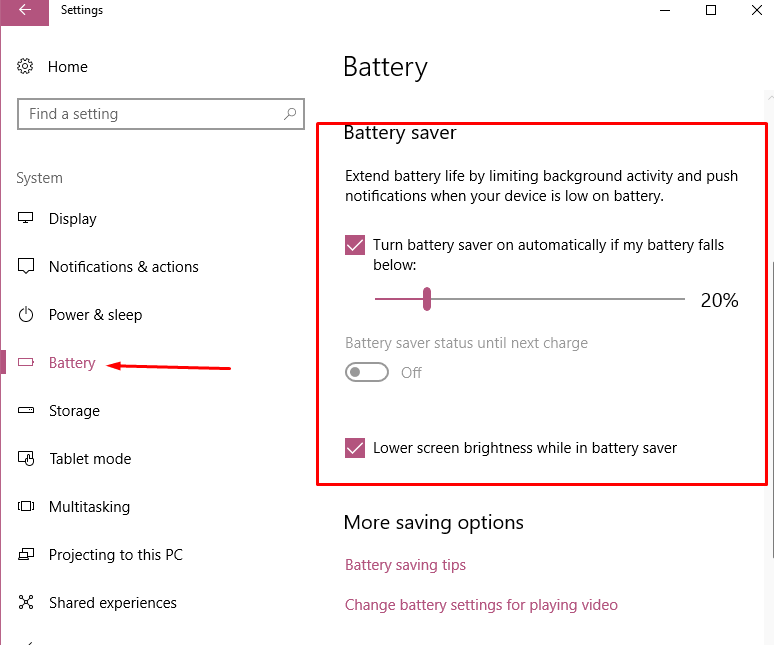 11. Tweak Privacy Settings
Windows 10 also facilitates using general and some app-specific privacy options to enhance system's accessibility towards shared resources (hardware). Using these options, you can take a measure that which app can access system's hardware like cameras and microphones. Just go to "Start => Settings => Privacy" and then activate  to change or to grant access to some specific apps to use the system's privacy options as their own.
See the ways in this guide – [How To] Change App Permissions On Windows 10.
12. Disable Wi-Fi sense in Windows 10
Wi-Fi sense has some security implications which make it not so much useful to stick to. So you can simply disable it permanently to avoid issues. Head to Start => Settings => Network & Internet => Wi-Fi and then Manage Wi-Fi Settings option.
Disable all the options and ask Windows 10 to forget every network you have ever signed to in your lifetime. This will disable the Wi-Fi sense and thus you can start fresh.
13. Make Windows 10 Touch-Friendly
If you have a touch-screen PC, you can enable Windows 10 touch-friendly continuum interface. Through this interface, you can use your PC more like a tablet. So no need to carry the entire weight as the screen is what you want to be with, to do anything.
Just go to Start > Settings > System > Tablet Mode. That's it.
14. Snap keyboard Shortcuts
You can directly snap your Windows screen with the help of Keyboard shortcuts. Win (key) and Arrow keys are perfectly used to shift Windows to one of the four corners of your screens.
For instance: clicking Win key + left arrow and then Win key + up arrow station the Window in the top-left corner.
This way, keyboard shortcuts save time and efforts both.
Find total details in this article – Windows 10 Snap Assist, Vertical Snap, 2×2 Snapping – How to Apply.
15. Stream Media across the Network
You can even stream your favorite media across any network with Windows 10. Simply activating a feature can do this.
Straight away, navigate to the "Control panel => Network & Internet => Network and Sharing Center" and hit Change Advanced Sharing Settings.
Now go to the "All Network Section" and select the "Choose media streaming options" link to turn on media streaming/sharing facility.
Follow the methods for – How to Detect Wireless Display To Force Connect on Windows 10.
16. Enable Jump Lists – Windows 10 Tips
Sometimes you may need to access some important applications/programs faster than ever. Jump lists are formed for the same purpose. To enable these jump lists, simply go to:
Start menu => Settings app => Personalization => and then switch/enable the last option.
This will form jump lists in your Start menu as well as in the taskbar. Now, you can quickly switch the most used apps within real time.
Get the procedure from here – How to Show Jump Lists on Start and Taskbar in Windows 10.
17. Manage Notifications
Customizing the quick-action icons in the Notification center lets you manage all the necessary notifications without any hassle.
For this, navigate to Start => Settings => System  and ultimately, Notifications &Actions. 
Now, click any of the already available icons in the list to select a completely different icon from the drop-down menu.
This will give you the power to see those notifications only which you opt to.
You can get the procedures here – How to Selectively Disable App Notifications in Windows 10.
18. Shake the Title bar to Minimize
Windows 10 allows you easily minimize all the open windows excluding the one you are working at.
Simply press, hold and shake the title bar of the particular window that you require minimizing and that's it. You can also restore all the minimized windows by repeating the same action.
19. Move Windows between Virtual desktops
In Windows 10, you can even move your windows between two virtual desktops. How?
Switch to the Task View first.
Now drag the Window from the current desktop to another desktop where you want to see it actually,
Or
If you keep just one desktop at the movement, drag the window to the "New Desktop" button to create another desktop location.
Now leave the window in this newly formed desktop.
Related Write up – How to Use Multi Desktop on Windows 10.
20. Virtual Desktops Windows 10 tips
Windows 10 has a feature to enable multiple desktops at once. To deactivate this:
Click the Task view button first.
Now click "New Desktop" button number of times equivalent to the no. of desktops you wish to have.
You can now use these desktops in either way you want.