The televisions with lots of potential features are out in the market and the users who own them want to utilize them to their fullest. Today in this post we will be discussing one such quality of those TV that possess 3D service and when calibrated with Xbox One console, the users can take the pleasure of watching 3D movies on their televisions.
One of the superlative features of Xbox One Console is that it has an assortment of display settings where you can opt the best according to your television's capacity, like 3D. So, if you are amongst those users who want to watch all time popular 3D movies or shows on Xbox One console, all you need to concern is about turning on one tiny setting, which is a matter of few steps only. Let us walk ahead towards the steps and see How to Enable 3D Support in Xbox One.
Way to Enable 3D Support in Xbox One
Note – In order to watch 3D content, your television should be equipped with 3D services.
First of all, a calibration should be build up between the console and an HDTV, to do so, see these steps –
On the Home screen, scroll towards left portion to view the guide and thereupon click on Settings.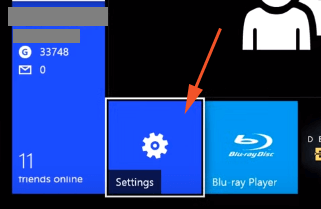 Next, choose Display & sound.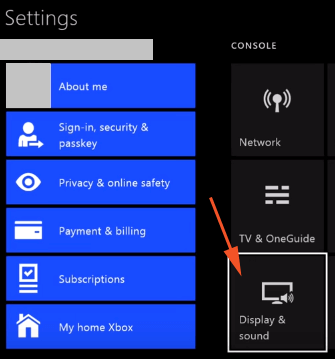 Calibrate HDTV underneath the Display column will appear, click it.
The calibration tool will instruct you to finish up the setting and will guide you the best based on your television's capacity.
Once the calibration is done, it is time to Enable 3D Support in Xbox One and to do so, let us see the steps –
At the closure of the calibration method, you will be taken back to the Display & sound settings.
Move towards with Video Fidelity column.
A square cell with Allow 3D will be visible, tick mark that cell.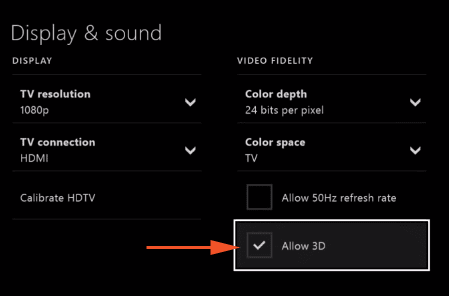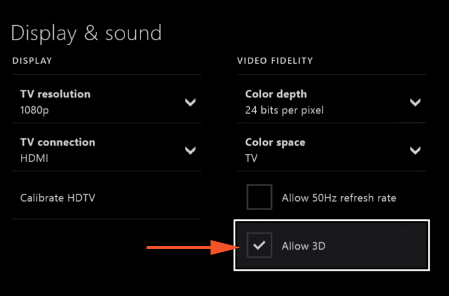 By enabling the 3D option, you can now happily watch 3D Blu-ray Discs on Xbox One like the most famous one Avatar, Flying Swords of Dragon Gate and many more. These are some movies that deserve to be there in your library. So, if you have a television that is suitable to play 3D movies, then swiftly activate the 3D feature on your Xbox One and get entertained with the three-dimensional action at your home.