When you insert a charging cable of a Mobile and it is not working accurately you come through a pop up arises to tell you whether What is the impact of the action. If a certain malfunction occurs the pop up conveys USB Device Not recognized. However, Setting for this USB notification is enabled by default and it is equally useful for you nevertheless you want to know the method to turn on or turn off you can follow this article.
Turn On / Off Notification for Connecting USB toggle does not exist in the Notifications and actions section in the System settings where usually turn on or off if the matter concerned to the apps. For this, you need to move to another location. Let's see:
So, in this article, you will read how to Turn On and Off Notification for Connecting USB on Windows 10 to propel messages in case certain malfunction exists in the external Drive or Cable inserted in a port.
How to Turn On / Off Notification for Connecting USB on Windows 10
Hitting on the Start icon will unfold Start menu, so do that and click the Settings icon located at the 3rd position from the bottom.
On the spread out Settings app, click the Devices block.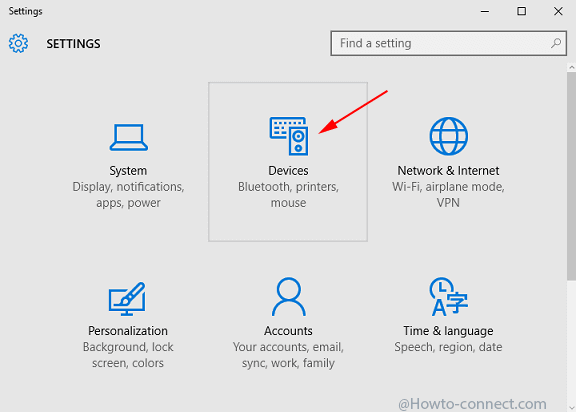 On the Devices window, move mouse pointer towards the bottom to click on USB.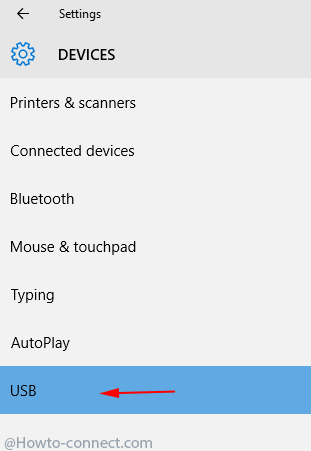 On the right flank of Window, toggle the slider to On or Off which says Notify me if there are issues connecting to USB Devices, whichever you like do.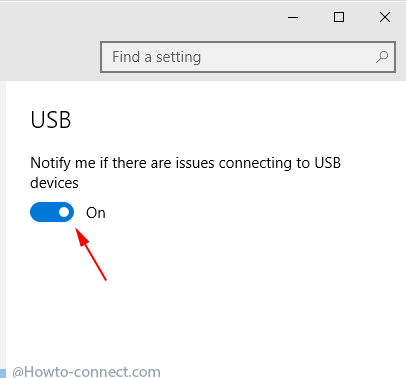 If you have turned the notification off then check by inserting a USB Device to the port of your Windows 10 system. You will find no notification even on malfunction occurs in your Pen drive or charger cord.
Conclusion
The settings to Notification for Connecting USB on Windows 10 is a great facility for the users. I myself have checked it and insert the charger USB Cable to the Laptop cable. As soon as I have powered off my mobile a notification pops up appeared conveying the message USB Device not recognized. So I will suggest you turn it on if it is mistakenly dragged to Off position to be aware of the malfunction occurs in your external drive.